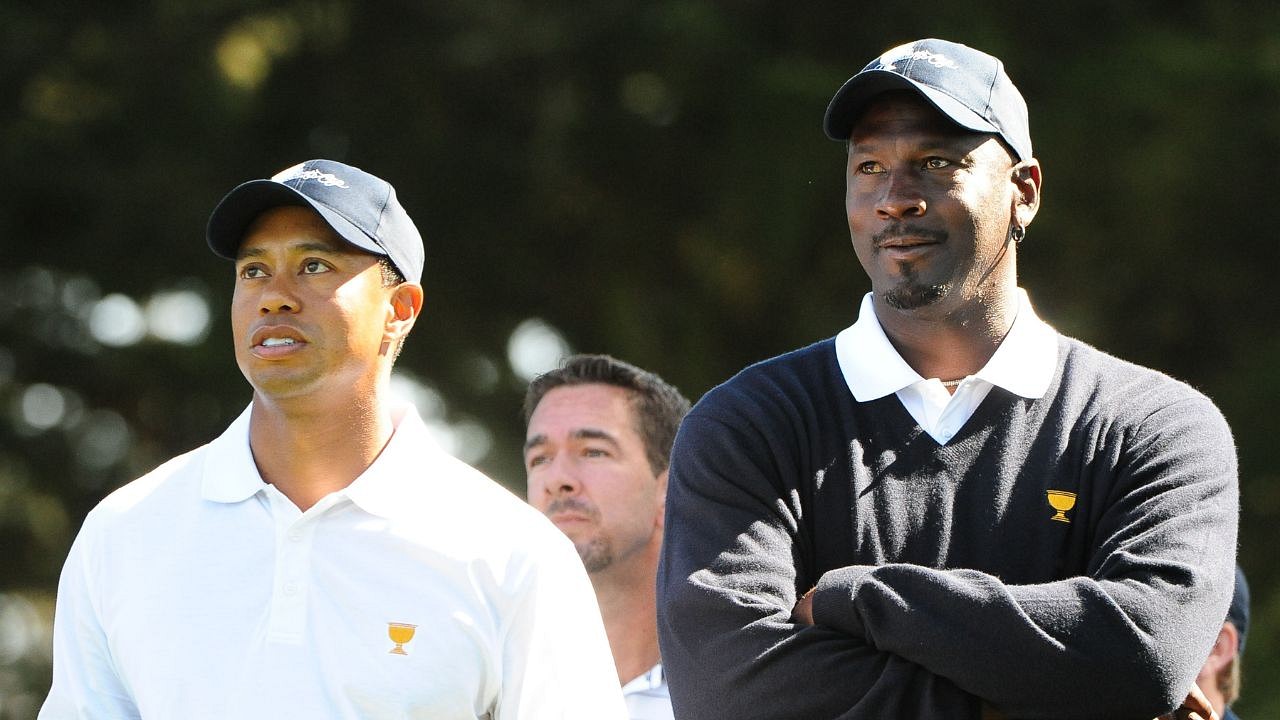 basketball
"MJ Grabbed My Hand": Michael Jordan Tried to Steal Tiger Woods' Playboy Girlfriend Despite Being Close Friends With the Golfer
Before Tiger Woods met Michael Jordan, the world-famous golfer was a shy man. Jordan took him under his wing and turned him into a superstar. But Woods' camp believed MJ caused more problems for Tiger than he did any good.
The camp believed MJ had made the legendary golfer not just obsessed with gambling but also had a role to play in his globally infamous cheating scandal. Per John Merchant, an adviser to Tiger Woods in his early days, Michael Jordan, along with his then-best friend Charles Barkley, were enablers.  They not only pushed him into gambling with big money but also introduced him to promiscuity.
Merchant even warned the golfer to stay away from MJ. He told Woods: "I told him, 'Stay away from that son of a b**ch, because he doesn't have anything to offer to the fucking world in which he lives except playing basketball, which he did yesterday.' "
Perhaps Merchant was right. At least according to Vanity Fair's accusations, he was. After all, who tries to steal their friend's girl even if they are having an affair?
Michael Jordan tried to steal Tiger Woods' Playboy girlfriend
In a 2010 article by Vanity Fair, author Mark Seal explored the life of Tiger Woods through various accounts of alleged girlfriends, friends, and trusted advisers. One of the people he interviewed was a woman named Loredana Jolie Ferriolo.
Loredana had alleged she was in an intimate relationship with Tiger Woods. So, Seal interviewed her to uncover the truth behind the golfer's sexual addiction.
One of the stories Loredana narrated to Vanity Fair featured Michael Jordan. According to the former Playboy model, when Michael Jordan and Tiger Woods were gambling together in the Bahamas, the Bulls star tried to steal her and even grabbed her hand. When she left without entertaining the basketball legend, he apparently gave a chase.
Loredana: "His bodyguard goes, 'Michael wants to meet you.' I walked over to him, and he (MJ) grabbed my hand. I walked away, and he kind of gave chase. He goes, 'I'm Michael Jordan. I will find you.'"
Tiger always went to Vegas with Charles Barkley and Jordan
Before Charles Barkley made MJ mad by criticizing how he handled Charlotte as an owner, they were probably the closest friends. So, naturally, when Jordan ended up befriending Tiger Woods as well, Barkley too became friends with the golfer.
Seal, in his Vanity Fair article, also detailed how this trio of friends never visited Vegas without each other. They would often gamble together with wages that started at $25,000. Woods probably kept spiraling from here while Michael and Chuck checked themselves just enough.
Eventually, Woods would face a controversy that reached every nook and corner of the world. But Barkley and Michael Jordan have enjoyed their life without facing anything even remotely as scandalous.
The post "MJ Grabbed My Hand": Michael Jordan Tried to Steal Tiger Woods' Playboy Girlfriend Despite Being Close Friends With the Golfer appeared first on The SportsRush.