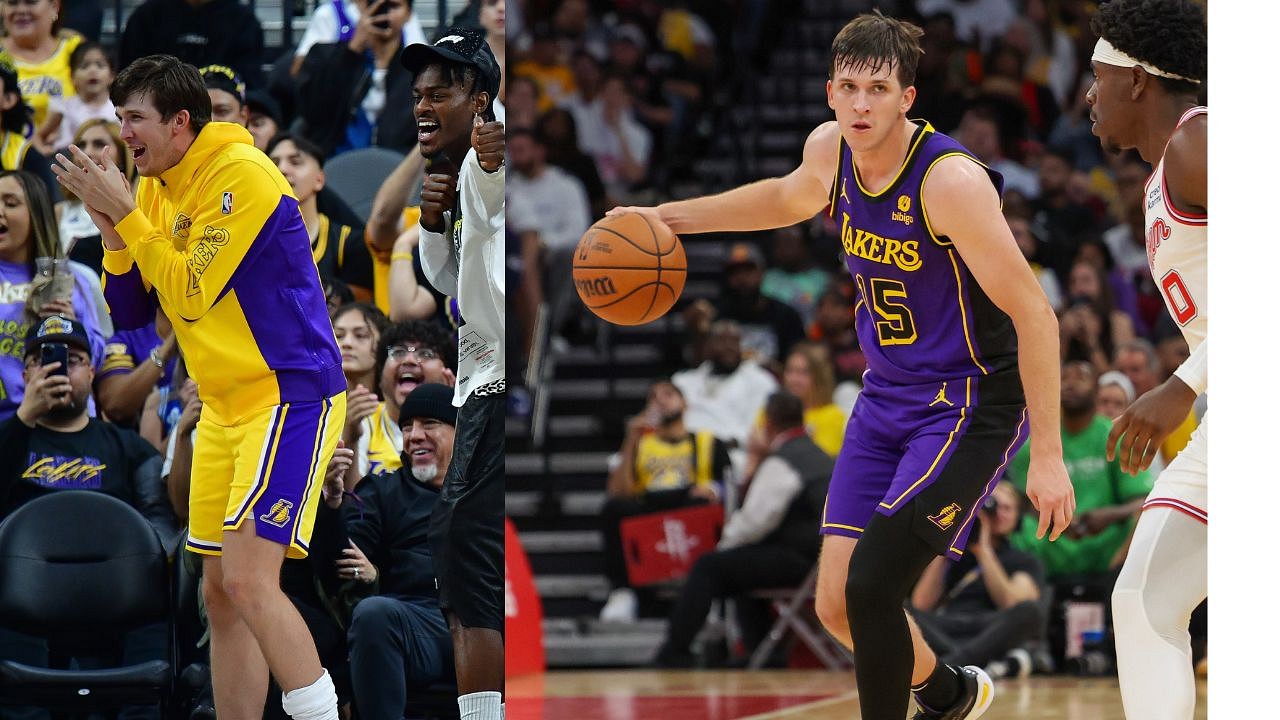 basketball
"My Parents Taught Me at a Young Age…": Austin Reaves Cites Childhood Learnings as Reason for Taking Bench Role on Lakers in Stride
The Los Angeles Lakers just registered their first win for this stretch of on-road games. Going 0-3 in the first three games, something had to change. Austin Reaves, who has been a starter all season long, was asked to step down and come off the bench. Head Coach Darvin Ham and Reaves reportedly had a discussion about the relegation, and it seems to have worked.
Coach Ham inserted Cam Reddish in place of Reaves while keeping the remaining starters the same. The Lakers had D'Angelo Russell, Taurean Prince, LeBron James, and Anthony Davis as their starters besides Reddish. After the game, Reaves was asked for his reaction on Ham benching him.
During the post-game press conference, Reaves replied, "I am a competitor. Truthfully, you don't want to have that conversation. Would love to not have that. Would love to be playing better, to not have that conversation, winning as a team. My parents taught me at a young age that the coach is the coach, and regardless of the decision, you respect that."
Loading embed tweet https://twitter.com/SpectrumSN/status/1723233146349756787?ref_src=twsrc%5Etfw
Reaves' humble approach has always garnered the respect of fans. His recent remarks will just add to his reputation of being a selfless teammate.
Even though a great deal was made out of the change, Reaves' minutes effectively didn't change. The 25-year-old still played his regular 35 minutes. Reaves was brought in and taken out of the game, depending on the personnel on the floor. Coach Ham not only managed to secure the win but also managed to get Reaves 15 points, 7 assists and 1 rebound.
The Lakers register their first win on the road
The Lakers are currently sitting at the 11th spot in the Western Conference with a record of 3-5. For a team that was considered a contender before the season, their performance so far has been abysmal. But luckily for the Lakers, Coach Ham's new adjustment has brought them a much-needed win. The plan of switching Reaves out with Reddish paid dividends, as the youngster was ready when the Lakers needed him.
The adjustment came after the Lakers suffered three disappointing losses back-to-back. Reaves himself admitted to not playing up to the mark, as Coach Ham sought help elsewhere. Coach Ham's plan turned out to be gold when AR15 led the Lakers to a 14-point comeback during the third and fourth quarters.
Reaves is definitely a role player worth having, regardless of the team. The Lakers even extended the young star's contract earlier this year, offering him 4-years, $56 million. The extension would ensure another four years of Reaves being a Laker.