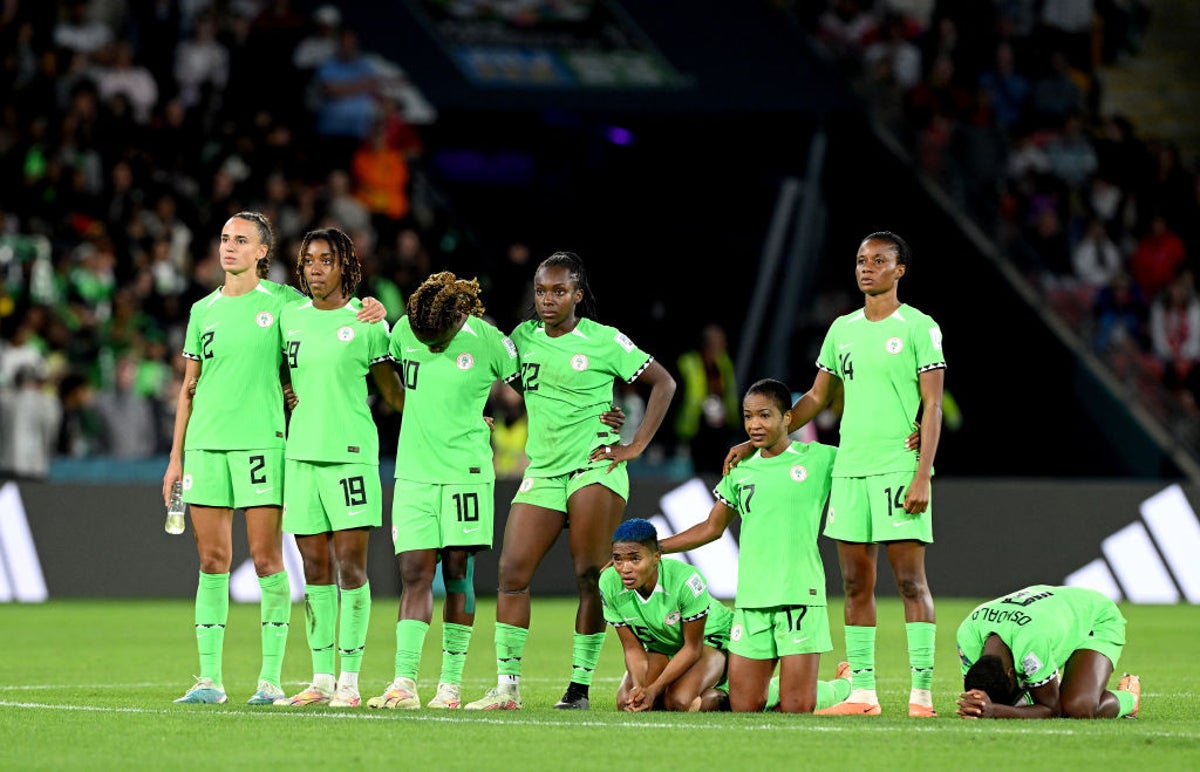 Football
Nigeria team forced to 'share beds' as players slam lack of support after Women's World Cup exit
Sign up to Miguel Delaney's Reading the Game newsletter sent straight to your inbox for free
Sign up to Miguel's Delaney's free weekly newsletter
Nigeria forward Ifeoma Onumonu criticised a lack of support from the country's football federation after the Super Falcons were knocked out of the Women's World Cup by England on penalties, revealing that players sometimes have to share beds at their training base back home due to insufficient resources.
Nigeria were eliminated from the World Cup after a heartbreaking penalty shoot-out defeat to the Lionesses but were the better team in large spells against the European champions, who held on to a goalless draw following Lauren James' red card late in normal time.
Nigeria's build-up to the World Cup was disrupted by a pay dispute, with the team's American manager Randy Waldrum revealing before the tournament that some players had not been paid in two years by the Nigeria Football Federation (NFF).
Onumonu went further after the defeat to the Lionesses and said that although Nigeria could take pride from competing against one of the best teams in the world, the Super Falcons were being held back by a lack of resources compared to their European counterparts.
"I've seen what England have access to," Onumonu said, as reported by the Guardian. "In Nigeria we don't have access to much. Our training fields aren't great. Where we sleep isn't great. Sometimes we share beds. It's not good enough. In terms of recovery, we don't have much of any of that. We don't have access to a gym in camp in Nigeria.
"There's a lot that needs to be done. Hopefully more people start to talk about it. Coming here it's hard to adjust. We do what we can because we love playing for our country but hopefully they make it easier for us to do our best.
"[Back home] the [pitches] aren't great. The grass is rocky, bumps everywhere. The stadium we play on for qualifying… you'd be surprised, I was surprised. You don't even know where the ball is going to jump at you.
Ifeoma Onumonu said conditions were 'not good enough'
(Getty Images)
"Our under‑20s went far in their World Cup and when they were sent home they were sleeping in airports for 24 hours. That's not acceptable. What we have to fight for is bigger for us."
The Women's World Cup has been defined by shocks and countries such as Nigeria, Jamaica and South Africa have upset the odds to surprise teams who are backed by far bigger budgets.
It has drawn attention to the lack of funding that teams have had to overcome, with Jamaica reaching the last-16 after having to rely on crowd-funding campaigns to make to travel to the World Cup in Australia and New Zealand, while South Africa's players only called off a strike after a billionaire made a donation to support the team.
"We're on the rise and it's growing," Onumonu said. "A lot of people don't watch as much as they do in Europe and so underestimate who we are, what we are capable of. No one believed in us and now a lot of people are.
"Other teams are catching up and growing, including us. There's no longer going to be that one team that you are absolutely going to say they're going to win. Every game will become a battle. Every game has become important.
"As women start to play more internationals and at clubs, more and more teams are going to catch up. There's a shift. A lot more are coming."