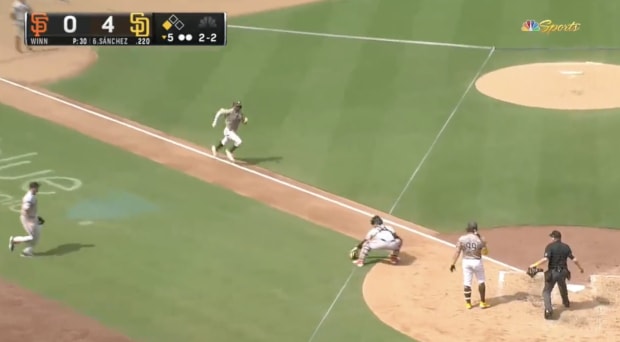 baseball
Padres' Xander Bogaerts Got 'Thrown' Out at Home in Maybe the Silliest Baserunning Blunder of MLB Season
By now we all know the cliche "sometimes it's better to be lucky than good." Heck, some of us have probably lived that many times in our respective lives.
But sometimes it's fun to be reminded of it, especially when it's done in a silly way by professional athletes who shouldn't have to depend on luck to make a play.
What the Giants did during Sunday's game against the Padres did that in perfect, and hilarious, fashion. In no way on this play that we're going to show you in the video below did they deserve to get an out but that's just what they did, thanks in large part to some silly decisions on the bases by Xander Bogaerts.
Check this out:
The Giants with the textbook use of the "So bad it's good" defensive strategy. pic.twitter.com/IyBnD5eF7M
— The Comeback (@thecomeback) September 3, 2023
Absolutely incredible. And maybe the funniest play of the MLB season.
Fans had reactions:
Begins with Yakety Sax, ends with a record scratch. https://t.co/9ZE4XIN1p6
— Katatonia Respecter (@OriginsOfRuin) September 3, 2023
I don't know how you did it but you used the WRONG formula and got the RIGHT answer. https://t.co/Jrg7rhoaW9
— Hunter Felt (@HunterFelt) September 3, 2023
Whatever works, man https://t.co/p79VcI0YEh
— Shane (@ThatShaneBua) September 3, 2023
What an amazing (and dumb) sport https://t.co/1IRrR4EJtA
— Mike Mooney (@MichaelMgmooney) September 3, 2023
This might be the play of the year in MLB…so very 🤯🤯🤯 https://t.co/Asr1OLlWhZ
— Louis Valverde (@therealValverde) September 3, 2023
A base running blunder so bad you would think Bogaerts was still on Red Sox
By the way..having his worst year in a while and now Padres want him to change positions apparently https://t.co/bkXzvxFh7m
— Joe Bailey (@joebaileysports) September 3, 2023
🤦‍♂️😮🤦‍♂️😮😬🤪😅 https://t.co/bAsCCm5g3B
— Lord Frederic Bourget ®️ (@fredbourget) September 3, 2023


Source link