Boxing
Photos: Devin Haney Boxes Past George Kambosos To Become Undisputed
Marvel Stadium, Melbourne, Australia – For the undisputed lightweight championship, Devin Haney (28-0, 15 KOs) won a twelve round unanimous decision over George Kambosos (20-1, 10 KOs) to unify the WBC, IBF, WBA, WBO titles. (photos by Darren Burns, Mikey Williams)
The scores were 116-112, 116-112 and 118-110.
Haney came out with his jab in the first. Kambosos was looking to counter of the jab. Haney continued to jab in the second. Kambosos landed a good shot as Haney walked in. Haney went back to the jab. Kambosos landed a left hand as the round closed out. In the third, Haney was timing the better punches in their technical clash. 
Haney was able to outland Kambosos for the most part in the fourth. In the fifth, Haney was making Kambosos miss often. Haney controlled the distance and pace with his jab. During the sixth, Kambosos was able to land a good left, but not much else.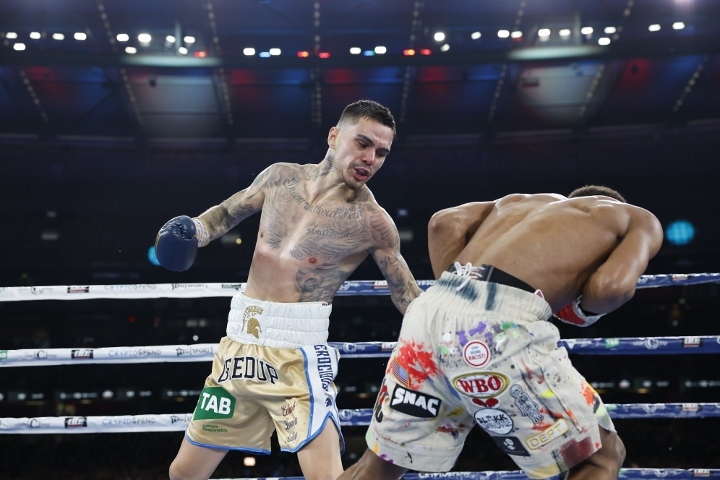 The seventh was more of the same, with Haney's jab controlling everything. Kambosos was getting more aggressive in the eight, but he was still unable to land many shots on Haney, who jabbed and used defense for the most of the three minutes. They traded right hands at the start of the ninth. Kambosos was pressing more, but Haney was outboxing him. 
In the tenth, Haney stuck to his jab to keep Kambosos at bay. Kambosos was going to the body and landed a right. Haney was not coming off his game with the jab. Kambosos was making rough in there at times. The jab of Haney was still the key in the eleventh. Kambosos had no answers and was starting to get desperate with some rough tactics. 
The twelfth and final round saw Haney come out circling the ring. He appeared to be coasting as Kambosos gave chase. Haney was just moving and jabbing. Kambosos was not taking enough chances to turn the tide.