Boxing
Photos: Teofimo Lopez Hits Puerto Rico, Receives New WBO Title
Earlier today in the neighborhood of Arecibo, the World Boxing Organization, accompanied by a group of legends, former champions, world champions and boxing prospects, presented the two-division world champion Teofimo Lopez with his new world title.
Last month, the former unified lightweight champion outboxed unbeaten Josh Taylor to capture the WBO title with a unanimous decision in New York City.
Lopez's future in the sport is unknown, after he announced his retirement in several post-fight interviews. Most observers expect him to fight again.
"Thanks to the WBO, Paco (Francisco Valcárcel), to all the champions who are here right now. What I feel on this day is something very special, very emotional, what can I say, everything we do is for this title, it is a pleasure to achieve this. Today is a very special day. Thank you Puerto Rico," Lopez stated.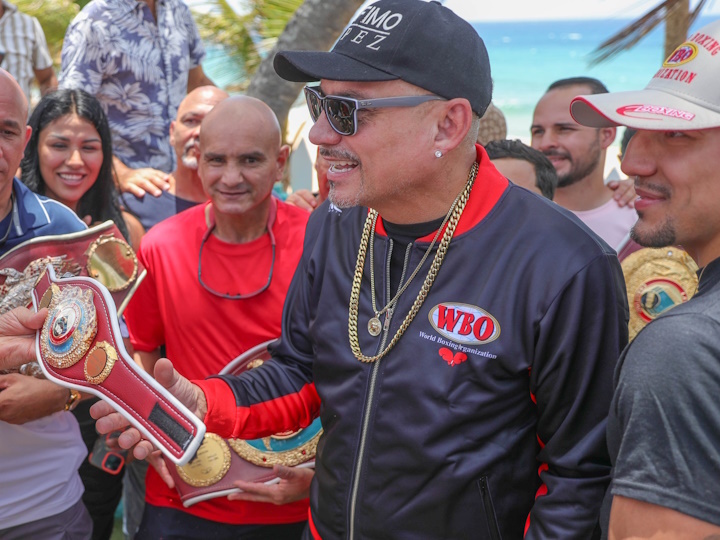 Also on hand was Oscar Collazo, the 105-pound world champion, who was also honored with a special WBO commemorative plaque for becoming the champion with fewest amount of fights that Puerto Rico has ever had.
"I'm grateful to Paco for this. Congratulations to Teofimo for his achievements, you deserve it. We keep growing. We made history and we will continue working hard to achieve all my goals. I do this for my fans. Let's go for more," Collazo said.
Among the former champions, champions and prospects who were present: Samuel Serrano, Nelson Dieppa, Iván Calderón, Arely Muciño, Tatiana Ortiz, Xander Zayas, Juan Laporte, John John Molina, Ángel 'Cholo' Espada, Rafael del Valle, Carlos Quintana, Josué 'Dickie' Camacho, Alex 'Eel Nene' Sánchez, Ángel Acosta, Jonathan González, Orlando Fernández, José 'Caguitas' De Jesús, Daniel 'La Cobra' Jiménez, Orlandito Del Valle, René Santiago, Wilfredo Rivera, Yomar Álamo, among others.