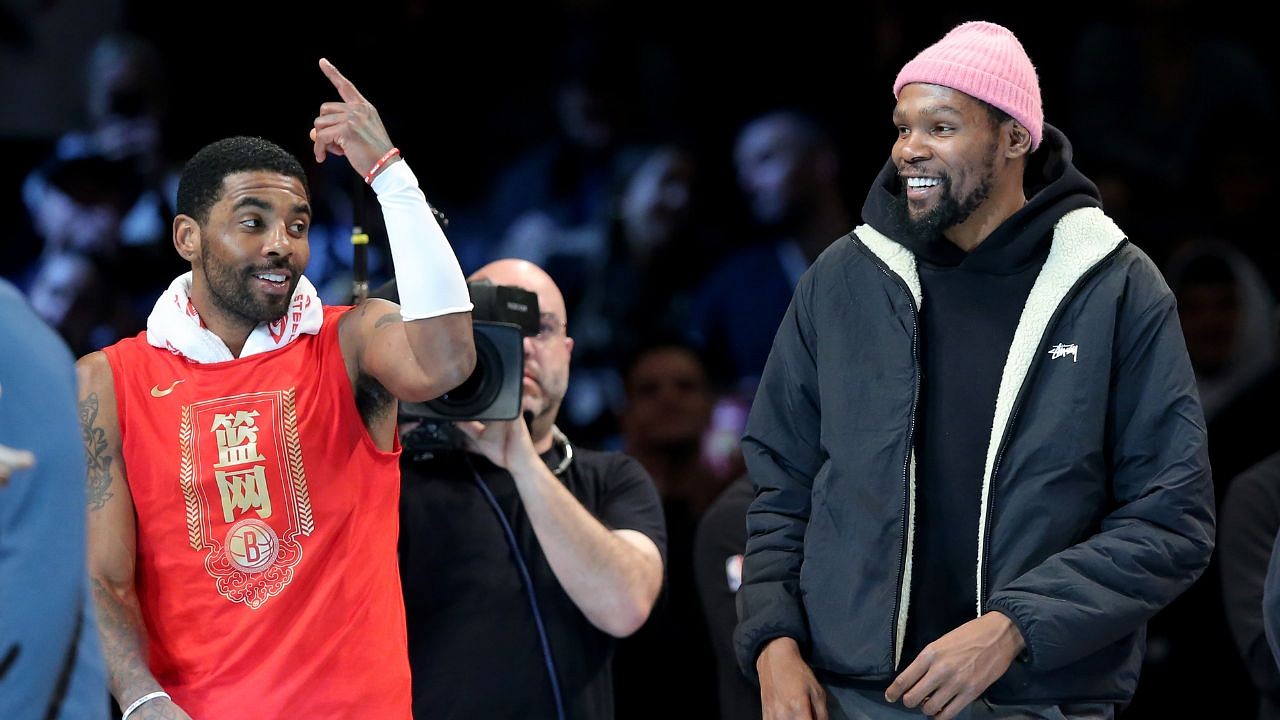 basketball
Picking Kevin Durant 7″: Following Kyrie Irving's Precedent, 3x All-Star Severely Criticises ESPN Rankings
Speaking on a recent episode of Gil's Arena, 3-time All-Star Gilbert Arenas had his say on Kevin Durant's ranking in the recent ESPN Top-150 NBA players list. The media outlet ranked the Phoenix Suns star at a lowly 7th, prompting a stern reaction from Arenas. The former Washington Wizards star claimed that if a draft was held, nobody was going to pick Kevin Durant at number 7. Calling him a '7 foot Steph Curry,' Arenas claimed that Durant was always going to be in the top-3.
The criticism comes just days after Kyrie Irving also hit back at his own place on the list. Included in the list at number 34, Irving claimed on Instagram that the ratings did not mean a "damn thing." According to the NY Post, Kyrie said that he did not accept or respect most analysts' opinions', and was instead just focused on the new season.
Gilbert Arenas thinks Kevin Durant is still in the NBA's top-3
The ESPN list was obviously based on performances in the 2023-24 season. That meant that Giannis Antetokounmpo, Nikola Jokic, and Joel Embiid rounded off the top-3.
Kevin Durant, despite being one of the top players in the league, only managed to sneak in at number 7. This led to a stern response from Gilbert Arenas, who claimed that he was still a top-3 player:
"If they did a draft, ain't nobody picking KD [Kevin Durant] 7th. 7? You are drafting Kevin Durant 7? Stop, he is gonna be 1,2 or 3. You don't take the 7 foot scorer that can do everything. Have a 7 foot Steph Curry."
Of course, the argument is that Durant did not have the best seasons and his ranking might make sense if only the past campaign is considered. That is also true for Kyrie Irving, who was ranked 34 in the latest list despite being one of the best players in the league on his day.
However, Irving has also had injury issues and controversies off the court in recent seasons. On skill alone, Arenas has a point, in the sense that both of them are fearsome opponents when at their best. 
A 3-time All-Star, Arenas obviously knows what he is talking about. However, rather than the ranking being a reflection of skill, it is obviously more related to the kind of success they had in the 2022-23 campaign.
Gilbert Arenas does not believe the NBA has 33 players better than Kyrie Irving
Irving is widely recognized as one of the most creative players ever seen in the league. Known for his deep bag of skills and exemplary handles, Irving was left fuming after he saw ESPN's top-150 list.
Arenas agreed with the player, claiming that he was glad Kyrie decided to speak out. Arenas talked about how there were not 33 players in the NBA who were better than Irving.
Loading embed tweet https://twitter.com/ClutchPoints/status/1712198307865334111?ref_src=twsrc%5Etfw
Speaking about his range of achievements and the fact that Irving had already proven himself in the league, Arenas went on to talk about a range of problematic rankings for different players. This included the likes of Rusell Westbrook (94), Zion Williamson (57), and of course, KD.