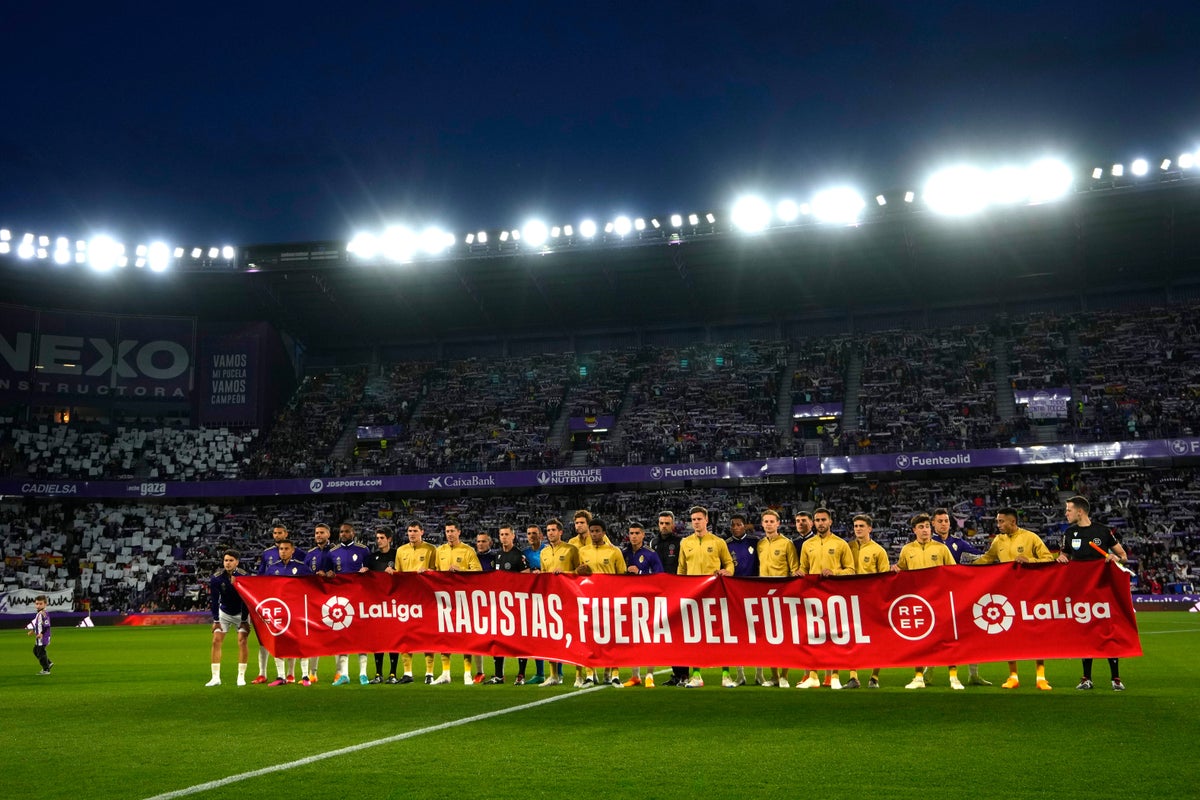 Football
Players and officials call for racism to be tackled as LaLiga action resumes
Sign up to Miguel Delaney's Reading the Game newsletter sent straight to your inbox for free
Sign up to Miguel's Delaney's free weekly newsletter
LaLiga players and officials called for racism to be tackled in Spain as the competition resumed in the wake of the latest Vinicius Junior incident.
Before Tuesday night's games between Real Valladolid and Barcelona, and Celta Vigo and Girona, players from both sides, as well as the match officials, stood behind banners which read "Racism, out of football".
LaLiga shared a pre-match clip from the Celta-Girona game on its official Twitter account with the hashtag #JUNTOSContraElRacismo (#TOGETHERagainstRacism).
The footage also showed a supporter holding up a placard with 'No Al Racismo' (No to Racism) written on it.
There were similar sentiments at the Valladolid-Barcelona game as fans showed their support for Brazil international Vinicius.
Barcelona forward Raphinha removed his shirt when substituted to show a message of support for Vinicius: "As long as the colour of the skin is more important than the brightness of the eyes, there will be war."
Real Madrid forward Vinicius – who showed his appreciation of Raphinha's gesture on social media – was set to serve a two or three-match ban after being sent off at Valencia on Sunday when he was the alleged target of racial chants.
But Spain's competition committee – a body formed by one member from La Liga, one from the Spanish Sports Council (CSD) and one from RFEF (Spanish FA) – has rescinded that red card and Vinicius could now feature against Rayo Vallecano on Wednesday if he overcomes a slight knee injury.
A statement read: "This Committee considers it to be established that the referee's assessment was determined by the omission of the entirety of the play that took place."
Another joint statement released on Tuesday read: "The Spanish Sports Council, the Royal Spanish Football Federation and LaLiga have joined forces for a campaign against racism, with which the three institutions want to unanimously show their absolute and unequivocal rejection of any racist behaviour.
"The campaign, as well as being featured on the national and international broadcasts of all matches, on the logo and advertising boards, will also be visible in the stadiums through information leaflets for fans.
"It will also be visible on the placards that will be carried by the starting line-ups, as well as on players' armbands in future matches.
"Racists out of football" and "United against racism" aim to bring together the strength of everyone: institutions, clubs, athletes and fans with the goal of eradicating racism and its agents from our football."
Play on the field resumed after a turbulent weekend when Vinicius was targeted at Valencia and later claimed it was an example of "continuous episodes spread across several cities in Spain".
Valencia received a five-game partial stadium closure and 45,000 euros fine on Tuesday night.
An RFEF statement read: "The competition committee has sanctioned Valencia CF with the partial closure of the Mestalla stadium for five matches, more specifically the Mario Kempes south stand, following the events that occurred during the First Division National League Championship match between the local team and Real Madrid CF.
"It is considered proven that, as reflected by the referee in his minutes, there were racist shouts at Vinicius, a Real Madrid CF player, during the aforementioned match, altering the normal course of the match and considering the infractions very serious.
"In addition, an economic sanction of 45,000 euros is imposed on Valencia."
Valencia have 10 working days to file an appeal to the appeals committee.
LaLiga will request greater jurisdiction to punish clubs whose fans are guilty of racist abuse after feeling "powerless" at the lack of current sanctions in the wake of the latest Vinicius incident.
According to the country's law, LaLiga can currently only identify and report incidents, and punishment is rarely handed out.
This comes on the day four people were arrested in Spain under suspicion of hanging an effigy of Vinicius off a bridge in January.
An inflatable doll dressed in a Vinicius shirt was hung from the railings with a banner that read 'Madrid hates Real Madrid' ahead of Real's Copa del Rey game with city rivals Atletico at the start of the year.
And Spanish police confirmed on Tuesday that four suspects had been apprehended.
They tweeted: "Arrested in #Madrid 4 people who allegedly hung a mannequin with the #Vinicius shirt on a bridge near the Ciudad Deportiva del @realmadrid."
Vinicius threatened to leave the pitch in the second half after being subjected to alleged monkey chants at the Mestalla.
Real Madrid said the abuse constituted a "hate crime" and filed a complaint with the Spanish State Attorney General's Office.
Valencia on Tuesday confirmed that police have identified three fans suspected of racial abuse, but denied their fanbase is racist.
In a statement, the club said: "The match against Real Madrid was broadcast live and it is totally false that the entire stadium was shouting racist remarks.
"There has been a lot of confusion and misinformation in the last few days. Valencia demand a responsible and serious approach to the matter.
"This is a very sensitive issue and everyone must remain factual. We cannot accept the labelling of Valencia fans as racist. It is not true. We call for respect.
"Racism has no place in football or in our society. Valencia strongly condemn racism."
Vinicius tweeted on Monday night: "Every round away from home is an unpleasant surprise. And there were many this season. Death wishes, hanged doll, many criminal screams… All registered.
These are not isolated cases. They are continuous episodes spread across several cities in Spain (and even in a television programme).
Vinicius Junior
"But the speech always falls on 'isolated cases', 'a fan'. No, these are not isolated cases. They are continuous episodes spread across several cities in Spain (and even in a television programme).
"The problem is very serious and communications no longer work. Not blaming me to justify criminal acts either. You are not football, you are inhuman."