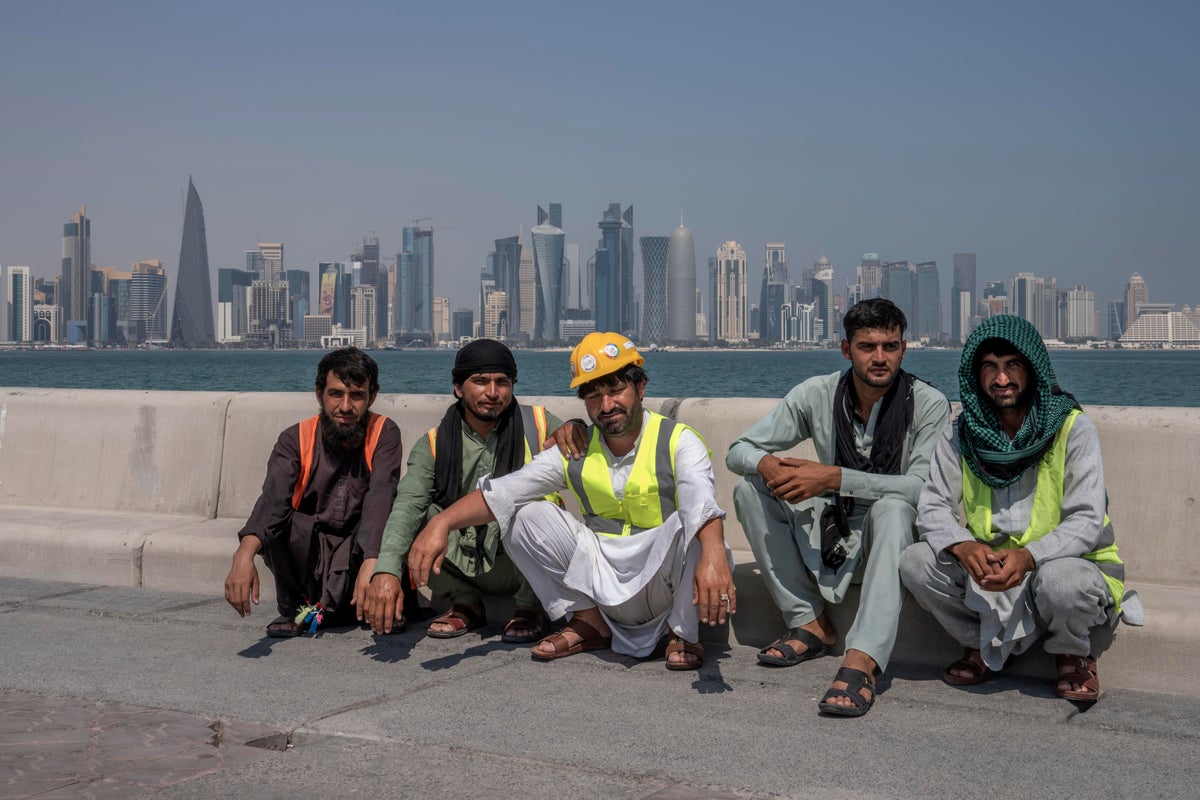 Football
Qatar World Cup workers suffered "human rights abuses", new Amnesty report finds
Sign up to Miguel Delaney's Reading the Game newsletter sent straight to your inbox for free
Sign up to Miguel's Delaney's free weekly newsletter
Hundreds of security guards and marshals at the Qatar World Cup went unpaid for long working periods without days off, before being forced out of the country when the tournament ended, a new Amnesty International investigation has found. Some did not earn enough to pay off the loan required for recruitment costs.
The human rights body state that research into Teyseer Security Services "shows pattern of abuses against migrant workers". Steve Cockburn, Amnesty's Head of Economic and Social Justice, has meanwhile accused Fifa of failing "to effectively investigate the issue or offer remedies", demanding that the global governing body step in and "offer immediate and meaningful remediation for the human rights abuses suffered by workers".
The group spoke to 22 men from Nepal, Kenya and Ghana, who were among thousands of migrant workers employed on short-term contracts by Qatar-based Teyseer Security Services to work as marshals and security guards at World Cup sites in the build-up and during the tournament itself. Among the locations were Khalifa International Stadium, Fifa fan zones, the Corniche and the metro station in Souk Waqif.
All of the workers interviewed said "false promises" were made by either Teyseer's representatives or recruitment agents, among them the suggestions they could take up more senior roles to earn an extra £220 a month, or stay and work in the country beyond the three-month contract period. Once in Qatar, however, nothing materialised.
Instead, a third of those interviewed – particularly those employed as marshals – said they had to work 12 hours every day for 28 consecutive days. That came without any day off or adequate pay to reflect this work, which breaches Qatari law. The work often involved standing for long hours without sitting down and dealing with large crowds without adequate training or support.
"I had to take out a loan to pay for the expenses to travel to work in Qatar during the World Cup," Marcus, his name changed at his request, told Amnesty. "I am still paying it, what I earned was not enough."
Richard, who has also requested his name be changed and worked at one of the team training grounds, found he would have earned more had he stayed in Ghana.
"I lost because I paid almost £550 before going there. I only received about £1,200, so I only made £650. I would get more than that if I had stayed in Ghana. I lost my job as a result [of going] so I came back with little money and no job."
Khalifa International Stadium was one of the venues where some of the people interviewed by Amnesty worked
(PA Wire)
Kiran, a changed name for a worker from Nepal, found the nature of his work at the Souk Waqif metro intimidating and physically arduous.
"It was a tough job because there was one metro [station] in the area and too much of a crowd. I had to stand for ten to 12 hours a day… just resting my back on the barricades. At times we felt scared because it was too busy, and people were pushing."
Cockburn puts the primary responsibility on Fifa and Qatar, stating the country's existing mechanism for redress is "not fit for purpose".
He said: "The World Cup organisers were well aware of the issues but failed to put in place adequate measures to protect workers and prevent predictable labour abuses at World Cup sites, even after workers raised these issues directly.
"It's six months since the tournament concluded but Fifa and Qatar have yet to offer an effective and accessible scheme to enable abused workers to receive the justice and compensation they are owed. Qatar's existing mechanism for redress is not fit for purpose and has left thousands of workers deprived of compensation for the abuses they suffered.
"Fifa has a clear responsibility to ensure human rights are respected throughout the supply chain engaged in preparing and delivering its showcase competition.
"Although six months have passed since the World Cup, Fifa has yet to effectively investigate the issue, or offer remedies. Workers have already waited too long for justice. Fifa must now step in and offer immediate and meaningful remediation for the human rights abuses suffered by workers."
The abuses led many of Teyseer's workers to protest on multiple occasions while they were in Qatar. Some told Amnesty they reported their treatment on the World Cup Grievances Hotline but no action was taken.
One said a manager threatened to fire him in relation for complaining and warned him not to report issues again. Hundreds of marshals eventually staged a protest demanding their dues days before their contracts expired in January, after which workers said representatives of both Teyseer and the government promised they would be compensated. That has not yet been honoured.
The Amnesty report details "himan rights abuses" suffered by workers in Qatar
(Copyright 2019 The Associated Press. All rights reserved.)
Amnesty report that Teyseer representatives threatened "action" if the men failed to leave Qatar on flights arranged by the company. Hundreds had to leave Qatar without compensation.
Teyseer denied the allegations to Amnesty, saying the company followed an "ethical recruitment process" while detailing various measures it had taken to protect workers' rights. Fifa told Amnesty due diligence was conducted on the security firm but there were "different perceptions and views" on the experience of workers.
The global governing body said it would seek further clarification on the issues raised but did not offer commitment to provide remedy.
Qatar has introduced a grievance mechanism but workers must still be in the country to access the state's labour courts and any compensation scheme. There is no way to complain remotely and, with workers inevitably forced to leave once their contracts are up, Amnesty state they have been "denied justice".
The Qatari government repeated the common line to Amnesty that measures had been taken in recent years to reform its labour system.
Amnesty conclude by stating that the abuses endured are "part of a pattern suffered by migrant workers in Qatar" since the decision was taken to award the state the World Cup in 2010.
In a statement to The Independent, Fifa said: "Fifa, in collaboration with its Qatari counterparts, implemented a far-reaching due diligence process with the aim to ensure that companies involved in Fifa World Cup-related construction and services abide by the Supreme Committee's Workers' Welfare Standards. We consider any non-compliance with these standards unacceptable and are actively following up when we learn about alleged breaches.
"After receiving Amnesty International's allegations concerning Teyseer's workers on 19 April 2023, Fifa promptly followed up with the SC's Worker Welfare Department (WWD) as well as with the Doha Office of the International Labour Organisation ILO. It is the primary responsibility of the respective companies as well as the Qatari authorities to rectify possible adverse impacts on workers. As Fifa, we work to use our leverage with the relevant entities to promote the provision of remedy when we become aware of such allegations, in line with our responsibilities under international standards.
"We kindly refer you to the SC and the ILO for further information on this case.
"More broadly, one should not lose track of the bigger picture: International experts and trade union representatives who have assessed and collaborated in the labour rights programme for Fifa World Cup workers have repeatedly recognised that it led to heightened protection and welfare for Fifa World Cup workers.
"In addition, according to the International Labour Organisation, Qatar's labour reforms have been significant and benefitted hundreds of thousands of workers with the World Cup being an important catalyst for these reforms. It is undeniable that significant progress has taken place, and it is equally clear that the enforcement of such transformative reforms takes time and that heightened efforts are needed to ensure the reforms benefit all workers in the country."