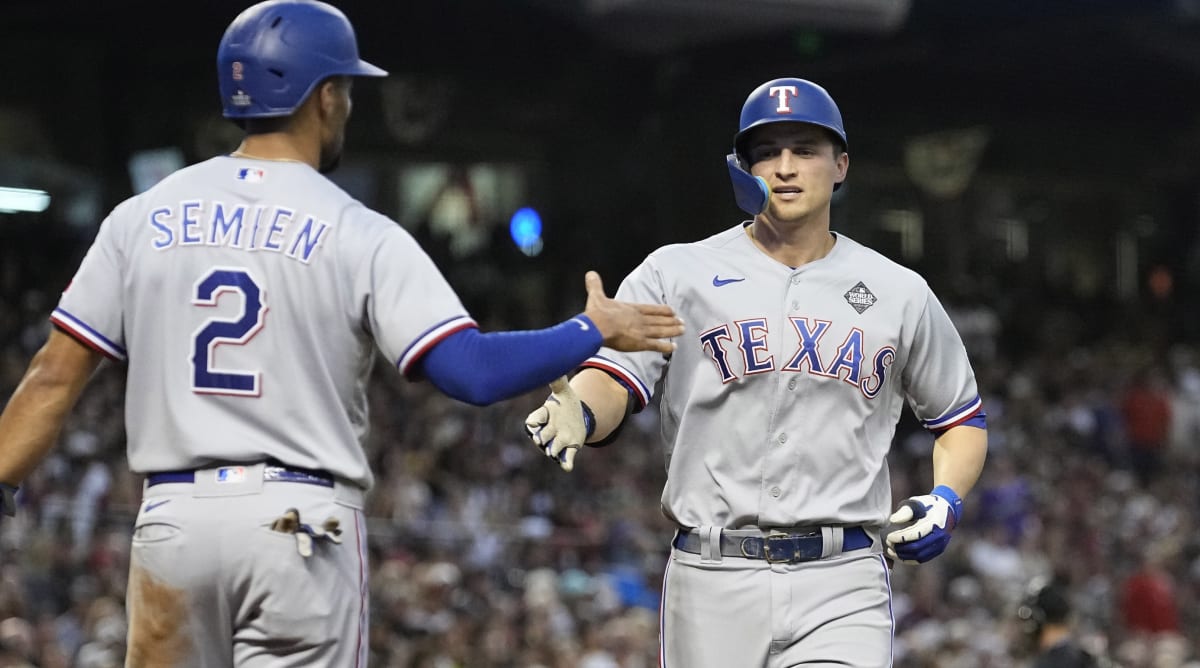 baseball
Rangers' Semien, Seager Are One Win Away From Realizing Their Shared Vision
If you squinted hard enough, if you looked past the fourth-place finish in 2022 and the resignation of the head of baseball operations and the firing of the manager, you could see a day like this 22 months ago, when the Rangers introduced the two players they expected to carry them to the franchise's first title. They sat in the concourse at Globe Life Field, first shortstop Corey Seager and then second baseman Marcus Semien, representing half a billion dollars, the better part of a decade and the best hopes of a generation of Dallas baseball fans, and they talked about winning a World Series.
Maybe no one envisioned this exact scenario, an 11–7 victory over the Diamondbacks in Game 4 to push the Rangers a win from a championship, but this was the idea: Semien in the leadoff spot, tripling in two runs; Seager hitting second, launching a home run to score two more. In his next at-bat, Semien hit his own homer; in the ninth, Seager tacked on a double. And just for good measure, they turned a double play to end the sixth.
They harbored the same vision on that day in December 2021, and they helped bring it closer to fruition in October '23. Texas had just lost 102 games, and it would lose 94 a year later, leading to the ousters of president of baseball operations Jon Daniels and manager Chris Woodward, but Seager and Semien—who each signed essentially on the condition that the other do the same—knew this team was close. A rotation's worth of veteran starters would follow them over the next year and a half.
Texas signed righty Jon Gray that same week and added righties Nate Eovaldi and Jacob deGrom this spring. GM Chris Young traded for lefty Jordan Montgomery and righty Max Scherzer at the deadline. A crop of young players blossomed. And suddenly, 12 years after they last won a playoff series, the Rangers found themselves back in the World Series.

Semien, left, and Seager both homered and accounted for four of the Rangers' six extra-base hits in Game 4 while totaling 7 RBIs in Texas's 11–7 victory.
Godofredo A. Vásquez/AP
But only one of their stars had shined so far. Seager, 29, and Semien, 33, were both All-Stars this season, but only Seager has looked it this October. Semien has struggled all postseason to make solid contact, popping the ball up in the infield a full quarter of the time. (He did it 7.6% of the time in the regular season.) He entered the night hitting .197 this postseason.
Still, the Rangers barely needed him. They swept the American League wild-card deries. Semien hit .111. They swept the American League division series. Semien hit .214. They won the American League championship series in seven. Semien hit .207. They continued to roll in the World Series, and Semien continued to scuffle. Theywon a dramatic, Game 1 in walk-off fashion and got thrashed in Game 2. They held on to win a close Game 3, in part thanks to a Semien RBI single followed by a Seager homer. But in the process they lost Scherzer, who left in the fourth inning with back spasms, and cleanup hitter and right fielder Adolis García, who left in the eighth with a left oblique strain.
They hoped a good night's sleep would matter, but an hour before the game started, the Rangers got the news they'd feared: They would have to replace both players on the roster. (Lefthanded reliever Brock Burke and utilityman Ezequiel Durán took their places.) Scherzer might only have been good for a few innings in a possible Game 7, but García won the ALCS Most Valuable Player award and was making a case for the same hardware from this round.
The decision was frustrating but easy, said Young; there was no chance either would be back before Saturday. "Nobody's feeling sorry for us," he added.
Least of all the Diamondbacks, who faced their own roster frustrations: They do not employ a legitimate fourth starting pitcher, meaning they had to use a revolving door of relievers. The danger of a bullpen game is threefold: You risk tiring all your relievers. You give the opposing hitters another chance to see—and get comfortable facing—your firemen. And every time you summon another pitcher, you take the chance that he doesn't have it. On Tuesday, just about none of the Diamondbacks' pitchers had it.
Third baseman Josh Jung, moved up to the fifth spot after García went down, doubled to lead off the second. He took third on a groundout and scored on a wild pitch. The next two batters reached, and Semien got a hanging slider on a 1–2 count. He laced it down the right field line for a triple. Seager launched a drive to the center field seats to make it 5–0.
COREY SEAGER STRIKES AGAIN 💥
📺: FOX pic.twitter.com/oKytcm45H6
— FOX Sports: MLB (@MLBONFOX) November 1, 2023
An inning later, the Rangers loaded the bases. Right fielder Travis Jankowski, playing in García's stead, ripped a two-run double; Semien swatted a three-run homer to run the score to 10–0.
By the time Arizona scored four in the eighth and two in the ninth, it barely mattered anymore. (The lone Diamondbacks bright spot was that second baseman Ketel Marte broke the record for a single-postseason hitting streak, with 16 games.) In the end, every Texas starter reached base. six Diamondbacks pitched; five allowed runs.
But Arizona did not play badly so much as Texas played very well—starting with its stars. And in the seconds after the game ended, there they were, together in the handshake line, celebrating a promise nearly fulfilled.