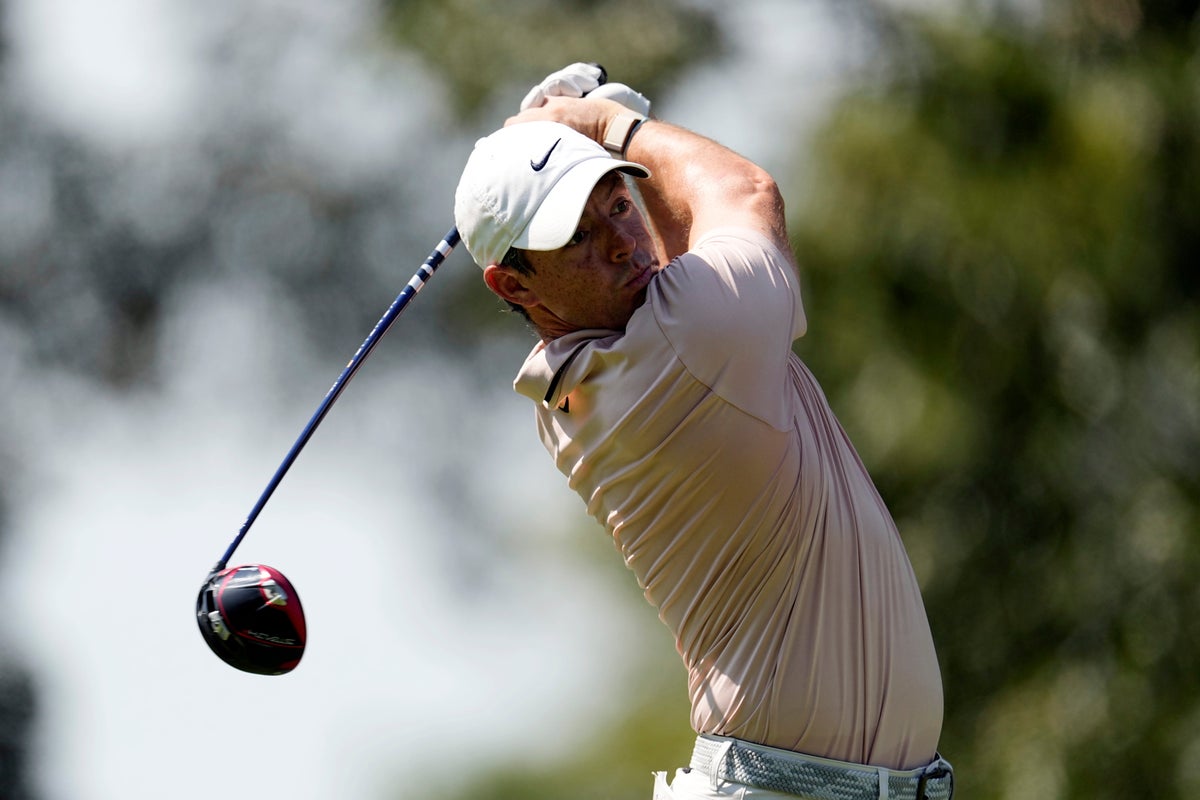 Golf
Rory McIlroy fully focused on the course in bid for fourth FedEx Cup title
Sign up to our free sport newsletter for all the latest news on everything from cycling to boxing
Sign up to our free sport email for all the latest news
Rory McIlroy can focus fully on claiming a record fourth FedEx Cup title and 18million US dollar (£14.1million) first prize after revealing he is less "emotionally invested" in off-course affairs.
McIlroy was one of the most prominent supporters of the PGA Tour in its battle with LIV Golf and spent part of the build-up to last year's Tour Championship getting changes to the Tour's schedule ratified in response to the threat posed by the Saudi-funded breakaway.
However, with the PGA Tour announcing in June plans for a shock deal with Saudi Arabia's Public Investment Fund, which bankrolls LIV, McIlroy has been able to take more of a back seat, especially with Tiger Woods recently joining the PGA Tour's policy board.
"I think last year, I was probably energised by everything that was going on in the world of golf. I felt like we were maybe in a bit more of a state of flux," McIlroy said in his pre-event press conference in Atlanta.
"I sat up here at this table this day last year talking about designated events and getting all the best players to play together and all that stuff.
"I remember this time last year being on a board call at 7.30 in the morning on the Tuesday trying to get all that stuff ratified and get it passed through the board.
"I've been able to focus a little bit more just on golf and my game and even able to take two days at home between Chicago and here, getting to spend some time with the girls. That's been really nice.
"(I'm) maybe less emotionally involved. Last year it was to do with how can we make the product of the PGA TOUR better and I think I was really invested in that.
"So when it comes to, like, governance and investment and all that, it's not that I don't care about it, but it doesn't excite me as much as making the product better and how can we make this the most competitive landscape to play professional golf and how can we get all the best players to play together.
"I'm on the board and I have to be involved and whenever something's brought to the table I'll vote on it yes or no. But, yeah, maybe just not as emotionally engaged on all of this other stuff."
McIlroy is the only three-time winner of the FedEx Cup after overturning a six-shot deficit in the final round of the Tour Championship last year.
The 34-year-old had also started the week six shots behind world number one Scottie Scheffler under the handicap scoring system and instantly fell further behind by making a triple bogey on the first hole.
As the player with the most FedEx Cup points from the regular season, Scheffler again starts the Tour Championship on 10 under par, with Viktor Hovland eight under, McIlroy on seven under and Masters champion Jon Rahm six under.
While McIlroy is in favour of the controversial scoring system first adopted in 2019, Scheffler is not a fan of the format, even though it gives him an advantage.
"This tournament is a little bit weird because there's starting strokes and I wouldn't say that it is the best format to identify the best golfer for the year," Scheffler said.
"Jon Rahm played some of the best golf of anybody this year and he's coming into this tournament fourth and he's four shots back. And, in theory, he could have won 20 times this year and he would only have a two-shot lead.
This tournament is a little bit weird because there's starting strokes
Scottie Scheffler on the Tour Championship
"I feel like I've joked a decent amount about being (world) number one meaning you don't get any extra strokes and you show up this week and I do get some extra strokes. So it's a bit strange, but it should be a fun week."
Asked what he learned about losing his six-shot lead in the space of seven holes in last year's final round, Scheffler said: "I don't know if impatient is the right word, but I just didn't get off to a good start and after that, I played really well.
"I remember walking down number eight and kind of just having a talk with myself about, you know, this is why you practice, this is why you prepare, just kind of give yourself a little pump-up speech, and then after that I snapped right back in."