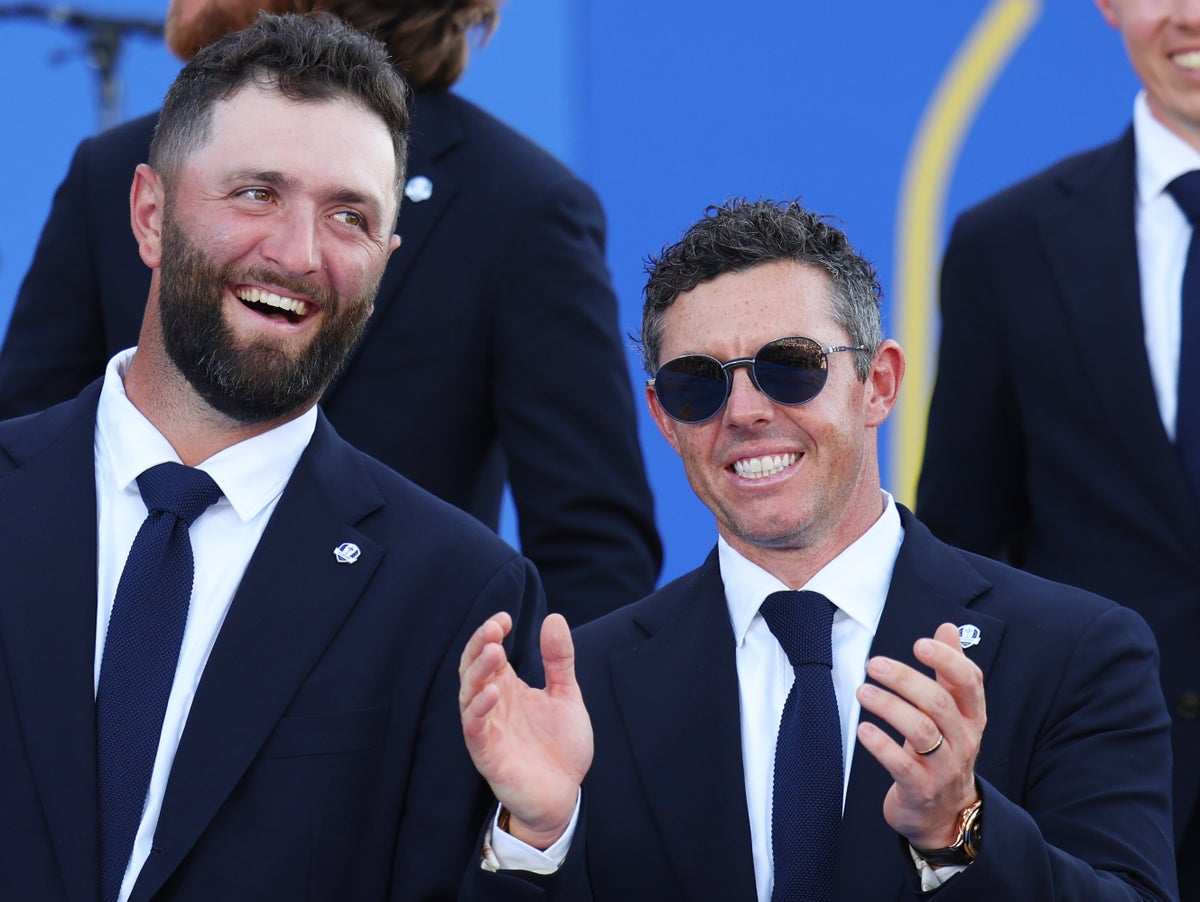 Golf
Ryder Cup 2023 LIVE: Live scores and updates from the first tee as Europe and USA battle in Friday foursomes
Players practise ahead of Ryder Cup
Sign up to our free sport newsletter for all the latest news on everything from cycling to boxing
Sign up to our free sport email for all the latest news
The Ryder Cup begins this morning with Europe and the USA playing four matches of foursomes at Marco Simone in Rome.
Captains Luke Donald and Zach Johnson have selected their pairings for the first session of what promises to be a gripping team golf battle. Jon Rahm and Tyrrell Hatton combine for an exciting opening pair to take on Scottie Scheffler and Sam Burns, while Rory McIlroy and Tommy Fleetwood battle Xander Schauffele and Patrick Cantlay.
Follow all the build-up to Marco Simone and updates and reaction from day one of the biggest event in golf. Get all the latest golf betting sites offers here.
Ryder Cup 2023 – Day 1
Show latest update
1695967069
Chances at the second
Scheffler/Burns v Rahm/Hatton – A/S (1)
Up to the second and these two pairs are neck and neck. Nothing separates them off the tee and their balls land right next to each other on the green, too.
America with a slight advantage and they'll get a good read from Europe.
Ben Fleming29 September 2023 06:57
1695966845
Second match underway
Homa/Harmon v Hovland/Aberg
Back to the first tee we go for the start of the second match. Homa gets America started and it's a lovely shot up the right side.
Hovland is the chosen man out of the European duo to get proceedings under way and the ball is like a bullet as it leaves his club. Straight down the middle. Perfect.
Ben Fleming29 September 2023 06:54
1695966538
All square after one
Scheffler/Burns v Rahm/Hatton – A/S (1)
And a timely reminder of why Scheffler is the World No.1. A remarkable chip from the front of the green which just lips out! So unlucky but that should be a par.
A chance now for Rahm to take the hole…not to be. It's a big uphiller and just runs out of steam towards the end. All square but a very solid start from Europe.
Ben Fleming29 September 2023 06:48
1695966350
Advantage Europe
Scheffler/Burns v Rahm/Hatton
Europe to go first into this green. Hatton with a nine iron and it's a great start for Europe. Pin high and a good look at birdie.
Burns from the thick rough and the American can only muscle it up to the front edge of the green. A really good chance for Rahm and Hatton to take an early lead.
Meanwhile, back on the first tee, Aberg and Hovland make their way out to a hero's reception. What a moment for the young Swede.
Ben Fleming29 September 2023 06:45
1695966007
And we're off!
The talking is done and we are ready to go!
The US have the honour as Scheffler has the first tee shot for the visitors. Just left and into the rough.
And it's advantage Europe as Rahm finds the perfect position on the right side of the fairway with his tee shot.
Ben Fleming29 September 2023 06:40
1695965621
First match coming up
Rahm and Hatton begin to make their way to the first tee.
(Getty Images)
Ben Fleming29 September 2023 06:33
1695965424
How does the Ryder Cup work?
A quick crash course for those new people joining who perhaps aren't entirely sure how the next three days will unfold.
The first two days consist of a morning and an afternoon session. In the morning sessions, the teams will contest four foursomes matches, whereby two golfers from each team pair up and play alternate shots using the same ball. The best score on each hole wins, with a tie if the scores are equal.
In the afternoon sessions, the teams then compete in four fourball matches, with two golfers from each team pairing up but, this time, using their own ball. The lowest score from either player is used for the team's overall score for that hole with the best score winning the hole.
Players can play in all four sessions across the first two days, but with only eight slots available for each session some of the 12-man team are rested each time. Each player has to play in at least one session across the first two days.
The third and final day consists of singles matches where one player from Team Europe competes against another player from Team USA. This is standard matchplay, with the best score on each hole winning. All twelve members from each team have to compete in these matches.
There are 28 points at stake in total, with a point being awarded for winning a match, or half a point given to each team if there is a tie after 18 holes. If the overall score is tied at 14-14 come the end of Sunday, the holders (Team USA) will retain the trophy.
That means that for Europe to win the Ryder Cup this year they will need at least 14.5 points.
Ben Fleming29 September 2023 06:30
1695965100
Padraig Harrington: After 2021, they said we wouldn't win a Ryder Cup for 20 years. Now Europe are favourites
There was a point earlier in the year when a 51-year-old Padraig Harrington began to appear on the radar for a Ryder Cup captain's pick.
The chance of a wild card selection, which would have made him the oldest competitor in the tournament's history, fell away as the Irishman's form subsided over the summer, but the three-time major champion still found his phone ringing on the morning of Luke Donald's captain's picks.
"Luke rang me when he made the picks to say I hadn't got one which I thought was very polite. Not necessary, mind you. I knew I wasn't getting on," he says.
Just two years ago it was Harrington making those calls. Europe's Ryder Cup captain in 2021, he was presented with the challenge of trying to mastermind another famous away victory at Whistling Straits.
Ben Fleming29 September 2023 06:25
1695964771
7.20am BST: Schauffele/Cantlay v McIlroy/Fleetwood
And what a final match for today's morning session. The American duo of Patrick Cantlay and Xander Schauffele are best mates off the course and dynamite on it. They were unbeaten in America two years ago and will look to keep that streak going against the newly-formed 'Fleetwood Mac'.
McIlroy and Fleetwood have been on a number of Ryder Cup teams now but this is the first time this pairing will be trialled. It has all the makings of a winning combination but they'll certainly be in for a tough opening test.
(Getty Images)
Ben Fleming29 September 2023 06:19
1695964580
7.05am BST: Fowler/Morikawa v Lowry/Straka
Another Ryder Cup debut in the form of Sepp Straka in match three. The big-hitting Austrian has lived in America since the age of 14 but will be representing Team Europe alongside Ireland's Shane Lowry this morning.
They take on Rickie Fowler and Collin Morikawa. Fowler is back at the Ryder Cup after a resurgent year on the PGA Tour saw him win for the first time since 2019. He tees it up alongside Morikawa who enjoyed a very successful first appearance at the Ryder Cup back in 2021 at Whistling Straights.
(PA Wire)
Ben Fleming29 September 2023 06:16