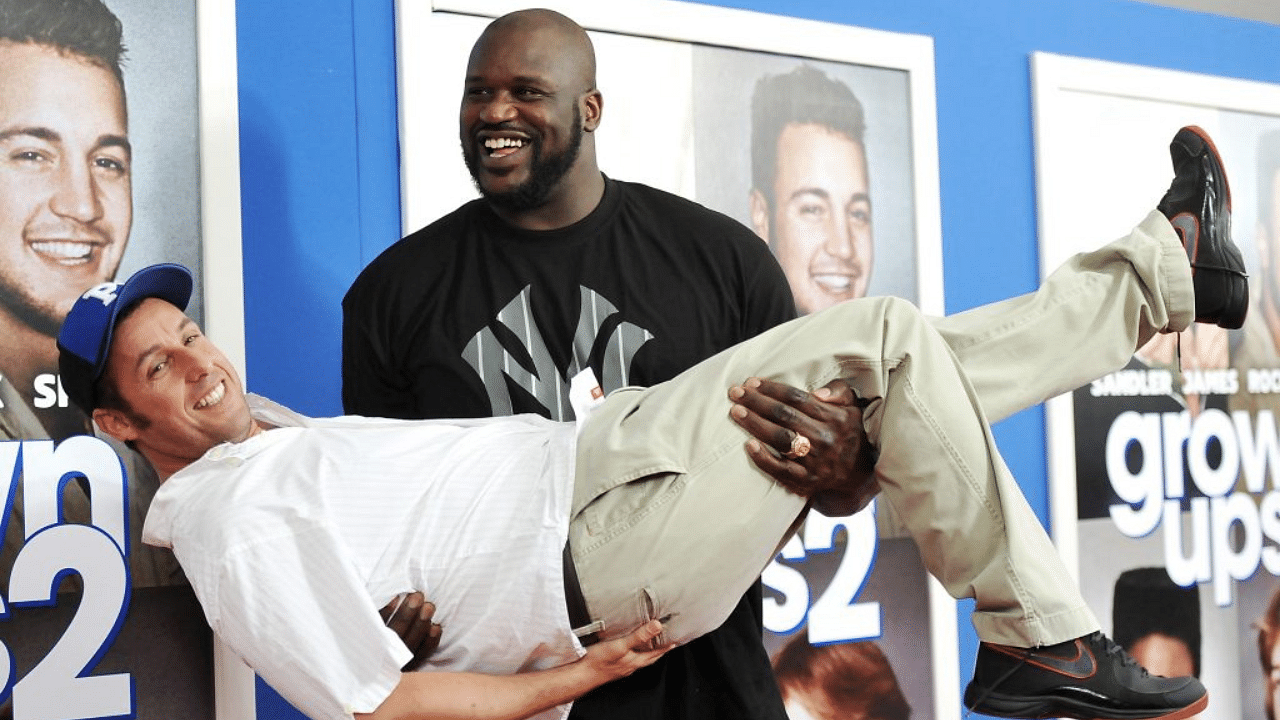 basketball
Shaquille O'Neal 'Fondly' Remembers $247,000,000 Grossing Movie With Adam Sandler 10 Years After Its Release: "We're Dante and Flazoo!"
Shaquille O'Neal's funny and hilarious role as Officer Flazoo in Grown Ups 2 is forever etched into his fans' memories. The Big Man showed everyone his acting prowess, sharing the silver screen alongside established Hollywood personalities Adam Sandler and Chris Rock. It's been ten years since the movie's release in 2013, wherein it grossed $247,000,000. Shaq seems to be reminiscing those good old days as he shared a clip from the movie set alongside Peter Dante, mesmerized in singing a chant dedicated to the movie.
In order to make a Hollywood appearance alongside Adam Sandler, Shaq had to fulfill one requirement. Adam Sandler had asked Shaq to win three championships to earn three movies alongside him. And Shaq did win a three-peat, eventually earning what Sandler had promised him.
Shaquille O'Neal reminisces about $247,000,000 movie Grown Ups 2
Shaquille O'Neal played the role of a cop, Office Flazoo in the Adam Sandler movie, Grown Ups 2. The movie released in 2013 is a sequel to the previous Grown Ups movie from 2010. The plot follows Lenny (Adam Sandler) moving in with his family to his new hometown. As Lenny started spending more time with his childhood buddies, he was faced with bizarre situations and new enemies which add to the comedic element of the movie.
Shaquille O'Neal seems to be missing all the cast members ten years since the movie's release. In his recent Instagram post, the Big Diesel shared a clip of himself and fellow actor Peter Dante singing a chant dedicated to the movie. In his caption, Shaq wrote:
"[We're] Dante and Flazoo." 
Loading embed instagram https://www.instagram.com/reel/CxXfUv5uvbH/?utm_source=ig_embed&utm_campaign=loading
Furthermore, ten years back as well, Shaq showed the same zeal and energy in sharing about the movie. On both his Twitter and Instagram profiles, Shaq shared a picture of himself with cast member Peter Dante, posing in cop uniforms.
Loading embed tweet https://twitter.com/SHAQ/status/233698343740649472?ref_src=twsrc%5Etfw
It seems Shaq is still not over the fun he had while shooting the Grown Ups 2!
 Adam Sandler used to troll Shaq in the sets of Hubie Halloween
When you combine the goofiness of both Shaq and Adam Sandler, of course, you'd expect some wholesome and troll-worthy moments coming out of them. Keeping his promise of offering Shaq movies, Adam Sandler had put the big man on the cast for Hubie Halloween. However, that did not prevent Sandler from grabbing a few fun moments out of the Diesel.
While shooting Hubie Halloween, Sandler pranked Shaq by making him redo a kissing scene about 50 times! Well, though Shaq clearly wasn't enjoying being trolled, the girl he was kissing was getting into the feel. And so was Adam Sandler, hilariously making the best out of that situation. When Shaq realized his co-actress was getting quite intense in kissing him, the Big Man cautiously replied, "Hey lady, this is just for the movie. Adam cut!"