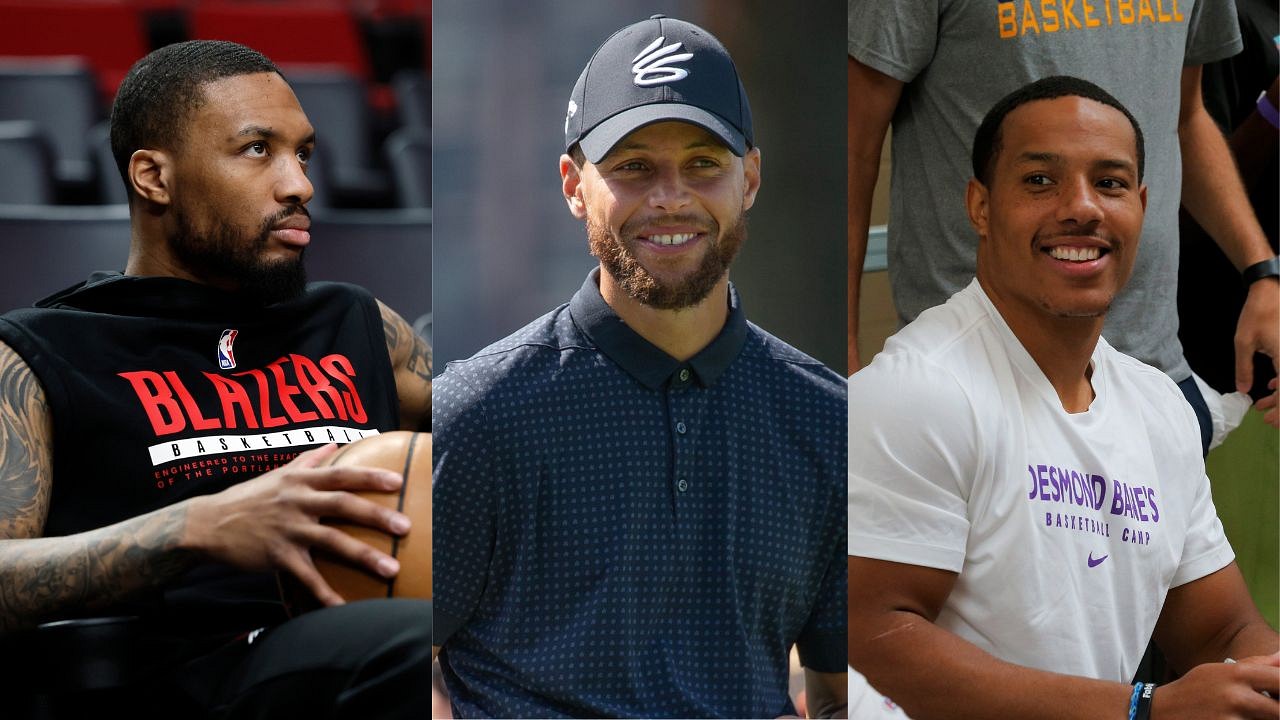 basketball
Stephen Curry Gives 'Major Props' to $3,845,083 Earning Grizzlies Star, Snubs Damian Lillard
Stephen Curry recently appeared on NBA Rewind, where he had an interesting discussion with Ahmad Rashad. They spoke about a number of intriguing topics, but one of them had to do with Steph's specialty. Talking about some of the best shooters in the league, Rashad asked Steph for his opinion. Here, the Baby-Faced Assassin tipped his hat to a number of talented stars, one of whom is $3,845,083 Memphis Grizzlies star, Desmond Bane.
One of the other players Steph mentioned is a bit closer to home. Giving a shout-out to his own flesh and blood, Curry praised his brother Seth Curry for his incredible shooting as well. He's always been a big fan of Seth's game, and even this time around, he had nothing but good things to say about his shooting percentage. In particular, he is chasing his younger brother, whom he revealed has the highest shooting percentage in the Curry family.
Stephen Curry gives Desmond Bane a shout-out for his shooting ability
Three-point shooting and shooting in general has become a very important part of the modern NBA game. Several players have been forced to evolve their game so as to include shooting in their arsenal. This is thanks to one man and one man only, who revolutionized the league, Stephen Curry.
Curry is considered to be the greatest shooter of all time. As such, in an interview with Ahmad Rashad, he was asked for his opinion about the other shooters in the league. He had high praise for how players are including shooting in their game. But in particular, he pointed out three names that impressed him greatly.
The first is his shooting partner on the Golden State Warriors, Klay Thompson. The second is his own brother Seth Curry. And, finally, the third is Memphis Grizzlies star Desmond Bane. A player he believes has been shooting the ball at a high level ever since he entered the league.
"Desmond Bane is guy that's shooting the ball at a high level. He has been since he got into the league. It's wild thinking about how the game has changed so much since I was a rookie and even before. You've got guys on teams that value the team, shoot the three at a high level, have added that to the game and really prioritized that part of basketball."
It is an interesting list of three that he has picked. However, it is surprising that he left out perhaps the second-best shooter after him in today's NBA, Damian Lillard. While it is doubtful that he did this on purpose, it will be intriguing to see how the internet reacts. It will surely have something to say about this. However, on the other hand, Lillard has always praised
Damian Lillard has always admitted that Steph is the greatest shooter of all time
Stephen Curry may not have given Damian Lillard his flowers, but Dame always has. In recent times, Lillard has established himself as the second-best shooter in the modern NBA. And, while he would love to be No.1, he knows that he cannot displace the Dubs star. He's conceded on several occasions that Steph is the greatest shooter of all time.
Loading embed tweet https://twitter.com/BlazersNationCP/status/1372568413348884486?ref_src=twsrc%5Etfw
At the end of the day, to the average person, it would seem as though Steph has snubbed Dame Dolla. However, the four-time NBA Champion has clearly just forgotten to mention the Trailblazers star. After all, even he cannot deny just how great a shooter Lillard is.