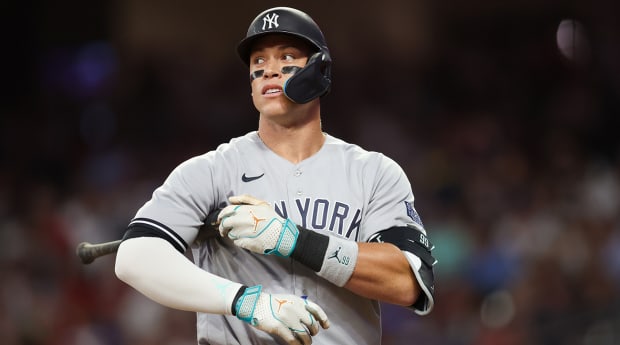 baseball
Struggling Yankees Sink to Low Point Unseen in Nearly 30 Years
The Yankees continue to struggle to put runs on the board, having now dropped five games in a row, including two consecutive shutouts. Following Wednesday night's 2–0 loss against the Braves, New York dipped below .500 for the first time all season. 
At 60–61, the Yankees sit in last place in the American League East, and have their worst record this late into a season in 28 years.
The last time the team was below .500 this late into the campaign was back on Sept. 1, 1995. That squad won 19 of its last 23 games, including 11 of its last 12, to reach the playoffs, where they lost in the ALDS. They won the World Series the following year, and four of the next five years.
The last time the Yankees ended a season with a sub-.500 record was 1992. They had been at .500 or better for all of this season up until their current five-game losing streak.
Speaking to reporters after the game, Aaron Boone remained optimistic, indicating he's hopeful that this team will go on a 1995-like run of their own.
Aaron Boone references the recent Braves, Nationals and Phillies teams that went on improbable runs to the World Series
He even brought up a recent conversation he had with Suzyn Waldman about the 1995 Yankees pic.twitter.com/bAIUuyWvie
— Talkin' Yanks (@TalkinYanks) August 17, 2023
In the second half of the season, New York has stumbled to an 11–19 record. Since the All-Star break, Yankees batters have the fourth-worst OPS in MLB, and the team's ERA is over a full point higher than what it was in the first half, from 3.79 to 4.83.
If there's a comeback left in this team, they'll need to show signs of it soon. New York sits 6.5 games out of a wild-card spot in the American League with just 41 games left on the schedule.