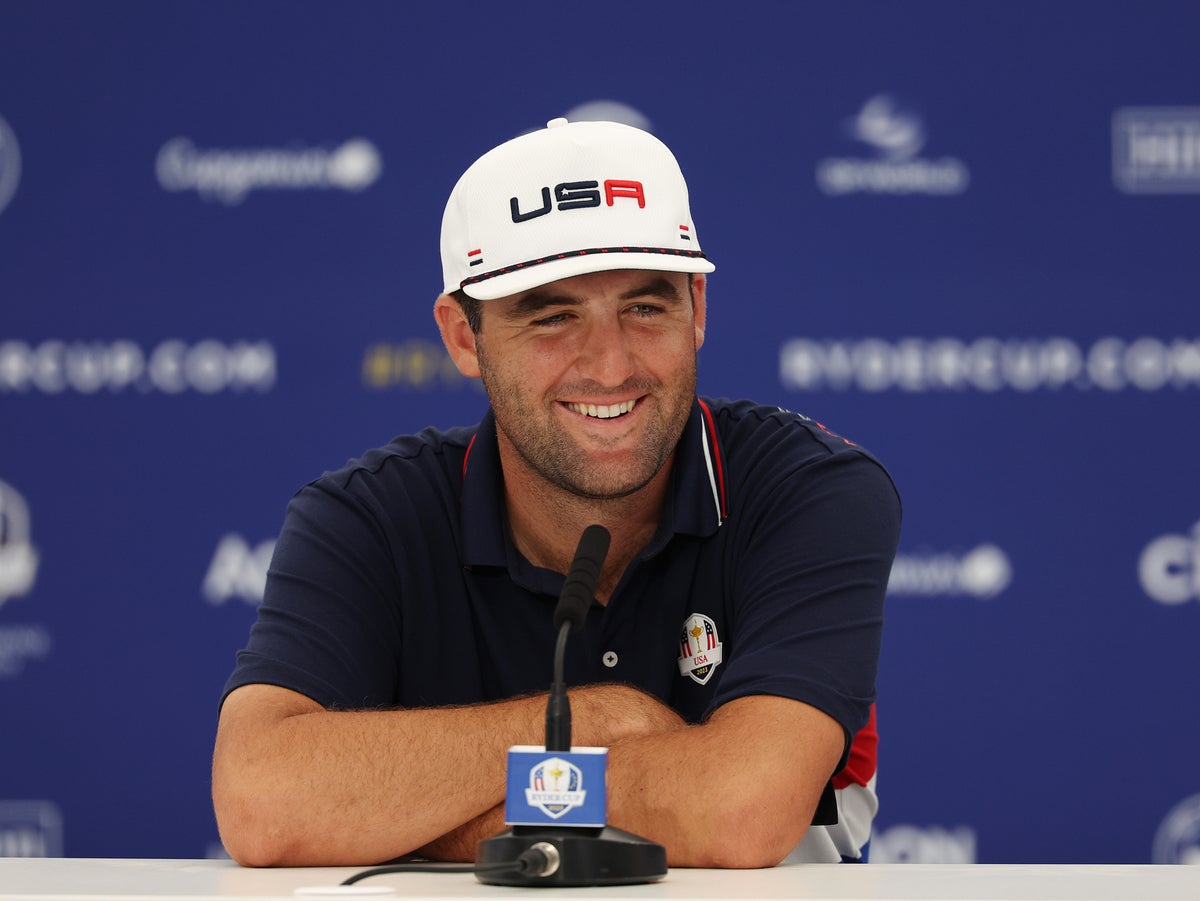 Golf
The English coach inspiring Scottie Scheffler and Team USA to Ryder Cup success
Sign up to our free sport newsletter for all the latest news on everything from cycling to boxing
Sign up to our free sport email for all the latest news
Scottie Scheffler had a watching brief almost two years ago at a feverish Whistling Straits as the United States begun its beligerent march towards reclaiming the Ryder Cup.
Snubbed by Steve Stricker on that Friday morning before eventually returning an impressive 2.5 points across three matches on debut, the 27-year-old now finds himself on top of the world and in an entirely different and bizarre position. Despite standing tall in the world rankings above European superstars Rory McIlroy, Jon Rahm and Viktor Hovland, the demeanour of Scheffler has drastically changed since slipping on the green jacket in April last year. By his exceptional standards, one major is a modest return and the cruel nature of golf and its ever-evolving puzzle surrounding each player's game has seen Scheffler struggle on the greens this year.
A peculiar strokes gained picture developed throughout 2023 as Scheffler routinely separated himself from fellow elite players with his ball-striking: registering 2.615 strokes gained tee-to-green, 0.677 more than McIlroy and 1.051 more than Patrick Cantlay in third. His impressive play even drew comparisons to Tiger Woods' prime, with that particular statistic the second best since tracking began 20 years ago, behind Wood's 2006 season (2.98), according to Twenty First Group's Justin Ray.
And yet, despite an undeniably successful season that others can only dream of, Scheffler's putter has regularly betrayed him to somewhat dim his stardom. The world's best player was not outstanding with the short stick in 2023, neither was he just average. In fact at times Scheffler was dead last in the field. Scheffler would finish 151st out of 184 players for strokes gained putting (-0.301). It makes a major, five regular PGA Tour victories and $21m (£17.3m) earned on the course last season alone somewhat disappointing given the advantage Scheffler has built over his rivals from tee to green.
Desperate to rectify the issue on this maddening journey, Scheffler has turned to English putting guru Phil Kenyon. Tommy Fleetwood, Rory McIlroy, Justin Rose, Matt Fitzpatrick and Scheffler's compatriots Max Homa, who ranks sixth on the PGA Tour in strokes gained putting, and Brooks Koepka, are among those to have worked with Kenyon. The desired destination for Scheffler, should his ball striking remain consistent, poses a frightening prospect for his rivals and, more urgently, Team Europe.
Quite how quickly Scheffler find the promised land on the greens is still a mystery, though he is evidently in a hurry having already spent many hours at the practice area at Marco Simone this week. Tee pegs could be seen scattered around him, forming various gates to carve out a path from his backstroke to the hole. Together with Kenyon, the pair forensically analysed each putt's line, weight and contact.
"We changed aspects of his set up to help him release the putter better," Kenyon remarked, having linked up with Scheffler following the Tour Championship.
The Texan admits he is "excited" by the changes and how Kenyon has validated his prior concerns: "My suspicions were answered, but I was trying to fix it in the complete wrong way. It's very simple.
"The way I move the putter through the ball, I was fighting the toe rising in the putter, so I would miss contact a bit in the heel. To try keep my putter head low, I would feel everything in my hands and lower my hands, but it would cause the toe of the putter to go higher and higher. The problem was getting worse and worse.
"I couldn't figure it out. It was preventing me as many putts on line as I should. Now I feel I'm much more consistent hitting my start line. It's exciting. It's good to have a bit of direction, the second set of eyes from Phil was really helpful. Phil's been really helpful.
While former PGA Tour player and NBC Sports commentator Smylie Kaufman explained on X, formerly Twitter, was buoyed by Scheffler sharpening the fundamentals to his game.
Scottie Scheffler looks at his putt on the 3rd green at Marco Simone during a practice round on Wednesday
(AP)
"Lining up the ball is a skill and should be practiced like I saw Scottie do this afternoon," he explained. "It's a great way for anyone to practice. Have a station to work on your fundamentals. Remove yourself from the station and reconfirm that the fundamentals are transferring on breaking putts. Practice sessions like this give you instant feedback and can be very positive for confidence and ownership."
Team USA enters a new era without Tiger Woods and Phil Mickelson, while Dustin Johnson also sits this one out after switching to LIV Golf. The mercurial nature of Jordan Spieth and the furious debate surrounding Justin Thomas' inclusion as a wildcard pick, despite an alarming decline, underlines Zach Johnson's need for a pillar, despite the enviable depth to Team USA. Scheffler boasts a 2-0-1 Ryder Cup record, though he struggled last year at the Presidents Cup, languishing to 0-3-1. He simply must step up here and looks poised to predominantly lean on friend Sam Burns as his playing partner this week.
This could be his team over the next decade if he can fix the putting. Europe will hope an Englishman hasn't found that required spark just yet.