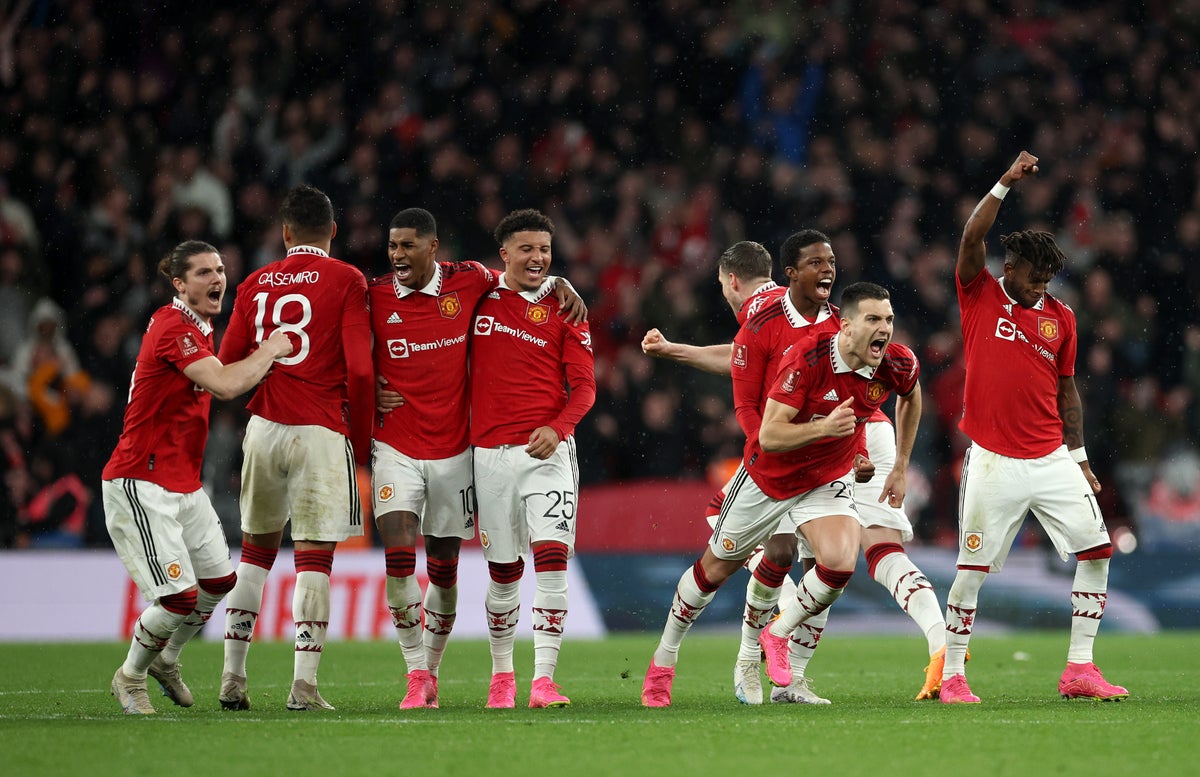 Football
The great question facing Manchester United after denying Brighton their FA Cup final
Sign up to Miguel Delaney's Reading the Game newsletter sent straight to your inbox for free
Sign up to Miguel's Delaney's free weekly newsletter
Manchester United may be on their last legs this season, but there is still a defiance bringing them right to the last kick – and now a first ever Manchester derby for an FA Cup final. Erik ten Hag's injury ravaged side kept it together to beat Brighton and Hove Albion on penalties, denying the latter the feat their season and arguably their performance deserved.
Roberto De Zerbi's team were the better side for long periods, but United could tell them from much greater experience in these games that semi-finals are for winning.
It is a shame for Brighton, and for the otherwise excellent local hero Solly March, who had the one missed penalty amid a series of near-perfect kicks. The players went from not being able to score to not being able to stop, until March went far too strong.
The great question now is whether United can recover the strength – and the bodies – to stop Manchester City. One argument before the game was that the reward for this was really to get taken apart by the English champions in the final.
United are now going for their own cup double, though, and there could well be the extra motivation of trying to stop their local rivals replicating the 1999 treble.
That will be a big ask but that's exactly what they did in 1977 with Liverpool.
Such talk only sums up how painful it is for Brighton. Amid clubs that have won so much, they are still waiting for their first major trophy. They are still waiting on a second FA Cup final.
The first-class nature of how the club is run suggests their time will come, but the wider economics of the game may work against it.
Roberto de Zerbi consoles Solly March after his penalty miss
(Reuters)
This 0-0 semi-final exhibited that.
Much of the general play went exactly as expected – with both teams looking like what they are at the moment. The stage didn't change anything in that regard. Brighton looked the side on better form, who had more of the ball as well as an innovative idea of football.
There was a moment before half-time that was almost the perfect encapsulation of De Zerbi's idea. Brighton drew United in at centre-half in their own box, before elegantly stepping out to stride right up the match and work the ball to the wondrous Kaoru Mitoma. The only element that was missing was the finish, which emphasised how Brighton were missing Evan Ferguson.
United were meanwhile missing their main centre-half partnership which was itself the biggest sign of how this is a team now feeling the toll of a long season. They looked stretched here, but still had the star power to do something out of nothing. Bruno Fernandes was indicative of this. He looked fatigued and not up to his highest level, but was still getting into dangerous positions. The Portuguese's dragged shot wide was United's best opportunity for over an hour.
Brighton forced a lot more out of David De Gea but, again reflecting that lack of a focal point, so many of them were from distance. Alexis Mac Allister hit a superb swerving free-kick in the first major attack of the game, that the goalkeeper strongly palmed away. After half-time, De Gea palmed away a vicious Julio Enciso strike. The Paraguayan can certainly hit them, as he showed against Chelsea.
Kaoru Mitoma couldn't provide a finishing touch for Brighton
(Action Images via Reuters)
Mac Allister was showing why clubs like United are in for him. He was running the game, adding a real range of passing to his tidy play.
You could still sense the fact it meant so much more to Brighton, though. The game had the feel of one of those finals from the 1990s and mid-2000s, as it was tense and increasingly laboured. Extra-time long felt an inevitability. So, gradually, did penalties.
The extra tiredness from extra-time did eventually see the game open out, though. Brighton's system wasn't as coherent, a development summed up by their best chance of the second half of extra-time coming from a goalmouth scramble. Mitoma miscontrolled and then slid in on De Gea in a moment that could have brought a second yellow card for the Japanese creator. Referee Craig Pawson had been lenient throughout.
It otherwise meant United got more joy through the gaps. Fred barracked substitute Wout Weghorst for not being on the end of one pass. Robert Sanchez had to stretch to get on the end of one deflected Marcus Rashford shot. A similar effort in the second half curved just wide.
This has been a real issue of late for United, though. They have stopped scoring, and here barely looked like scoring.
The first moment of real drama was when Jadon Sancho stepped up, at the opposite end from where he missed for England in the Euro 2020 final. This had the opposite outcome. He put it right into the top corner.
Rashford then did similar, although he has scored a few since. The closest anyone came to missing one of the regulation 10 was Marcel Sabitzer, as Sanchez got a hand to it, but the shot was too powerful.
It seemed the players couldn't stop scoring, amid a series of near-perfect penalties, until March hit one of those you almost always see in a shoot-out. As the pressure rose with sudden death, so did the ball. He put it over. Victor Lindelof put United into the FA Cup final.