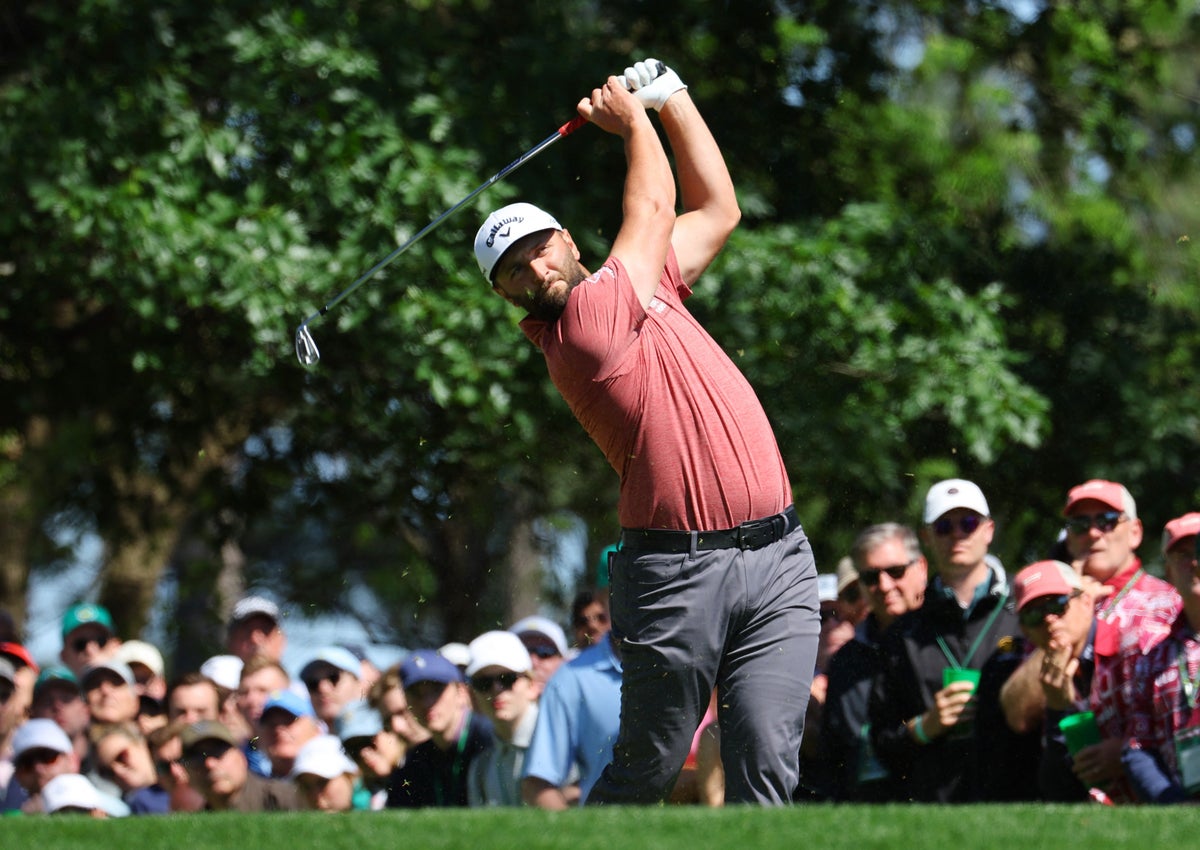 Golf
The Masters 2023 LIVE: Leaderboard and scores as Rahm takes control in final round
Who will win The Masters? | You Ask The Questions
Jon Rahm leads Brooks Koepka into the final round at the 2023 Masters, with Viktor Hovland giving chase.
Four-time major winner Koepka, who defected from the PGA Tour to LIV Golf last year, resumed the suspended third round this morning with a four-shot lead, but that was immediately cut down to two by Rahm, and the pair traded blows to go into the final round with that two-shot gap still intact.
Viktor Hovland and Patrick Cantlay were the picks of the chasing pack on Sunday morning. The former hit five birdies in a row on the back nine of his interrupted third round to drag himself into contention while Cantlay shot 68 to finish on six under par, six shots behind the leader Koepka.
Tiger Woods earlier withdrew with injury following his Saturday struggles.
Follow the action from the final round below:
The Masters 2023
Show latest update
1681080398
More misery for Cantlay
Hovland -5 (16), Cantlay -3 (16)
Cantlay's tee shot into the 16th is not enough and he's got a lot of work to do for his par. His first putt comes up well short and it's a three-putt in the end for the American. Six bogeys for the day and three over for the day – you suspect he just fancies getting in and putting his legs up now.
Hovland saves par to remain at five under par.
Ben Fleming9 April 2023 23:46
1681080216
The LIV golfer knocks in a birdie effort at the last to complete a very respectable round of 68. It's currently good enough for a tie for fourth.
Ben Fleming9 April 2023 23:43
1681079980
Koepka -8 (15), Rahm -12 (15)
Rahm's tee shot leaves him with no other option but to lay up but it's exquisite touch to fly his wedge to just 11 feet. Koepka takes on the green in two and makes it but his lengthy eagle effort comes up short and he has to settle for birdie – just his second of the round as he moves back into a tie for second.
Rahm lines up his birdie effort up the slope…not to be and it drifts off to the right. An easy enough par for the Spaniard and he maintains his four-shot lead.
Ben Fleming9 April 2023 23:39
1681079599
Hovland finds the water on 15
Hovland -5 (15), Cantlay -4 (15)
The pair bogeyed 14 and 15 gets no better. Cantlay can only make par while Hovland's second falls back into the water hazard. He does well to get up and down to save his par and remains on five under par.
Ben Fleming9 April 2023 23:33
1681079349
Bogey for Reed
Patrick finds himself in the bunker after his second shot and is unable to get up and down to save his par. He drops back to six under and his extremely faint chances are now gone.
Ben Fleming9 April 2023 23:29
1681079285
Henley pars 15
Matsuyama -4 (15), Henley -7 (15)
Henley misses a good look at birdie on the par-five 15 and has to settle at par. He's had a bogey-free back-nine but that's also yet to include a birdie. Just three holes left for him to try and get near to Rahm. Matsuyama makes par and remains one-over-par for his round.
Ben Fleming9 April 2023 23:28
1681079038
Rahm leads by four with back-to-back birdies
Koepka -7 (14), Rahm -12 (14)
Koepka goes first with his long-range effort…and he really gives it a go. It flies past the hole and he has work to do to make par. He can't find the return putt and it's another bogey for Koepka – what a disaster of a final round this has been from him.
The same can't be said of Jon Rahm. His birdie effort catches the left edge and drops in at the last moment. The Spaniard moves to 12 under and he now leads by FOUR. Commanding stuff.
Ben Fleming9 April 2023 23:23
1681078656
Glorious shot from Rahm on 14
Koepka -8 (13), Rahm -11 (13)
Both Koepka and Rahm find themselves in the rough after their drives. Koepka goes first and probably thinks he's done quite well to chase on up to the back of the green. Rahm, albeit with a better lie, flies a superb iron to the back-left portion of the green. It works its way down towards the hole beautifully and that is a great look for birdie for Rahm.
Ben Fleming9 April 2023 23:17
1681078485
Reed saves par on 16
Patrick Reed is now three back off Rahm but he makes a good par save from the sand on 16 to follow up the birdie he made on 15.
You have to think he needs two birdies coming in to stand a chance, however.
Ben Fleming9 April 2023 23:14
1681078226
Rahm leads by three
Koepka -8 (13), Rahm -11 (13)
Koepka's lie isn't as bad as it first looked but he races by the chip initially. However, it's a great return putt and a much-needed birdie for Koepka – his first of the day.
Rahm shows great touch to nurse his chip down to just five feet and he knocks it in for a birdie. Massive putt for the Spaniard – he now leads Koepka and Mickelson by three.
Ben Fleming9 April 2023 23:10