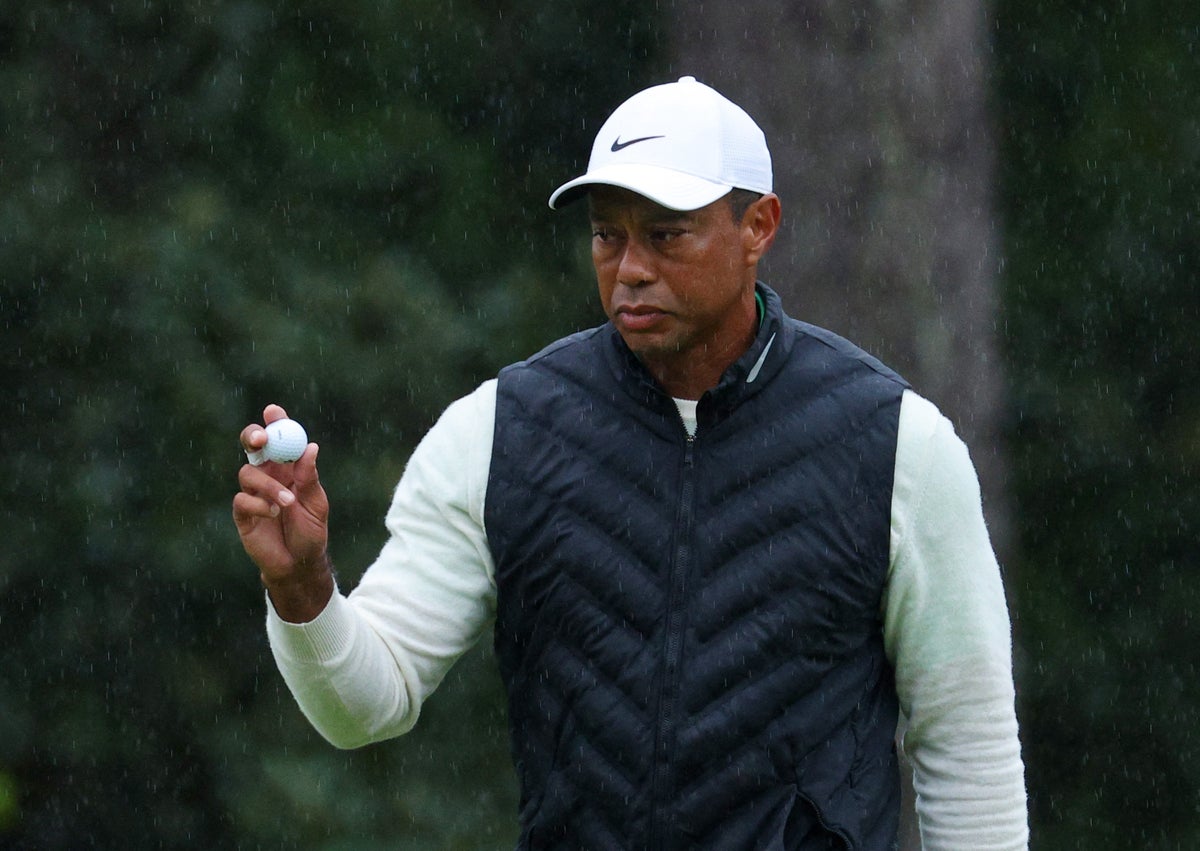 Golf
The Masters 2023 LIVE: Leaderboard and scores as Tiger Woods fights to make the cut at Augusta National
Who will win The Masters? | You Ask The Questions
Day Two of the Masters saw Brooks Koepka stretch his lead to finish 12 under par, with Jon Rahm three shots back but yet to finish his second round.
That's as a result of bad weather and two trees falling meaning play was halted on Friday, so Saturday's 1pm GMT start will be with the remaining groups from Friday finishing off their second rounds. Still fighting to make the cut is Tiger Woods, but Rory McIlroy is heading home early.
Only Jack Nicklaus, Nick Faldo, and Tiger Woods have won the Masters in consecutive years and last year's champion Scottie Scheffler sits at one under par through two rounds, meaning it would take a monumental weekend for him to triumph again.
The first major of the golfing year will also be defined by the return of 18 LIV Golf defectors who have been granted permission to compete in all four majors this season. With relations between LIV golfers and critics of the Saudi-funded breakaway series sour at best, four days of heated competition at Augusta National are likely.
Follow live updates from the opening day's play of the Masters below:
The Masters 2023
Show latest update
1680961397
Tiger Woods aims for par on 18 to make Masters cut
Tiger Woods double-crossed the drive on 18 and he's way out left and in the trees.
Jack Rathborn8 April 2023 14:43
1680961226
Jon Rahm makes birdie and moves one off Masters lead
Rahm trickles that short birdie put down on 15… Makes it!
Rahm to -11 and just one behind Koepka now.
Woods with a bogey after going long with his pitch on 17 and two-putting, back to +2 and now the equation is fairly simple, par the last and he'll make the final two rounds. Bogey? He's not out of it, but it would make for a nervous wait.
Jack Rathborn8 April 2023 14:40
1680961142
Justin Thomas makes bogey and fighting to make Masters cut
Hovland misses a great-looking birdie opportunity on 17, the knees buckle in frustration as it skids past the edge of the hole. The Norwegian remains at -6.
Cam Young is still at -7.
But that's a pull from JT on the green at 15, a bogey and he's now +2 and in danger of missing the cut.
(Getty Images)
Jack Rathborn8 April 2023 14:39
1680960601
Shane Lowry finishes second round eight behind Brooks Koepka
Shane Lowry is done for round 2, it's a 72 and he stays at -4, not bad for the Irishman, he's in this.
Rahm on 15, will he go for this 265 yards… it's a layup!
Ideal for the Spaniard, who can attack the pin with a wedge in search of a birdie.
Cam Young won't play it safe, 243 yards, it's way long. That's a horrid looking up and down for birdie coming up.
Tiger did miss the pines and comes up just short on 17, not a disaster, up and down well within his capability to remain +1.
(Getty Images)
Jack Rathborn8 April 2023 14:30
1680960203
Jon Rahm in perfect position on 15 to close in on Brooks Koepka
Hovland cleans up for par on 16, still -6 and content enough in these horrid conditions.
Rahm booms one down 15, this is a big birdie chance, you'd expect him to get to -11 here.
A looping fade and he's in the middle of the fairway, that's the first job done on this par five.
Tiger on 17 and loses control of that tee shot, it's way out right into the pines.
(Getty Images)
Jack Rathborn8 April 2023 14:23
1680959740
Jon Rahm with birdie chance to go one behind Brooks Koepka
Tiger (+1) on 16, on the dance floor, about 20 feet away, he'll take two from there if he can.
Thomas on 14: The approach is superb, using the contours and setting up a birdie chance.
The spin is causing the players problems, it's tricky to adjust.
Now Rahm, high left-to-right shot, similar to JT but a little better as it creeps back towards the pin. Birdie chance coming.
Jack Rathborn8 April 2023 14:15
1680959476
Justin Thomas provides update on Augusta course conditions after heavy rain
Justin Thomas on the course, walking with his umbrella, speaks live:
"Just a protein shake, I got a long day ahead of me, it's easy not to drink water or eat food when it's like this. 4:45am, I saw my physio, put on every layer I have and here we are.
"When it's like this, past information out the window, the greens are softer, but they're slower and skid a lot.
"You'll see a lot of guys' shots on 13, they're laying up, it's hard out here."
Jack Rathborn8 April 2023 14:11
1680959137
Tiger Woods makes birdie to ease pressure in bid to make Masters cut
Rahm with a massive par on 13, six feet or so, nerveless from the Spaniard, who will hope to get at least one back from his last five holes to halve the deficit to Koepka at -12.
Justin Thomas is badly struggling out there, a lot of people tipped JT to go well this week on a course that appears perfectly suited to his game. But he's got plenty of work to do now.
Would you believe it!? Tiger with a bomb on 15, magnificent, the fist pump comes out but barely a flicker on his face. +1 and now with a little margin for error.
Jack Rathborn8 April 2023 14:05
1680958892
Tiger Woods suffers bad luck after hitting flag
Sensational from Woods on 15, but the spin is vicious and the ball races back and fortunately stops before flirting with the water.
The replay shows it brushed the flag coming down. Woods not daring to show much emotion, still dangerously placed on the cut line.
Jack Rathborn8 April 2023 14:01
1680958125
Jon Rahm closes in on Brooks Koepka as Justin Thomas struggles
Jon Rahm's iron on 13 leaks out to the right, but the Spaniard (-10) is looking to close in on Koepka's lead some more.
Hovland at -6 and getting back to the form he showed on Thursday, still very much in the hunt.
Justin Thomas is in trouble and one to watch, he's given three shots back to Augusta so far after resumption of play. At +1, he only has a little more room for error or the cut comes into play.
(Getty Images)
Jack Rathborn8 April 2023 13:48