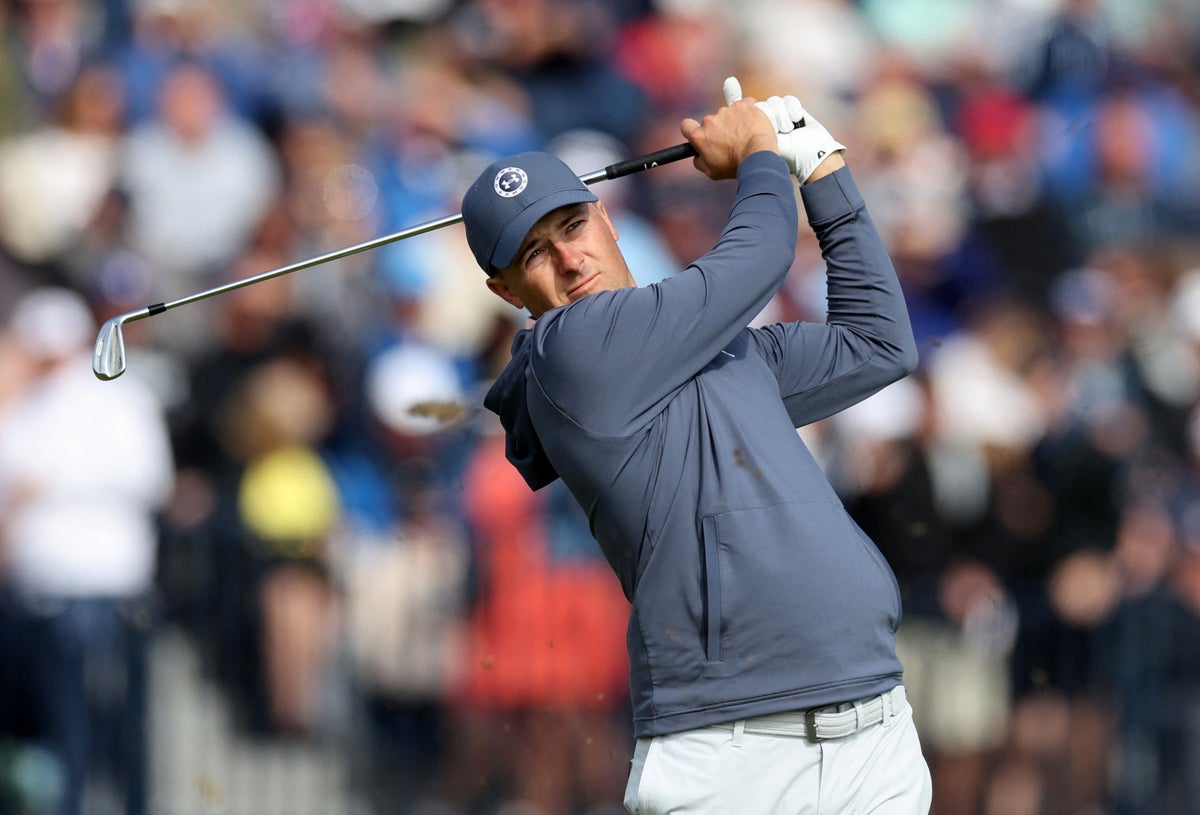 Golf
The Open 2023 LIVE: Leaderboard and latest scores today including Scottie Scheffler and Tommy Fleetwood
Collin Morikawa Says Creativity Crucial At Open Championship
The Open Championship at Royal Liverpool gets underway today as the world's best golfers come together for a final chance at a major in 2023 on the unique challenge that a links course provides.
Rory McIlroy, winner at this venue in 2014, enters the tournament confident of ending his nine-year major drought and he tees off in a marquee group at on Thursday afternoon, alongside Ryder Cup teammates Justin Rose and Jon Rahm.
McIlroy denied home favourite Bob MacIntyre the Scottish Open title last week by brilliantly birdieing the final two holes in appalling conditions and that links form could see him lift the Claret Jug come Sunday.
However, there are plenty of other contenders for the Hoylake crown including world No 1 Scottie Scheffler and in-form local favourite Tommy Fleetwood, who tee off together on Thursday afternoon. Defending champion Cameron Smith won't give up the Claret Jug without a fight, while Viktor Hovland appears to be on the brink of a first major title and five-time major winner Brooks Koepka can never be discounted.
Follow live coverage of the 151st Open Championship at Hoylake below:
The Open Championship 2023 – live updates from Hoylake
The 151st Open Championship gets underway at Royal LiverpoolRory McIlroy among the favourites to finally end his nine-year major drought and tees off at 2.59pmWorld No 1 Scottie Scheffler, local favourite Tommy Fleetwood and defending champion Cameron Smith among the morning startersFull list of Round 1 tee times-4 Lamprecht (a)-2 Cink, Reed-1 Jordan, Herbert, Pieters, Oosthuizen, Burns, Kanaya, Day-1 Cantlay, Cam Smith, Straka, Scheffler, Spieth, Lowry, SemikawaShow latest update
1689846334
The Open 2023
It's gorgeous conditions for golf currently. A slight breeze but nothing significant, and the sun has dried out the course.
Lots of support for Fleetwood, Scheffler and Scott as they walk down the 4th fairway.
Fleetwood raises his hand in appreciation to a young boy who shouts out "come on Tommy".
Luke Baker20 July 2023 10:45
1689845184
The Open 2023
Jason Day with those magic hands from the bunker on the third.
Perhaps the best bunker player in the world? He splashes out of the deep bunker and has an easy par putt to stay at -1.
Koepka struggling early, still +1, some others off to a slow start include: Matt Fitzpatrick (+1) and Rickie Fowler (+1).
The 22-year-old South African amateur Lamprecht makes another! -4!
Jack Rathborn20 July 2023 10:26
1689844808
The Open 2023
Scheffler with 20 feet more or less and it almost dies one rotation before the hole, but it's in!
The world No 1 and joint-favourite with McIlroy moves to -1.
Fleetwood's effort, from much closer, is too hard, he stays at even.
Brooks Koepka (+1) looking to get back to level, has about 20 feet for birdie on three.
Jack Rathborn20 July 2023 10:20
1689844444
The Open 2023
A nice punched iron from Fleetwood on the second, it rolls to within eight to 10 feet. Lovely. A birdie try for the local favourite.
Cam Smith birdies the first! What a start for the champion.
Scheffler now, on the second, 20 feet for his birdie coming up.
Jack Rathborn20 July 2023 10:14
1689844217
The Open 2023
(REUTERS)
(REUTERS)
(REUTERS)
Jack Rathborn20 July 2023 10:10
1689843710
The Open 2023
Cameron Smith is off, the champion plays a tidy fade and avoids the dreaded rough on the left side that has proven a popular landing spot.
And the US Open champion Wyndham Clark is underway too: It's a baby fade and lands softly on the first fairway. Lovely start.
Jack Rathborn20 July 2023 10:01
1689843431
The Open 2023 odds
Rickie Fowler, Tommy Fleetwood, Viktor Hovland – 22/1
Tyrell Hatton, Patrick Cantlay – 25/1
Collin Morikawa, Shane Lowry, Xander Schauffele – 28/1
Dustin Johnson, Jordan Spieth – 33/1
Justin Rose, Max Homa, Min Woo Lee, Wyndham Clark – 50/1
Jack Rathborn20 July 2023 09:57
1689843085
The Open 2023
Our man out on the course, Luke Baker, is already picking up a trend off the first.
"Everyone is going left off this 1st tee, Scheffler, Fleetwood and now Adam Scott have all just done so.
"Although Matt Jordan was able to save par from there despite then going into a bunker."
It's the group of the first wave and we'll have updates throughout the morning.
Jack Rathborn20 July 2023 09:51
1689842935
The Open 2023
Spieth's second shot into the third is tidy, the 2017 Open champion will hope to be in the mix this week.
Now then, the world No 1, Scottie Scheffler, takes driver and it's a big swinging draw down the left, it's in the rough.
Jack Rathborn20 July 2023 09:48
1689842676
The Open 2023
Stewart Cink is also in the red, the 2009 Open champion at Turnberry birdies the fifth, a clean start through six holes.
The big names are starting to venture out onto the course now too, Brooks Koepka is underway alongside Patrick Cantlay and Hideki Matsuyama.
Jack Rathborn20 July 2023 09:44