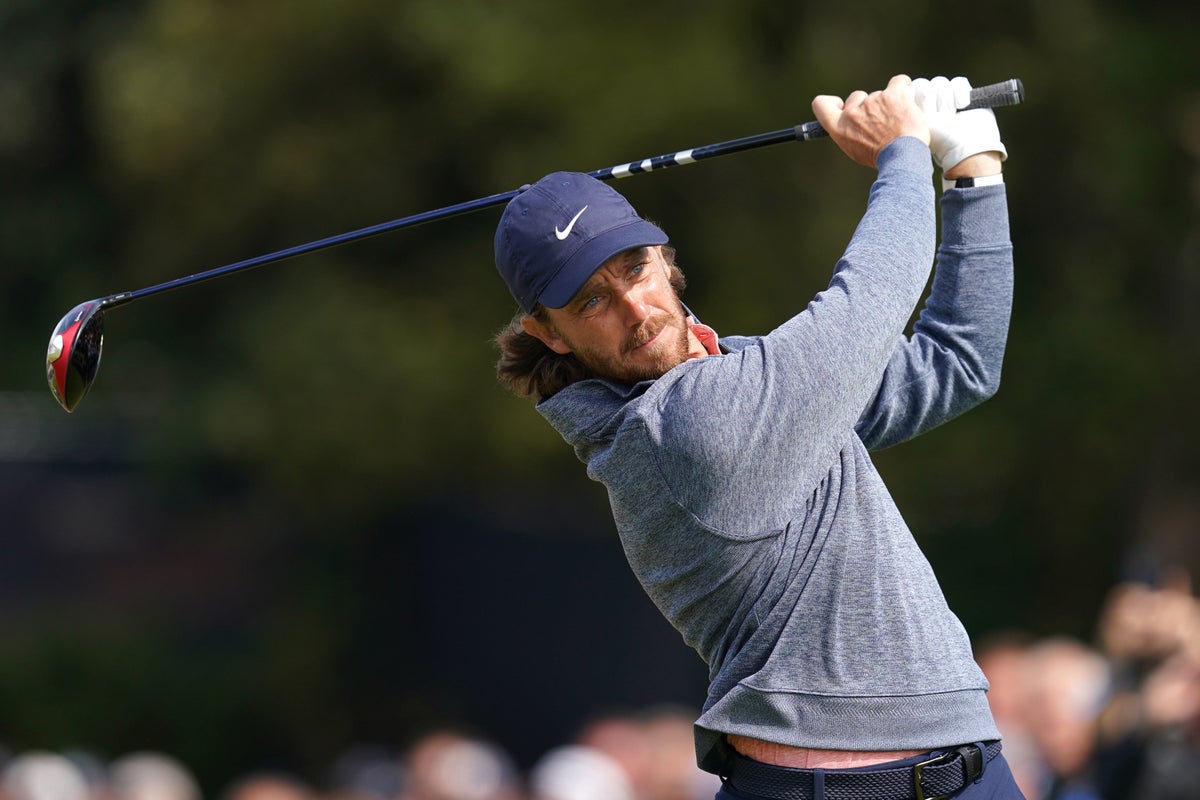 Golf
The Open 2023 LIVE: Second round golf leaderboard as Tommy Fleetwood chases Brian Harman
Just Stop Oil protested again at the Open Championship
Tommy Fleetwood will look to build on his brilliant start after he rode a wave of home support to the top of the leaderboard in the Open Championship on Thursday.
Roared on by a partisan crowd at Royal Liverpool, Fleetwood carded an opening 66 to share the clubhouse lead with South African amateur Christo Lamprecht and Argentina's Emiliano Grillo on five under par.
Antoine Rozner, Adrian Otaegui and Brian Harman were all a shot behind, with former champion Stewart Cink – who denied Tom Watson a fairytale victory in 2009 – part of a group on three under which included US Open champion Wyndham Clark.
Meanwhile, Rory McIlroy battled back from a poor start to keep himself in the championship at level par. McIlroy, who lifted the Claret Jug at Hoylake in 2014, was two over par after 13 holes before making birdies on the 14th and 15th and a crucial par on the 18th after needing two shots to escape a greenside bunker. He will be among the morning starters on Friday, looking to close the gap.
Follow live coverage of the 151st Open Championship at Hoylake below:
The Open Championship 2023 – live updates from Hoylake
Show latest update
1689965837
The Open 2023: Koepka scrapes inside the cut
Cantlay +3 (74), Koepka +3 (75), Matsuyama -1 (71)
Up the last, Brooks is in trouble as the PGA Champion goes out of bounds off the tee. He scrambles his way to a double-bogey seven which just sees him through to the weekend alongside Patrick Cantlay at +3.
Hideki Matsuyama holes out for his par and remains at -1 after his second round.
Ben Fleming21 July 2023 19:57
1689965094
The Open 2023: Defending champion set to miss the cut
Clark -2 (16), Schauffele +2 (16), Smith +4 (16)
The 16th has been the second hardest hole on the course today and it claims more victims in the form of Schauffele and Smith. Xander now sits at +2 but the defending champion now sits at +4 which, like Scheffler, would see him miss the cut.
Ben Fleming21 July 2023 19:44
1689964899
The Open 2023: Big par save for Fleetwood
Fleetwood -5 (17), Scheffler +4 (17), Scott +2 (17)
In the air, it looked very troubling for Fleetwood but his ball finds a way to avoid the bunker and the waste area on the left side. It's a bit of a heavy-handed chip which runs past the hole but it's a vital par putt coming back up the hill which just dies in the hole. He needs a par on the last now to ensure he's in the final pairing tomorrow.
Scheffler? Well, you'll never guess. It's a beautiful pin-high iron approach to seven feet but the putter lets him down yet again. He stays at +4 and in need of a birdie, in all likelihood, to make the weekend.
Scott hits a good approach in which comes to rest below the hole but he too settles for par as his birdie effort comes up just short.
Ben Fleming21 July 2023 19:41
1689964439
The Open 2023: Clark makes birdie
Clark -1 (15), Schauffele +1 (15), Smith +3 (15)
A good bounce-back birdie from Clark after his double bogey on the 13th. He takes care of the par-five 15th and moves back into that bunch at -2.
Smith uncharacteristically misses a short eight-feet birdie putt to remain at +3, while Schauffele makes par as well to remain at +1.
Ben Fleming21 July 2023 19:33
1689964157
The Open 2023: Bogeys all round for Fleetwood, Scheffler and Scott
Fleetwood -5 (16), Scheffler +4 (16), Scott +2 (16)
Fleetwood leaks his third out to the right but the Englishman shows superb touch to guide his ball past the bunker and onto the green. It's a confident putt to make bogey which is very good considering the circumstances.
What isn't good is another bogey for Scheffler, his sixth of the round, which now leaves him below the projected cut as things stand.
A bogey too for Scott who drops to +2.
Ben Fleming21 July 2023 19:29
1689964005
The Open 2023: Spieth, Day and Fitzpatrick round up
Spieth -2 (71), Day -3 (67), Fitzpatrick +2 (72)
Up the par-five last for these three and it's a bad break for Spieth can't get up and down to make a birdie and settles for par, as does Fitzpatrick who had to take a drop when his second shot flew into the grandstands.
Jason Day had the best look at par but he just missed on the left side. Three pars but the best of the work from Day with a four-under-par 67.
Plenty of work to do for Spieth while Fitzpatrick's hopes have been all but dashed after that disaster on the 17th.
Ben Fleming21 July 2023 19:26
1689963674
The Open 2023: Fleetwood and Scheffler in fairway bunker
Fleetwood -6 (15), Scheffler +3 (15), Scott +1 (15)
Not what Fleetwood would have wanted after those two birdies as he finds the fairway bunker. Scheffler joins him in the sand and both can only pitch out to the fairway. A big ask to save their pars now.
Ben Fleming21 July 2023 19:21
1689963589
The Open 2023: Work to be done for Lowry
Lowry +5 (14), Fowler +3 (14), MacIntyre +3 (14)
Lowry is in the rough off the tee but his second shot finds the rough once more. Trouble for the 2019 champion who can only find the green in four. A two-putt double bogey means he sits at +5 and below the cut line as things stand.
Fowler and MacIntyre sit precariously on the cut line at +3.
Ben Fleming21 July 2023 19:19
1689963325
The Open 2023: Superb Straka finishes in style
What's better than five birdies on your back nine? How about six? Well, that's exactly what Straka produces with a perfectly-judged approach into the final green before sinking a putt to come home in 31.
It's a four-under-par 67 from the Austrian who catapults himself into solo third as things stand. Wonderful performance.
Ben Fleming21 July 2023 19:15
1689963168
The Open 2023: Fleetwood within four of the lead
Fleetwood -6 (15), Scheffler +3 (15), Scott +1 (15)
Fleetwood's game from tee to green has been superb these last few holes and his second shot in this par five is no different. It runs through the back but from there, it's a fairly simple up and down.
He gives it plenty of run and it leaves him just three feet for the birdie…no problem! Back-to-back after the bogey on 13 and he's within four of Harman.
Scott makes his par and it's another (yep another!) short missed putt from Scheffler who just can't hole anything for love nor money. He stays at +3 with three to go.
Ben Fleming21 July 2023 19:12