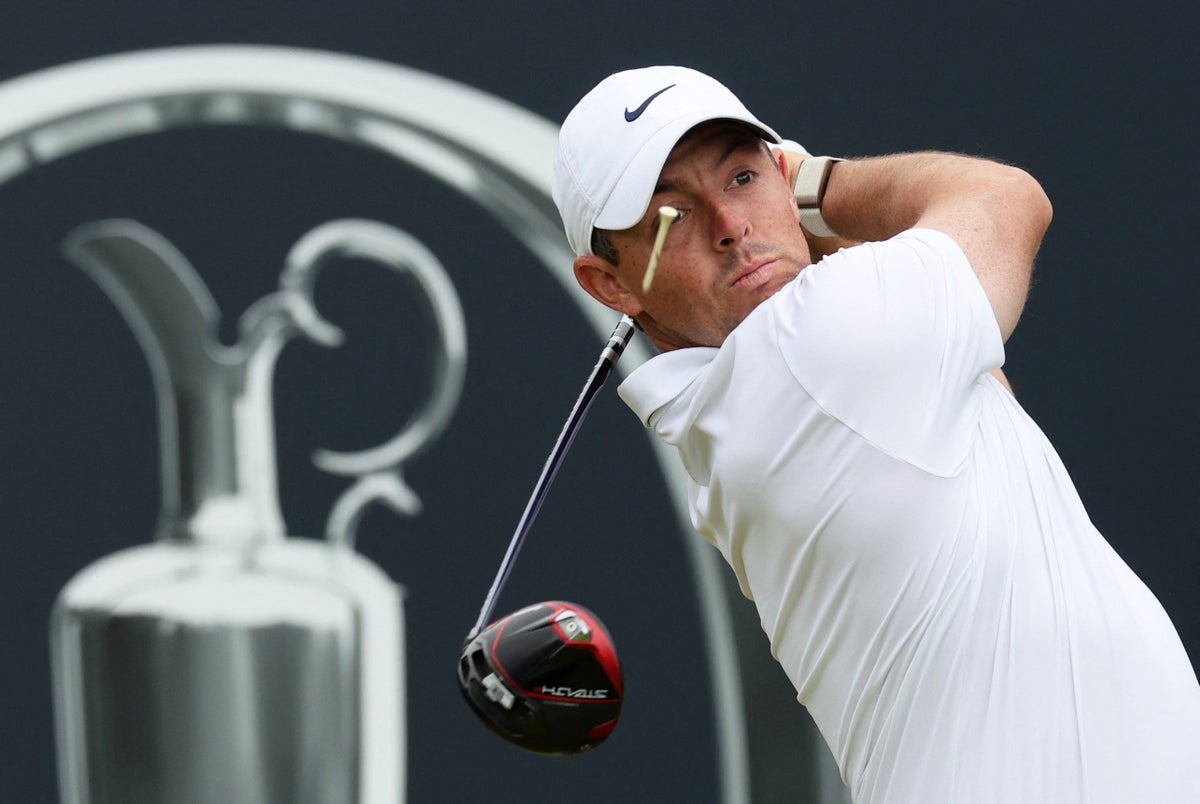 Golf
The Open 2023 LIVE: Third round golf leaderboard as Rory McIlroy and Tommy Fleetwood chase Brian Harman
Just Stop Oil protested again at the Open Championship
American Brian Harman responded to missing the cut in the Masters in April by returning to his farm in Georgia and killing a pig and a turkey. Three months later, the left-hander carved out a commanding five-shot lead over home favourite Tommy Fleetwood at the halfway stage of the 151st Open Championship at Royal Liverpool.
Harman carded four birdies in a row on the front nine and holed from 15 feet for an eagle on the 18th to complete a flawless second round of 65 and post a 10-under-par halfway total of 132. That matched those recorded at Hoylake by Rory McIlroy in 2014 and Tiger Woods in 2006, although both men were 12-under on their way to lifting the Claret Jug as the course was a par-72 at the time.
It also made Harman the first player to lead the Open by five shots after 36 holes since Louis Oosthuizen in 2010, the South African going on to win by seven at St Andrews.
Follow live coverage from the third round of the 151st Open Championship at Hoylake below:
The Open Championship 2023 – live updates from Hoylake
The 151st Open Championship continues at Royal LiverpoolBrian Harman held five-shot overnight lead after bogey-free round of 65 on FridayJon Rahm shoots stunning 63 to surge into contention-10: Harman-6: Rahm, Day-5: Fleetwood, Sharma, Young, Hovland, Rozner-4: A. Fitzpatrick, Straka-3: Hojgaard, Detry, McIlroy, Kim, Grillo-2: Spieth, M. Fitzpatrick, Matsuyama, Jordan and moreShow latest update
1690045045
The Open 2023: Close shaves for Day and Sharma
Sharma -5 (12), Day -6 (12)
A few quieter holes from this pair almost ends in style with two lengthy putts. They are both excellent efforts from quite some distance, grazing the edges but just not dropping. Unlucky.
Ben Fleming22 July 2023 17:57
1690044916
The Open 2023: Birdie finish for Rozner
A marvellous display of short-game excellence from the Frenchman who creates a birdie opportunity from an awkward stance and takes full advantage to move to -5. He could well have a say in things tomorrow.
Ben Fleming22 July 2023 17:55
1690044792
The Open 2023: Back-to-back birdies for Straka
What was I saying about a hot streak for Straka? He follows up birdie at the tenth with a wonderful approach into eleven and it's a tap-in birdie to move up to -5.
Ben Fleming22 July 2023 17:53
1690044700
The Open 2023: Bogey for Spieth
Young -5 (14), Spieth -1 (14)
The frustration continues for Spieth as he's punished with a bogey after a poor drive. He's back to -1 and out of this tournament, surely. His playing partner, Cam Young, is still right in the thick of it at -5, though.
Ben Fleming22 July 2023 17:51
1690044409
The Open 2023: Bogey for Fleetwood
Harman -10 (10), Fleetwood -5 (10)
Far from the ideal start to the back nine for Fleetwood as he finds himself in the greenside bunker after two. It's a downhill lie and the ball rolls out to about 15 feet. The return par putt doesn't drop and it's back to -5 for the Englishman.
Harman has a good look at birdie from the fringe but it's not to be and he remains at -10.
Ben Fleming22 July 2023 17:46
1690044259
The Open 2023: Another one goes begging for Rory
We are almost entering must-birdie territory but it's not happening for Rory after that early surge. At the par-five15th he leaves himself eight feet for birdie but can't take advantage to remain at -3. Without two, even three birdies coming in, it's hard to see how he'll have a chance tomorrow.
Ben Fleming22 July 2023 17:44
1690044006
The Open 2023: First birdie of the day for Straka
The perfect start to the back nine for the Austrian who holes a 30-footer for birdie at the tenth. He joins that group at -4. He caught fire yesterday on the back nine – can he do it again today?
Ben Fleming22 July 2023 17:40
1690043689
The Open 2023: Grillo sneaking under the radar
Like Rozner, Grillo is not showing any signs of vacating the top of the leaderboard as the Argentine makes a nice birdie on the 11th. Two under par for his round currently and up into the top ten.
Ben Fleming22 July 2023 17:34
1690043619
The Open 2023: Harman extends lead to four
Harman -10 (9), Fleetwood -6 (9)
It was a shaky start but Brian Harman has bounced back nicely and it just gets better on the ninth. A wonderful tee shot into the par three comes to rest just four feet from the hole and, from there, it's a tap-in birdie. He's back to even par for his round and now has a four-shot lead once again.
Fleetwood heads a bit right off the tee but he gets up and down well. He's gained one shot on Harman over this front nine but he'll want another one or two before this round closes.
Ben Fleming22 July 2023 17:33
1690043411
The Open 2023: Tidy par for Day
Sharma -5 (10), Day -6 (10)
Day's ball comes to rest at the front edge of the tenth green but from there, it's a tidy two-putt to make par and remain at -6. Sharma – a shot back at -5 – also makes par.
Ben Fleming22 July 2023 17:30