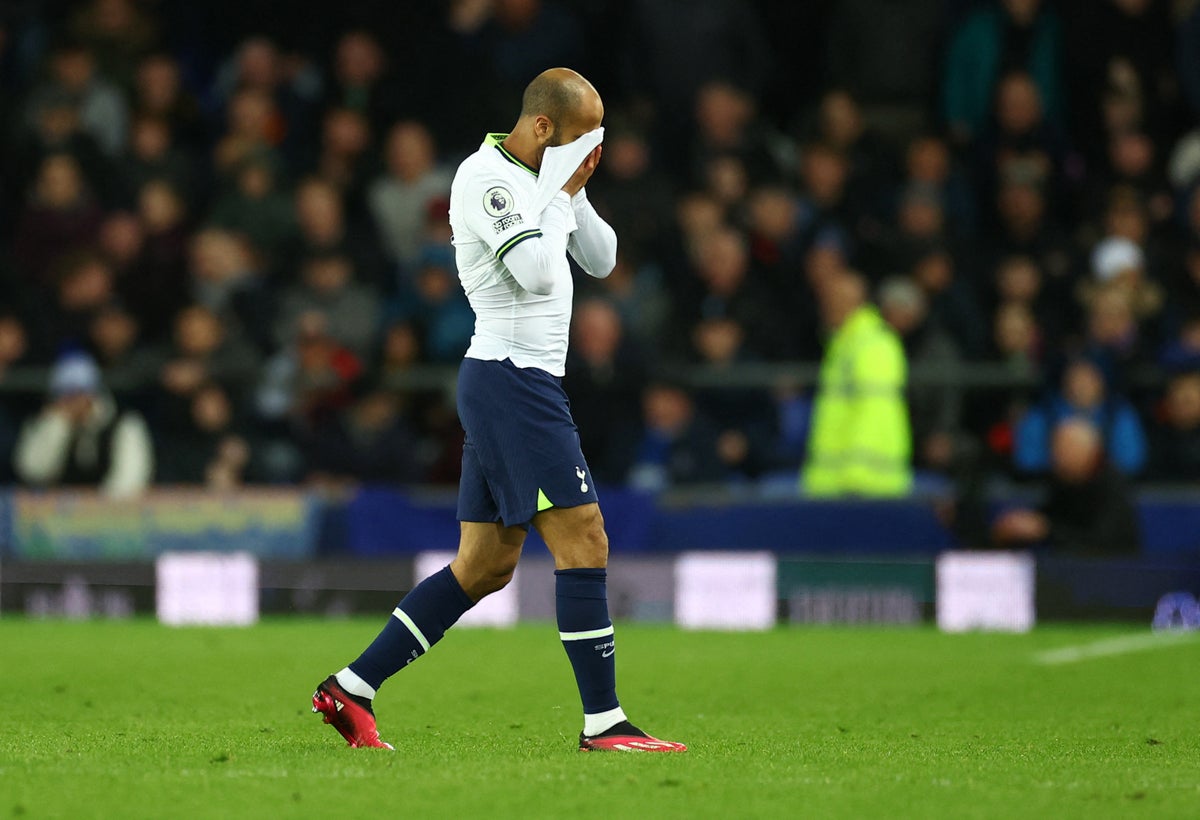 Football
Tottenham's new era looks worryingly like their old one
Sign up to Miguel Delaney's Reading the Game newsletter sent straight to your inbox for free
Sign up to Miguel's Delaney's free weekly newsletter
If Cristian Stellini was charged with emulating Antonio Conte, this perhaps was not quite what Tottenham intended. The interim appointment steered Spurs back into the top four, where they finished last season and a spot they would settle for come the end of May. Yet Conte's reign ended by conceding a late equaliser to a relegation-threatened team and, for Tottenham, this was the unwanted sequel to the 3-3 draw at Southampton.
Conte's first league game in charge had been a draw at Everton. So was Stellini's first as a caretaker and it represented a missed opportunity.
Tottenham lost a lead and squandered a one-man advantage, which they had for half an hour. Stellini's changes backfired. Lucas Moura was sent on for Son Heung-Min to see the game out. Six minutes later, he was sent off, a wretched lunge resulting in his deserved departure. And two minutes after that, Everton equalised. It was merited for the way Sean Dyche's side rallied, taking their haul from five home games under the manager to 10 points and elevating themselves out of the drop zone.
In a battle between a club with the most prolific scorer in their history and one who don't have a fit specialist striker worthy of a start, Everton found an unlikely scorer with an improbable way of finding the net. It finished Keane 1 Kane 1.
The centre-back Michael Keane's swerving shot from 25 yards left Hugo Lloris motionless. It was redemption for the centre-back. His painful night began and ended well, the defender materialising alongside Jordan Pickford to clear Kane's early shot off the line. It deteriorated when, rather clumsily, he caught Cristian Romero in the box. After scoring an own goal against Tottenham in a 5-0 shellacking last season, his misadventures against them continued and there was a different kind of agony when Moura planted his studs in Keane's ankle, recklessly if not maliciously, to earn the night's second red card. Yet Dyche's decision to restore Keane to the side in recent weeks, dropping Conor Coady, brought further vindication with a spectacular goal.
Kane's goal, meanwhile, was more predictable and more prosaic. He had shaped up as Goodison Park's bete noire. It seemed as though his twin contributions in a few minutes would prove decisive. Evertonians chorused "cheat" after his part in Abdoulaye Doucoure's dismissal – though the midfielder's loss of control was the cause – and referee David Coote was similarly correct to award the penalty he converted. The previous spot kick he took in a game where the goalkeepers were Pickford and Lloris was ballooned into the sky at the Al Bayt Stadium. This was altogether more precise.
Lucas Moura's sending off damaged Spurs
(AFP via Getty Images)
While Spurs managers come and go, he carries on scoring. Goal number 272 for Tottenham suggested he was unaffected by Conte's departure. He had, though, writhed on the ground after Doucoure shoved him in the face during a tussle by the touchline. It was, despite the striker's histrionics and the midfielder's protestations, an obvious red card and one of the success stories of Dyche's reign now faces a three-match ban.
Yet Everton conjured an impressive response. They had come from behind to draw with Chelsea and produced another late equaliser. They had threatened it, with Demarai Gray and Idrissa Gueye testing Lloris, and continued to press high and win the ball back in the final third, even when down to 10 men.
Everton regained the initiative while, in an inadvertent throwback to Conte's most infamous substitution, Stellini brought on Davinson Sanchez, just as he did when he needed a goal against AC Milan. Once again, it scarcely worked.
But then it was unsurprising that much was familiar. Stellini is a more placid character who, in most respects, seemed intent on being Conte, but without the toxic negativity. Meet the new boss, same as the old boss? It seemed that way. There was the familiarity of the back three: both system and personnel were ones Conte would probably have chosen.
It may have been fanciful to imagine Stellini would rip up the blueprint he has followed with Juventus, Inter and Spurs but there was something predictably and undeniably Conte-esque to it; his long-time assistant brought continuity to the tactics. It was neither revolution nor evolution as much as more of the same; the differences were slight. Ivan Perisic operated higher up the pitch, more as winger than wing-back, and a team who were often passive under Conte pressed more in a positive start.
But Tottenham have rarely played well for 90 minutes this season. They have been over-reliant on Kane. And they are a team who have been fourth without being particularly impressive. A game in, Stellini's side have the hallmarks of Conte's Spurs.