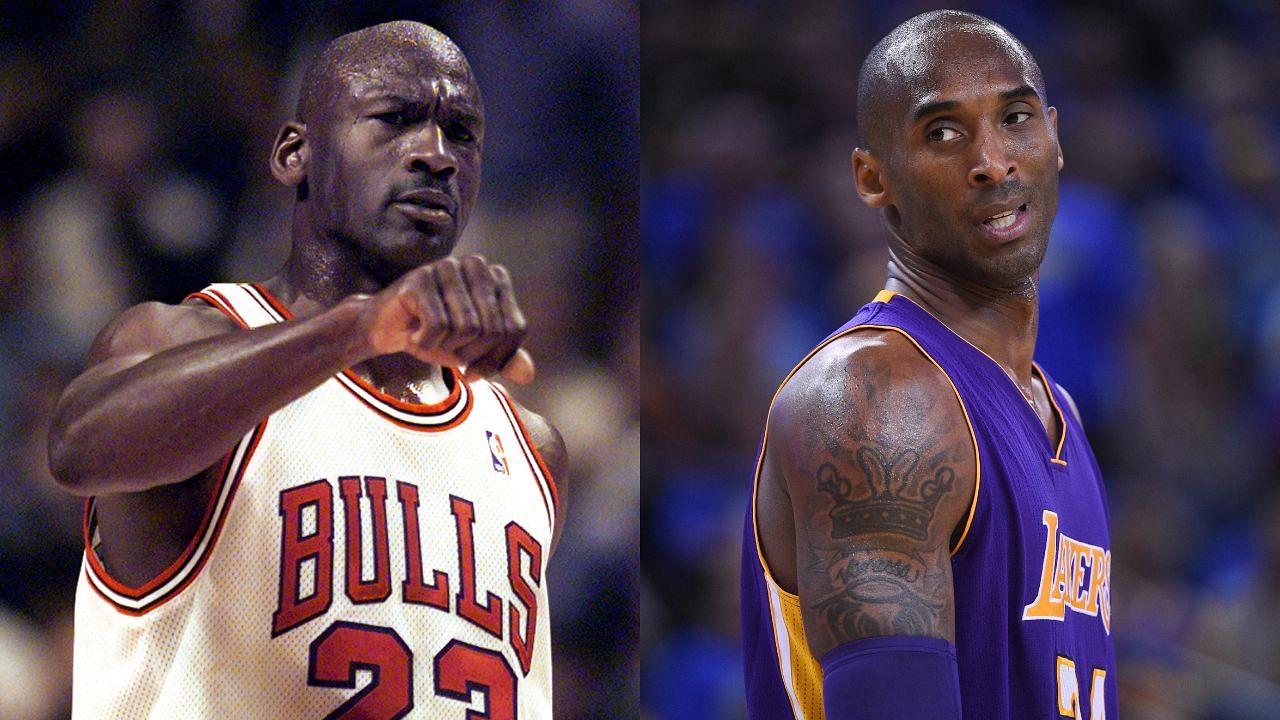 basketball
Unable to Pass Michael Jordan's 6 Rings, Kobe Bryant's 'Deep Regret' Over Losing to Pistons and Celtics Led to Self Reflection 8 Years Ago
Kobe Bryant is undoubtedly one of the most successful players in NBA history. Having spent 20 seasons in the NBA, the Black Mamba had been to the Finals seven times. However, he only won it all five times, losing out twice, to the Detroit Pistons in 2004 and to the Boston Celtics in 2008. In 2016, during his retirement, Kobe sat down for an interview with fellow Lakers legend, James Worthy, where he revealed he had two regrets about his career. And, having failed to surpass Michael Jordan and his tally of six rings, these regrets had to do with his failure against the Pistons and the Celtics.
Early on, in his career, Kobe was compared to his idol MJ. He was almost like a carbon copy of the Bulls legend. He had a similar frame, similar play style, and even shared the same competitive spirit. But, those who knew them well could spot the slight differences. As such, Phil Jackson who had the pleasure of coaching both men pointed out that Jordan had far better control over his teammates than Kobe did. However, over time, Bryant learned how to become a true leader.
Kobe Bryant regretted not surpassing Michael Jordan
Regrets are something that is common in any athlete's career. And, for Kobe Bryant, this was no different. Widely applauded for his competitive nature and the success it brought him, the Black Mamba's two biggest regrets, are the two championships he missed out on. As he explained to James Worthy, the 2004 and 2008 NBA Finals were etched into his memory.
The lack of cohesion between him and Shaquille O'Neal is what led to the downfall of the Lakers in 2004. But, it is the loss against the Celtics that stung him the most. The bitter rivalry aside, Kobe felt his lack of leadership was what led to failure. Despite trading for Pau Gasol, he believes that he failed to make his team tougher, and failed to prepare them for the "bus" that was the Boston Celtics.
It is understandable why he would look back on those Finals and feel frustrated. The losses aside, they had two vastly different outcomes. Following the loss in 2004, Kobe essentially orchestrated the departure of Shaq. This led to him being blasted by the media for five years until he redeemed himself and won a championship in 2009.
"There's two of them for me, the Pistons and the Celtics. The Pistons one I thought we could have done more about. The Boston one I felt like I needed to do things differently from the beginning of the season with these guys. We got Pau in the trade and as far as how I led them, making them tougher. Because we ran into a bus. You know, I wish I…then I'd have seven!"
As for his loss against the Celtics, Kobe redeemed himself even further. After securing the championship in 2009, the Lakers went back-to-back. Led by Bryant, the team dispatched the Celtics in 2010, avenging the embarrassing defeat they suffered, two years prior. However, despite all this, the legend still regretted the losses. After all, if he had pulled through, he would have had seven rings and not just five. However, there were some moments in his career, when Kobe was proud of himself.
Kobe revealed the proudest moment of his career
It's true that the losses to the Pistons and Celtics were the two biggest regrets of his career, but Kobe Bryant had some great times as well. Having spent 20 seasons in the NBA, the Black Mamba had many memorable moments. However, as he once explained, it was Game 7 against the Celtics in 2010, that was his favorite.
One would imagine it would be his 81 points against the Raptors, or when he surpassed Michael Jordan in regular season scoring, but no. For Kobe, beating Boston in a tough Game 7 with the incredible set of players around him was his greatest success.

There can be no denying Kobe's greatness. He was an exceptional talent who inspired hundreds of young potential NBA superstars. It has been three years since his passing, and not a day goes by when he isn't missed.