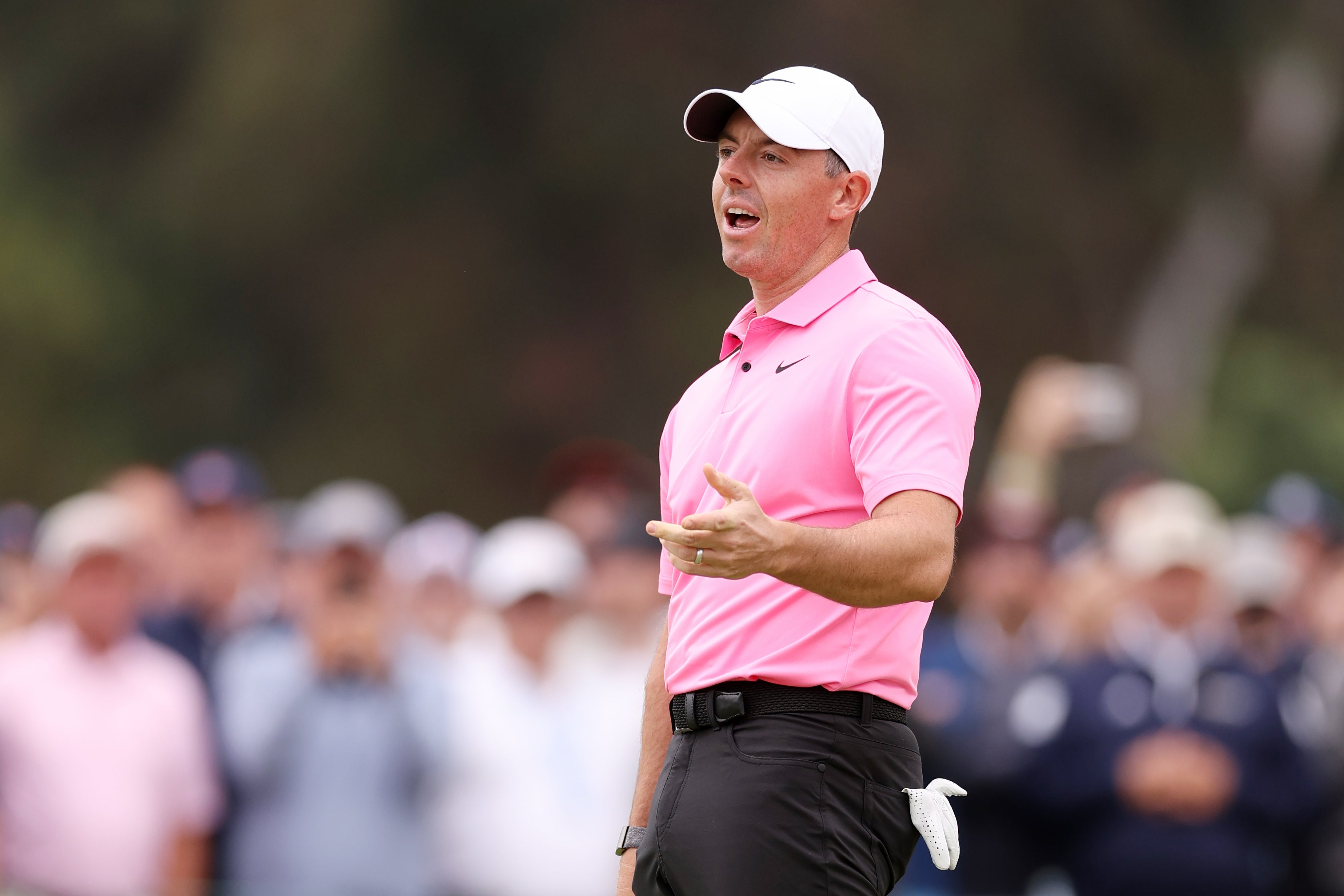 Golf
US Open 2023 leaderboard: Latest updates as Fowler and Schauffele on course after McIlroy surge
(Getty Images)
Sign up to our free sport newsletter for all the latest news on everything from cycling to boxing
Sign up to our free sport email for all the latest news
Records were broken on a low-scoring first round at the 2023 US Open at Los Angeles Country Club as Rickie Fowler and Xander Schauffele set an outstanding early pace with both American's getting into the clubhouse eight under par.
Fowler was the first to break the record for the lowest scoring round in US history before Schauffele joined him in the record books minutes later to take a share of the lead into round two.
Elsewhere, Rory McIlroy wass just three shots behind overnight despite a bogey on the last after an impressive round of 65 with world No 1 Scottie Scheffler (-3) and Masters champion Jon Rahm (-1) also in the red.
Early on Friday, defending champion Matt Fitzpatrick enjoyed another memorable moment in the US Open as he recorded the third hole-in-one of the week. Fitzpatrick's tee shot on the 115-yard 15th pitched beyond the flag and span back into the hole, although he could not see where the ball had landed and was walking off the tee before the crowd's roar sparked wild celebrations.
Follow all the action from the 123rd US Open:
US Open 2023
Show latest update
1686950815
Fowler on the charge
Fowler -11 (3), Day +5 (3), Rose +6 (3)
This is getting frankly ridiculous – does Rickie Fowler realise he's supposed to be playing a US Open? He hits a gorgeous iron into the par-four third to just over three feet and from there, it's a simple birdie putt.
Three birdies in a row and he sits two clear at 11 under par – scintillating stuff.
Day and Rose make par to remain as they were.
Ben Fleming16 June 2023 22:26
1686950618
Amateur alert
At the Masters, we had Sam Bennett and at the US Open, it may well be the turn of young Gordon Sargent. The young American hits the ball a country mile and two birdies in his first four holes has him sitting nicely at three under par
Ben Fleming16 June 2023 22:23
1686950445
Scheffler and Homa underway
Scheffler -3 (1*), Homa -2 (1*), Morikawa +1 (1*)
The other group to watch is that containing major champions Scottie Scheffler and Collin Morikawa alongside LACC course-record holder Max Homa. There are three pars at their opening hole but all three will want to make moves in this second round ahead of the weekend.
Ben Fleming16 June 2023 22:20
1686950279
Eagle start for Rahm
Schauffele -8 (1), Rahm -3 (1), Hovland -1 (1)
The final big pairing is underway with overnight leader Xander Schauffele. The American's tee shot finds the bunker and he is forced to lay up. No birdie on the par-five first and he remains at eight under.
Hovland also makes par but it's Jon Rahm making a move with a superb long-range eagle. His facial expression suggests even he can't believe that went in but it's the perfect start to his round and moves him up to three under par.
Ben Fleming16 June 2023 22:17
1686950018
Fowler takes solo lead
Fowler -10 (2), Day +5 (2), Rose +6 (2)
Goodness me, give everyone else a chance Rickie! Another glorious iron into the second and another very solid stroke with the putter gives the American his second birdie in as many holes. He's the quickest person ever to -10 in US Open history and setting this tournament alight.
Day and Rose must think they are playing a different course – they both make par to remain at five and six over respectively.
Ben Fleming16 June 2023 22:13
1686949890
Two birdies in three for DeChambeau
The LIV golfer has won of these US Opens before and is right in this tournament as he trickles in another birdie at the third. He's up to five under par and off to a great start.
Ben Fleming16 June 2023 22:11
1686949721
McIlroy finishes in style
McIlroy -8 (67), Koepka E (69), Matsuyama +1 (69)
We've seen three hole-in-ones at 15 and we almost have one at the ninth after a superb tee shot from McIlroy. It lands, takes two bounces and almost drops into the hole. It stops at three feet from the hole and he taps it in for a final-hole birdie. What a round from McIlroy and a superb second-nine response after a slow start. A three-under-par 67 has him at eight under par and well in contention for the weekend.
Brooks gets in trouble off the tee and his bunker shot is always feeding away from the hole. His bogey moves him back to even par for the tournament while a birdie at the last for Matsuyama sees him safely in the clubhouse at one over par.
Ben Fleming16 June 2023 22:08
1686949341
Min Woo Lee well placed
The round of the day belongs to the Australian Min Woo Lee who hits a delightful iron into the 18th to make another birdie. Just one bogey for the round as well and a five-under-par 65 has him at six under for the tournament and in a tie for sixth. Fantastic performance.
Ben Fleming16 June 2023 22:02
1686949194
Fast start from Fleetwood
The Englishman was so close to recording his maiden PGA Tour victory last week at the Canadian Open but his focus today must be on making the cut. In that regard, it's a terrific start with a birdie at the tenth and the tricky 11th. Back to one over par and inside the cut line as things stand.
Ben Fleming16 June 2023 21:59
1686949058
Fowler joins Clark at the top
Fowler -9 (1), Day +5 (1), Rose +6 (1)
Fowler picks up right where he left off yesterday. His second ends up in the greenside bunker but it's a nice up-and-down to make birdie at the par-five first. He's up alongside Clark in a share of the lead at nine under.
Rose's second leeks right and he can only make par but it's a disaster start for Day. Having found the bunker off the tee, he can only just get out with his second swing before finding the thick rough again with his third. It's a double-bogey five to start and a big task now to make the cut.
Ben Fleming16 June 2023 21:57