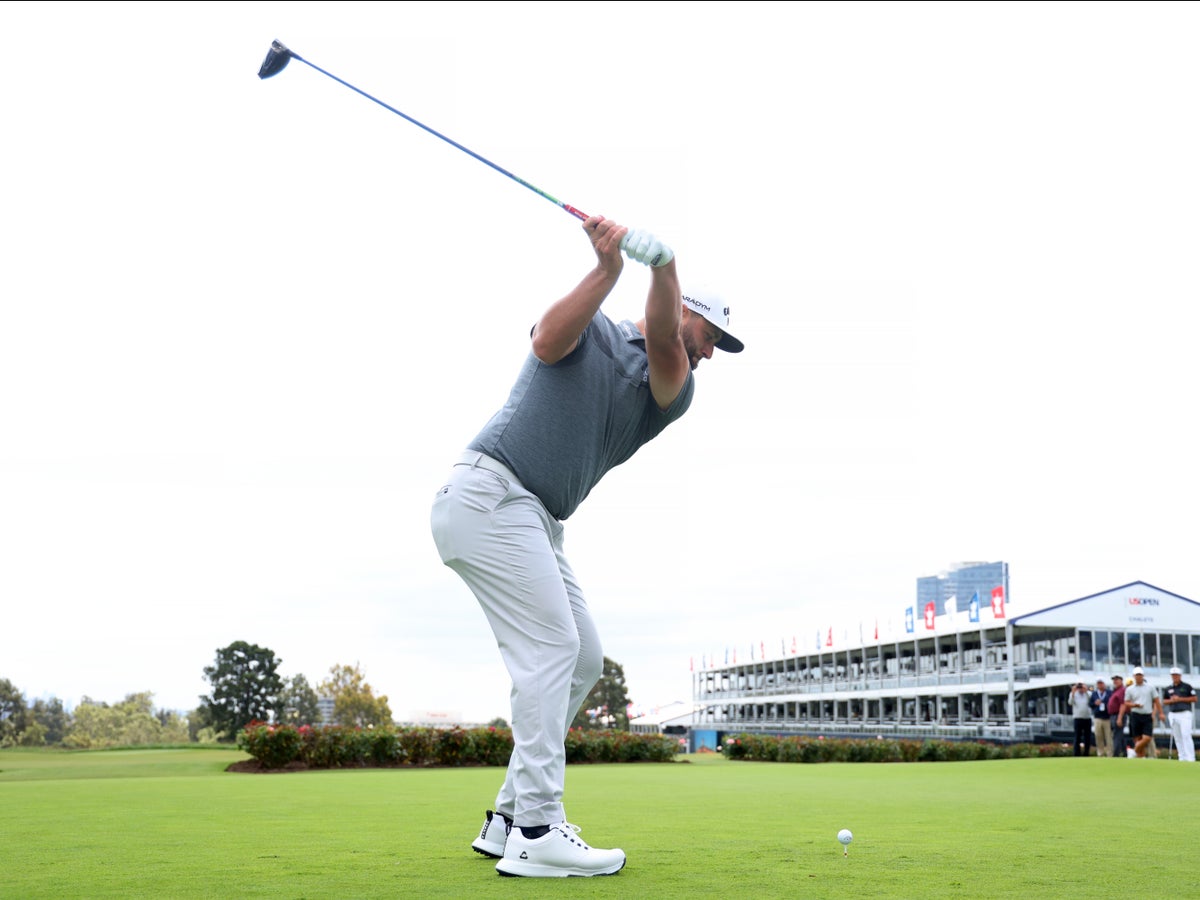 Golf
US Open 2023: Tee times and schedule for Round 1 including Rory McIlroy and Jon Rahm
Sign up to our free sport newsletter for all the latest news on everything from cycling to boxing
Sign up to our free sport email for all the latest news
The US Open returns to Los Angeles for the first time in 75 years as the major season continues.
There is a sense of the unknown as the class of the men's golfing world head to the LA Country Club, which hosts the event for the first time.
Free scoring would again appear unlikely with a challenging layout expected in California, with four gruelling rounds likely for a wide group of contenders.
And the news of the merger between the PGA Tour and the Saudi-backed breakaway LIV Golf Series only adds to the anticipation as Jon Rahm, Brooks Koepka, Rory McIlroy and the rest of the potential challengers get ready to tee off.
Groups to look out for
Matt Fitzpatrick starts the defence of his US Open crown at 9.32pm BST on Thursday, with the Englishman playing alongside Australia's Cameron Smith, winner of the Open at St Andrews last July. The pair are joined by Sam Bennett, the American amateur who so impressed at the Masters earlier this spring.
Could this be the weekend Rory McIlroy ends his long major drought? The Northern Irishman is joined in a talented three-ball by Japan's Hideki Matsuyama and Brooks Koepka, with the American hoping to continue an outstanding major season that brought success at the US PGA Championship last month. They start at 9.54pm on Thursday.
Tommy Fleetwood showed his good touch in a narrow play-off defeat at the Canadian Open, and also has two major winners for company in the form of Shane Lowry and Justin Thomas. The trio are among the early starters on the opening day with a tee time of 3.40pm.
Jon Rahm begins at 4.24pm with Viktor Hovland and Xander Schauffele, with all three likely to fancy their chances of a tilt at the title. That might also be true of the all-American group off at 4.13pm – it is headlined by Scottie Scheffler, the top-ranked player in the world, but Collin Morikawa shapes as a contender with his smooth iron play, and Max Homa is on home California soil and seeking a major tournament breakthrough.
Here are the tee times for the first two rounds at Los Angeles Country Club:
Round one: Thursday, 15 June
Starting at hole one (all times BST)
14:45 O Morales (Mex)*, D Germishuys (SA), J Solomon (US)
14:56 R Gerard (US), Katsuragawa (Jpn), M Brennan (US)*
15:07 H Buckley (US), A Svensson (Can), P Larrazabal (Spa)
15:18 C Young (US), D Wu (US), R Sloan (Can)
15:29 R Ishikawa (Jpn), K Streelman (US), M Pavon (Fra)
15:40 S Lowry (Ire), J Thomas (US), T Fleetwood (Eng)
15:51 Sungjae Im (Kor), KH Lee (Kor), JT Poston (US)
16:02 G Woodland (US), Scott (Aus), C Conners (Can)
16:13 C Morikawa (US), M Homa (US), S Scheffler (US)
16:24 D McCarthy (US), J Dahmen (US), A Hadwin (Can)
16:35 M McClean (NI)*, S Power (Ire), R Fox (NZ)
16:46 M Meissner (US), B Brown (Eng), G Charoenkul (Tha)
16:57 A Yang (HK)*, J Schutte (US), A Svoboda (US)
20:15 B Grant (US), V Norman (Swe), C Hoffman (US)
20:26 S Forsstrom (Swe), C Ortiz (Mex), M Moldovan (US)*
20:37 E Cole (US), T Lawrence (SA), A Schenk (US)
20:48 L List (US), W Nienaber (SA), A Del Rey (Spa)
20:59 A Meronk (Pol), H English (US), J Niemann (Chi)
21:10 A Noren (Swe), W Clark (US), A Eckroat (US)
21:21 K Kitayama (US), C Davis (Aus), R Henley (US)
21:32 C Smith (Aus), S Bennett (US), M Fitzpatrick (Eng)
21:43 B Horschel (US), C Kirk (US), B Harman (US)
21:54 B Koepka (US), H Matsuyama (Jpn), R McIlroy (NI)
22:05 S Muniz (Col), N Taylor (Can), T Montgomery (US)
22:16 O Browne Jr (US), D Puig (Spa), K Vilips (US)*
22:27 C Pereira (US), I Simmons (US)*, JJ Grey (Eng)
Starting from hole 10
14:45 B Henson (US), R Nagano (Jpn), H Lebioda (US)
14:56 M Kim (US), J Smith (Eng), W Ding (Chn)*
15:07 S Stallings (US), P Summerhays (US)*, L Herbert (Aus)
15:18 J Dantorp (Swe), P Rodgers (US), R Armour (US)
15:29 T Pieters (Bel), A Wise (US), G Sargent (US)*
15:40 B DeChambeau (US), F Molinari (Ita), T Hatton (Eng)
15:51 T Hoge (US), S Garcia (Spa), S Straka (Aut)
16:02 J Rose (Eng), R Fowler (US), J Day (Aus)
16:13 P Reed (US), M Kuchar (US), SW Kim (Kor)
16:24 X Schauffele (US), V Hovland (Nor), J Rahm (Spa)
16:35 M Kaymer (Ger), S Cink (US), M Thorbjornsen (US)*)
16:46 D Horsey (Eng), B Valdes (US), P Barjon (Fra)
16:57 J Gumberg (US), K Mueller (US), B Amat (Fra)*
20:15 R Fisher (Eng), N Echavarria (Col), P Haley II (US)
20:26 N Dunlap (US)*, N Hardy (US), S Stevens (US)
20:37 T Pendrith (Can), N Potgieter (SA)*, R Langasque (Fra)
20:48 A Puttnam (US), V Perez (Fra), A Ancer (Mex)
20:59 P Mickelson (US), P Harrington (Ire), K Bradley (US)
21:10 M Pereira (Chi), E Grillo (Arg), Fernandez de Oliveira (Arg)*
21:21 T Kim (Kor), S Theegala (US), C Young (US)
21:32 S Burns (US), D Johnson (US), K Mitchell (US)
21:43 T Finau (US), J Spieth (US), P Cantlay (US)
21:54 D Thompson (US), MW Lee (Aus), J Suh (US)
22:05 T Moore (US), M Hughes (Can), B Carr (US)*
22:16 P Cover (US), D Nyfjall (Swe)*, F Capan III (US)
22:27 A Truslow (US), C Cavaliere (US)*, A Schaake (US)
Round two: Friday, 16 June
Starting on hole one
14:45 R Fisher (Eng), N Echavarria (Col), P Haley II (US)
14:56 N Dunlap (US)*, N Hardy (US), S Stevens (US)
15:07 T Pendrith (Can), N Potgieter (SA)*, R Langasque (Fra)
15:18 A Puttnam (US), V Perez (Fra), A Ancer (Mex)
15:29 P Mickelson (US), P Harrington (Ire), K Bradley (US)
15:40 M Pereira (Chi), E Grillo (Arg), Fernandez de Oliveira (Arg)*
15:51 T Kim (Kor), S Theegala (US), C Young (US)
16:02 S Burns (US), D Johnson (US), K Mitchell (US)
16:13 T Finau (US), J Spieth (US), P Cantlay (US)
16:24 D Thompson (US), MW Lee (Aus), J Suh (US)
16:35 T Moore (US), M Hughes (Can), B Carr (US)*
16:46 P Cover (US), D Nyfjall (Swe)*, F Capan III (US)
16:57 A Truslow (US), C Cavaliere (US)*), A Schaake (US)
20:15 B Henson (US), R Nagano (Jpn), H Lebioda (US)
20:26 M Kim (US), J Smith (Eng), W Ding (Chn)*
20:37 S Stallings (US), P Summerhays (US)*, L Herbert (AUs)
20:48 J Dantorp (Swe), P Rodgers (US), R Armour (US)
20:59 T Pieters (Bel), A Wise (US), G Sargent (US)*
21:10 B DeChambeau (US), F Molinari (Ita), T Hatton (Eng)
21:21 T Hoge (US), S Garcia (Spa), S Straka (Aut)
21:32 J Rose (Eng), R Fowler (US), J Day (Aus)
21:43 P Reed (US), M Kuchar (US), SW Kim (Kor)
21:54 X Schauffele (US), V Hovland (Nor), J Rahm (Spa)
22:05 M Kaymer (Ger), S Cink (US), M Thorbjornsen (US)*
22:16 D Horsey (Eng), B Valdes (US), P Barjon (Fra)
22:27 J Gumberg (US), K Mueller (US), B Amat (Fra)*
Starting on hole 10
14:45 B Grant (US), V Norman (Swe), C Hoffman (US)
14:56 S Forsstrom (Swe), C Ortiz (Mex), M Moldovan (US)*
15:07 E Cole (US), T Lawrence (SA), A Schenk (US)
15:18 L List (US), W Nienaber (SA), A Del Rey (Spa)
15:29 A Meronk (Pol), H English (US), J Niemann (Chi)
15:40 A Noren (Swe), W Clark (US), A Eckroat (US)
15:51 K Kitayama (US), C Davis (Aus), R Henley (US)
16:02 C Smith (Aus), S Bennett (US), M Fitzpatrick (Eng)
16:13 B Horschel (US), C Kirk (US), B Harman (US)
16:24 B Koepka (US), H Matsuyama (Jpn), R McIlroy (NI)
16:35 S Muniz (Col), N Taylor (Can), T Montgomery (US)
16:46 O Browne Jr (US), D Puig (Spa), K Vilips (US)*
16:57 C Pereira (US), I Simmons (US)*, JJ Grey (Eng)
20:15 O Morales (Mex)*, D Germishuys (SA), J Solomon (US)
20:26 R Gerard (US), Katsuragawa (Jpn), M Brennan (US)*
20:37 H Buckley (US), A Svensson (Can), P Larrazabal (Spa)
20:48 C Young (US), D Wu (US), R Sloan (Can)
20:59 R Ishikawa (Jpn), K Streelman (US), M Pavon (Fra)
21:10 S Lowry (Ire), J Thomas (US), T Fleetwood (Eng)
21:21 Sungjae Im (Kor), KH Lee (Korea), JT Poston (US)
21:32 G Woodland (US), Scott (Aus), C Conners (Can)
21:43 C Morikawa (US), M Homa (US), S Scheffler (US)
21:54 D McCarthy (US), J Dahmen (US), A Hadwin (Can)
22:05 M McLean (NI)*, S Power (Ire), R Fox (NZ)
22:16 M Meissner (US), B Brown (Eng), G Charoenkul (Tha)
22:27 A Yang (HK)*, J Schutte (US), A Svoboda (US)