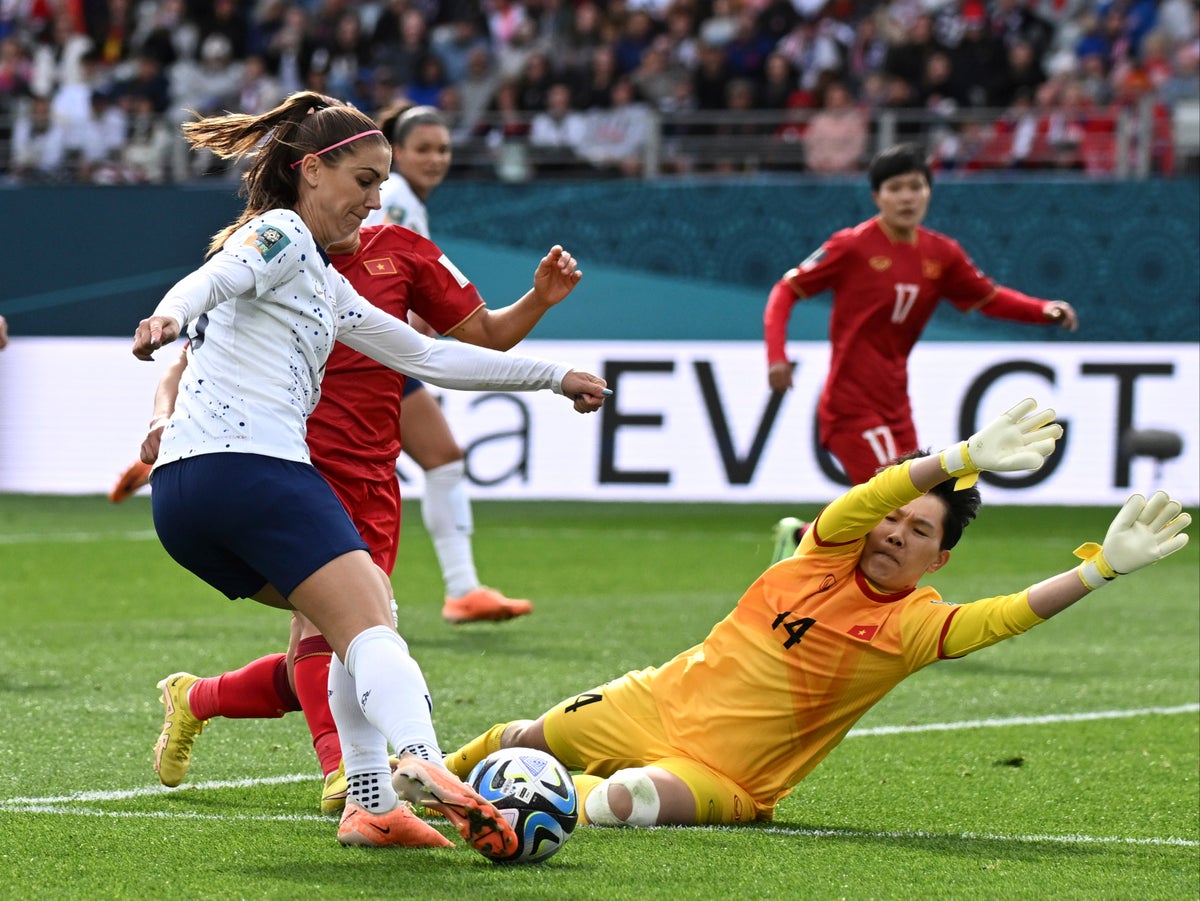 Football
USA vs Vietnam LIVE: USWNT win 3-0 as Sophia Smith nets twice in Women's World Cup opener
Teary eyed teammates pay tribute to Rapinoe
Sign up to Miguel Delaney's Reading the Game newsletter sent straight to your inbox for free
Sign up to Miguel's Delaney's free weekly newsletter
The United States begin the defence of their Women's World Cup crown as the four-time champions play Vietnam in Auckland tonight.
The USA are aiming to become the first team to win the World Cup three times in a row, with stars such as Alex Morgan and Megan Rapinoe returning from their victory in France four years ago. The defending champions are favourites to retain their title but they will face competition from the top European sides, such as England and Germany, who are confident they have closed the gap.
The stage is set for the next generation to shine, such as star forward Sophia Smith, who is one of 14 players in the squad who are making their first appearance at the World Cup finals. The USA also have a new head coach from four years ago, with Vlatko Andonovski taking over from Jill Ellis, who led the team to titles in 2015 and 2019.
Follow live updates as the USA begin their Women's World Cup campaign.
Women's World Cup LIVE: USA vs Vietnam
USA begin World Cup campaign against Vietnam (Kick-off 9pm ET, 2am BST)Defending champions are aiming to win their third World Cup in a row Megan Rapinoe is playing in her last World Cup before retirement USA are joined by Netherlands, Portugal and Vietnam in World Cup Group EShow latest update
1689996063
Sophia Smith: 'It's good to have a game under my belt'
One of the stars of this show was World Cup first-timer Sophia Smith, who scored both US goals in the first half.
"I feel relieved. I was a little bit anxious going into the tournament, so it's good to have a game under my belt and get a feel for it, and know what to expect," she said in a post-match interview just now. "We know the next few games are going to be hard."
Io Dodds22 July 2023 04:21
1689995966
A modest victory for Team USA
It's a victory for the USA, but perhaps not the victory they were hoping for. As the reigning champions, and with Vietnam making its World Cup debut, they were tipped by many bookies to score 5 or 6 goals.
"The US are like a high standing mountain, but we will not balk at climbing it," team coach Mai Duc Chung had said before the match. "Vietnam will have reasonable tactics. Our first goal is to limit goals conceded and avoid injuries."
So it proved, and Vietnam will probably be happy with this result. Many pundits are pointing to the USA's inexperienced roster tonight, with 12 of its 23 players and six of the starting XI having never played in a World Cup before.
Then again, perhaps the US will be glad to have given its newer players some experience. They will need it when they play against the Netherlands next Wednesday.
Io Dodds22 July 2023 04:19
1689995294
FINAL SCORE: USA 3-0 Vietnam
90+9 mins: The final whistle blows, and it's USA 3, Vietnam 0.
Io Dodds22 July 2023 04:08
1689995216
USA 3-0 Vietnam
90+8 mins: A valiant final effort from Thu Thao, who surges down the US left nearly unopposed. But she can't get towards the centre, and Alyssa Naeher has little trouble stopping her shot.
Io Dodds22 July 2023 04:06
1689995131
USA 3-0 Vietnam
90+7 mins: Oof, what a near miss for Rose Lavelle. A cross goes awry but she still manages to meet it, bopping it just over the crossbar.
Io Dodds22 July 2023 04:05
1689994987
USA 3-0 Vietnam
90+4 mins: Hai Linh Tran is relieved from the pitch. Team USA has just five minutes to improve on their 3-0 score, but Vietnam's defence remains as spirited as it has been this whole game.
Io Dodds22 July 2023 04:03
1689994799
USA 3-0 Vietnam
88 mins: Looks like a nasty injury for Hai Linh Tran, who went down to a zealous tackle from Kelley O'Hara.
Play stops for a time while the ref remonstrates with O'Hara, adding to the now nine minutes of extra time. It's been a brutal game.
Io Dodds22 July 2023 03:59
1689994484
USA 3-0 Vietnam
85 mins: An incredibly close miss for Rose Lavelle, who has a decent amount of space but bounces the ball just off the crossbar. It ricochets directly down to the ground before bouncing off and being shepherded away by Vietnam.
Io Dodds22 July 2023 03:54
1689994399
USA 3-0 Vietnam
84 mins: The US relieves Crystal Dunn and Emily Fox, substituting Kelley O'Hara and Sofia Huerta.
Io Dodds22 July 2023 03:53
1689994337
USA 3-0 Vietnam
83 mins: A rare spell of extended possession for Vietnam, who bring it up the right-hand side despite heavy opposition until they are forced off the edge of the pitch.
Io Dodds22 July 2023 03:52