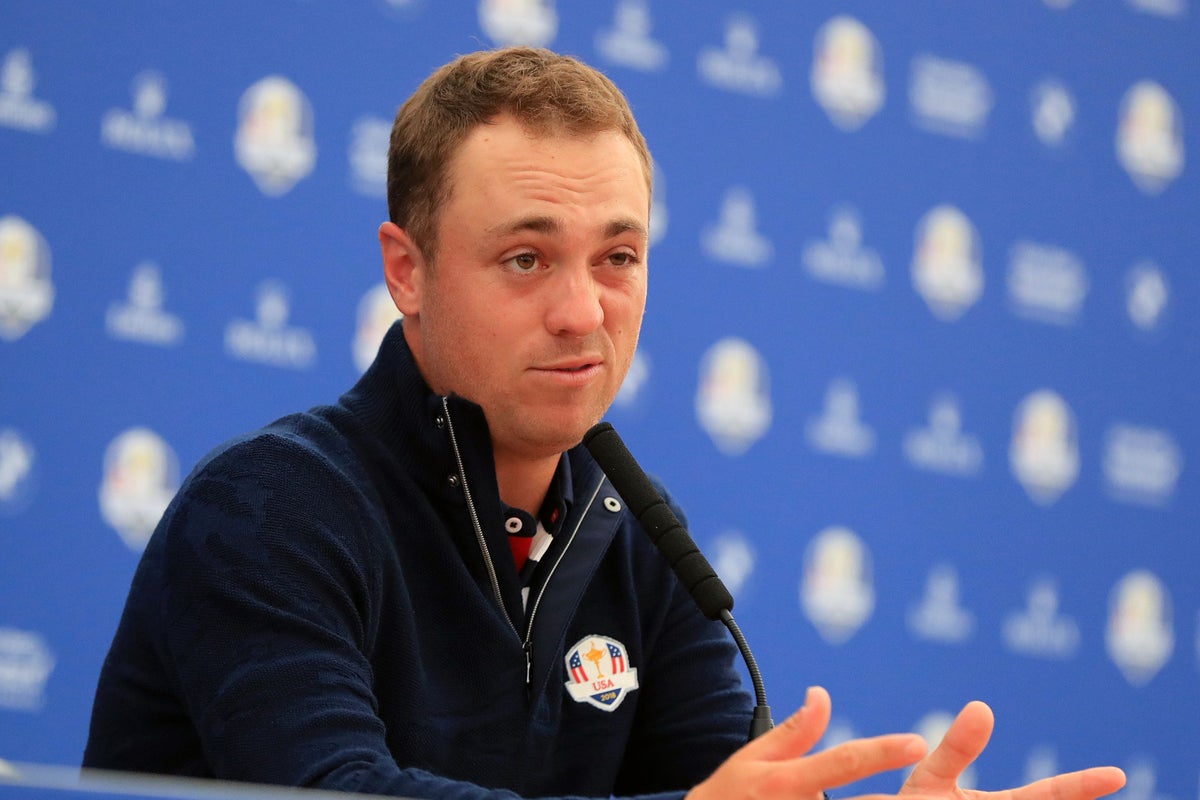 Golf
Very fortunate to be here – Ryder Cup relief for Justin Thomas
Sign up to our free sport newsletter for all the latest news on everything from cycling to boxing
Sign up to our free sport email for all the latest news
Justin Thomas has admitted he is "very, very fortunate" to be given a wild card for this year's Ryder Cup in Rome.
Thomas failed to qualify for the FedEx Cup play-offs on the PGA Tour and admitted it had been "humiliating and embarrassing" to card a second round of 81 in the US Open in June.
The two-time major winner also shot an opening 82 in the Open at Royal Liverpool and finished 15th in qualifying, behind both Cameron Young and Keegan Bradley and just one place above the in-form Lucas Glover.
However, United States captain Zach Johnson hailed Thomas as the "heart and soul" of American teams after selecting the former world number one along with Sam Burns, Rickie Fowler, Brooks Koepka, Collin Morikawa and Jordan Spieth to face Europe at Marco Simone Golf and Country Club next month.
The wild cards join automatic qualifiers Scottie Scheffler, Wyndham Clark, Brian Harman, Patrick Cantlay, Max Homa and Xander Schauffele on Johnson's team, who will attempt to win on European soil for the first time since 1993.
"I have had a lot of sleepless nights thinking about what could happen and wanting to be on the team, wondering if I was or I wasn't, and then I just came to the realisation that it was out of my hands and I couldn't do anything about it," Thomas said.
"After getting the call yesterday (Monday) from Zach I couldn't sleep because I was so excited. It's cool to be part of this team.
"You can want something too bad. I'm sure all of us have tried to win golf tournaments too much and have tried to force the issue, and there were potentially times this season I did.
"I'm very, very fortunate to be here and Zach has been very vocal and made it sound great that we are all equal on this team. I feel I'm just as important as everybody else and my team-mates have voiced that the same way."
Johnson had earlier been fulsome in his praise of Thomas, who won four points from five matches on a losing side in Paris in 2018, including victory over Rory McIlroy in the opening match of the singles.
"Justin Thomas is one of the most talented players on the PGA Tour in my opinion," Johnson said.
"He has been, without question, the heart and soul of US Ryder Cup teams, our emotional leader.
"Overall (he has) a fantastic Ryder Cup record. His passion for the Ryder Cup is very evident. In my mind he is born for this and you just don't leave JT at home."
Johnson admitted the topic of selecting LIV Golf players such as Dustin Johnson – who went 5-0 at Whistling Straits two years ago – and Bryson DeChambeau did come up, but that Koepka had been the only one to "seize the opportunity" of playing well in the majors.
Koepka only slipped out of the automatic qualifying places in the final event, having finished second in the Masters and winning his fifth major title in the US PGA Championship at Oak Hill.
"A five-time major champion, he is built in my mind for the biggest of stages and there's no bigger stage than the Ryder Cup," Johnson said.
"It was a pretty easy pick, a very natural fit. He basically earned his way onto the team. Brooks is great in the team room."
Johnson's selections came a month after one of his vice-captains, former Masters champion Fred Couples, said on his own radio show that Homa, Spieth and Young would be given wild cards if they remained outside the automatic places.
Homa subsequently qualified and Spieth was duly selected but Young, who finished just 61 points behind Spieth in the standings, was left out.
"Cam, phenomenal player, a better person, he was nothing but class," Johnson said of calling Young with the bad news.
"I know what was said (by Couples), but I think that was a while back, it was kind of in jest."