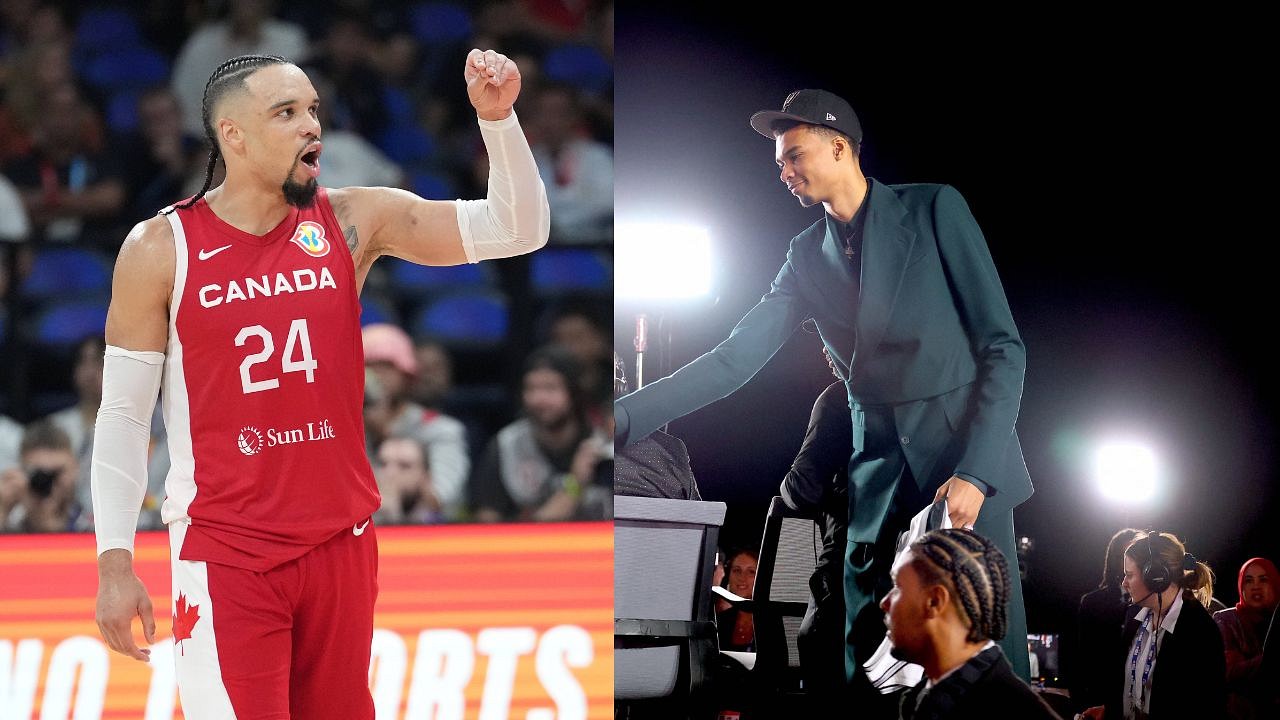 basketball
"Victor Wembanyama's Tall, That's Really It": Dillion Brooks Gives 'Candid' Assessment of 7ft 5″ Rookie, Talks About Rockets' Outlook
Houston Rockets Dillon Brooks recently spoke about the 2023 NBA draft's number 1 pick Victor Wembanyama during a post-training press conference. The Rockets have faced the San Antonio Spurs in back-to-back preseason games. Speaking before their win against the Miami Heat, Brooks was optimistic about the Rockets' development and claimed that the team was getting better at sharing the ball.
However, the 27-year-old Canadian gave a rather dry take on Victor Wembayama, claiming that the only thing that stood out was that he was tall.
Brooks conceded that it could be a challenge to defend the 7 ft 5" rookie, claiming that defenders needed to be disciplined and ensure they did not give away fouls when facing Wemby. The clip was posted on YouTube by Locked On Rockets.
Dillon Brooks claims Victor Webanyama's height was the only thing that stood out in preseason fixture
Still getting used to playing under Gregg Popovich at the Spurs, Wembanyama was far from his best against the Rockets. However, there were flashes of brilliance which have been evident all through the preseason.
Wembanyama finished with an entertaining 19-point display against the Golden State Warriors but was subpar with his shooting against the Rockets. He scored 15 points, had 6 rebounds, and an assist to boot. With Brooks guarding him for much of the game, the 27-year-old claimed that it was only the rookie's height that stood out,
"[Victor Wembanyama] He's tall. That's really it. 
Talking about defending the unique forward, Brooks claimed that defenders needed to be disciplined against Wembanyama,
"Yeah just crawl up into him, nothing easy, and then be disciplined when he shoots over you, not to be under him and give him fouls, ultimately just taking on the challenge and boxing out as well. He's not that big, you know you can bump him off his spot that's going to be one of the things you got to work on."
While Wemby might not have been at his best against the Rockets, he has done more than enough to keep fans excited as the NBA season beckons. The 19-year-old has looked a potent threat on both ends of the court, and will only get better with time.
Dillons Brooks gave an honest assessment of the Houston Rockets
The Rockets have looked well-settled all through the pre-season, and have a talented roster that should excite fans. A young core, alongside Fred VanVleet and Dillon Brooks, has won 4 out of their 5 preseason games, despite Brooks seeing plenty of room for improvement,
"We got to be better in our starts. Both times against Spurs we went down by 10 or 12. We don't want to play like that, switching a little better, know what coverages we are in, and switching them up so that we got the offense in balance. We did a great job of sharing the basketball better first game to the second."
While the Rockets came out winners in their first match against the Spurs, they were trailing by 10 points at the end of the first quarter. The second game, which they lost, saw them trail by a whopping 19 at the end of the 1st quarter, something which Brooks feels they will get better at handling, with time.