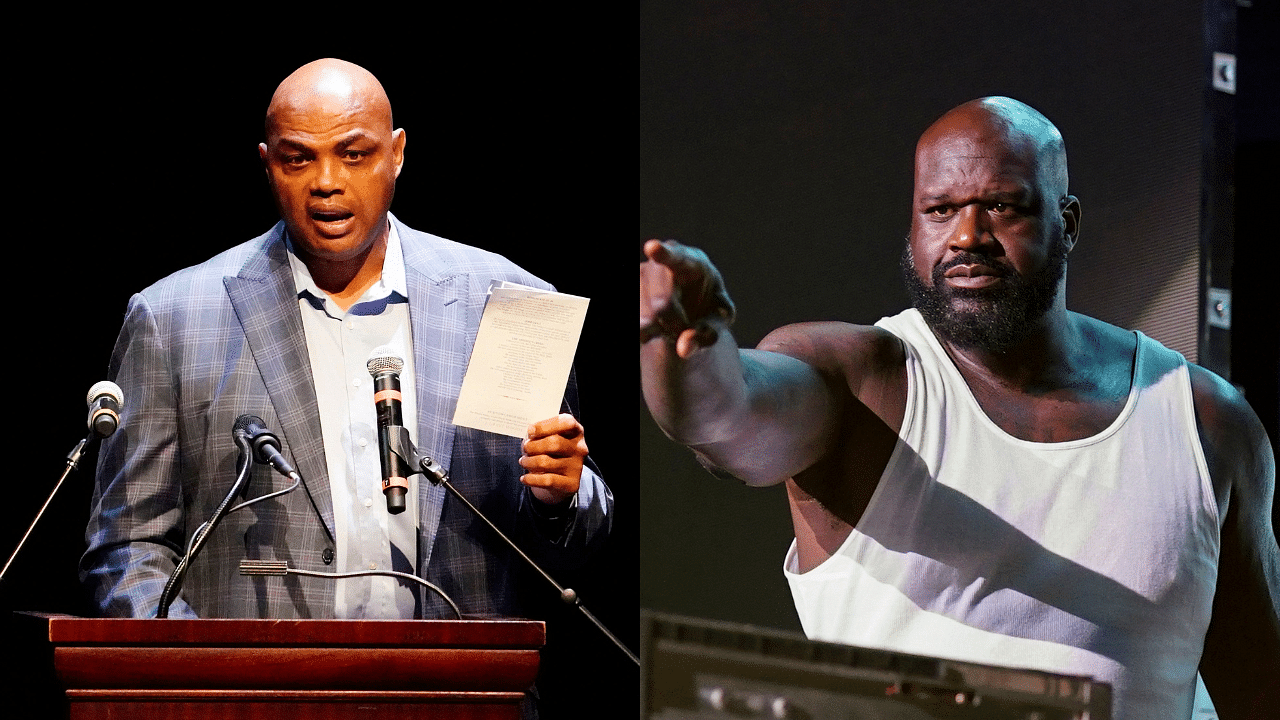 basketball
Watch: Shaquille O'Neal and Charles Barkley Horribly Losing to NBA on TNT Crew At Rock Paper Scissor Resurfaces
TNT's Inside The NBA show features a star-studded cast Charles Barkley, Shaquille O'Neal, Kenny Smith, and Ernie Johnson. They often goof around and play games, entertaining the audience. They even try to get the supporting crew involved. The upcoming situation is no different. TNT recently shared a behind-the-scenes clip on Meta's new platform Thread. In the clip, the Inside cast members challenged each other to a game of rock-paper-scissors. The Inside crew won 3-1, with Shaq and Chuck hilariously losing against the crew members.
The cast provides expert analysis on recent NBA games. They also participate in recurring segments like Shaqtin' a Fool, Audio Toons, and Gone Fishin. The crew members join the star casts and guests in these popular segments. TNT's show depicts great humor, fun, and goofiness among their cast members, making it highly ranked among sports programs in the United States.
Shaquille O'Neal and Charles Barkley hilariously lose to the Inside's crew members in a game of rock-paper-scissors
The Inside cast and crew have fun even off-camera. Behind-the-scenes moments show their goofiness and frolic beyond the Live telecasts. During the off-season, the crew challenged the star cast to a game of rock-paper-scissors.
Although some cast members excel in basketball, they might need extra training to compete in rock-paper-scissors against the show's crew. Out of the four star-cast members, only Kenny Smith managed to defeat one crew member in the game.
Post by @nbaontnt
View on Threads
Shaq, Chuck, and Ernie suffered a hilarious defeat against the crew and their reactions were priceless. Chuck, who initially wasn't ready to play due to work, eventually got into the game. However, he couldn't believe how easily he was defeated by a crew member. Kenny Smith, who appeared to be experienced in the game, prevented a complete sweep by winning the match. The final score ended at a respectable 3-1.
Kenny Smith saved O'Neal and Barkley from embarrassment
In the game of rock-paper-scissors, Shaquille O'Neal and Charles Barkley faced defeat. Even Ernie Johnson, who was unsure about playing, added another loss for the cast members. However, Kenny Smith prevented the cast from being embarrassed by showcasing his unbeatable skills.
Smith confidently claimed to have never lost a game and proved it by defeating the crew member's scissors move with rock. Clips of such enjoyable activities involving the Inside crew and casts bring excitement and joy to the fans, extending beyond the thrilling matches. Shaq and Chuck's genuine and hilarious reactions endeared them to their fans, solidifying their status as beloved TV hosts in America.
The post Watch: Shaquille O'Neal and Charles Barkley Horribly Losing to NBA on TNT Crew At Rock Paper Scissor Resurfaces appeared first on The SportsRush.