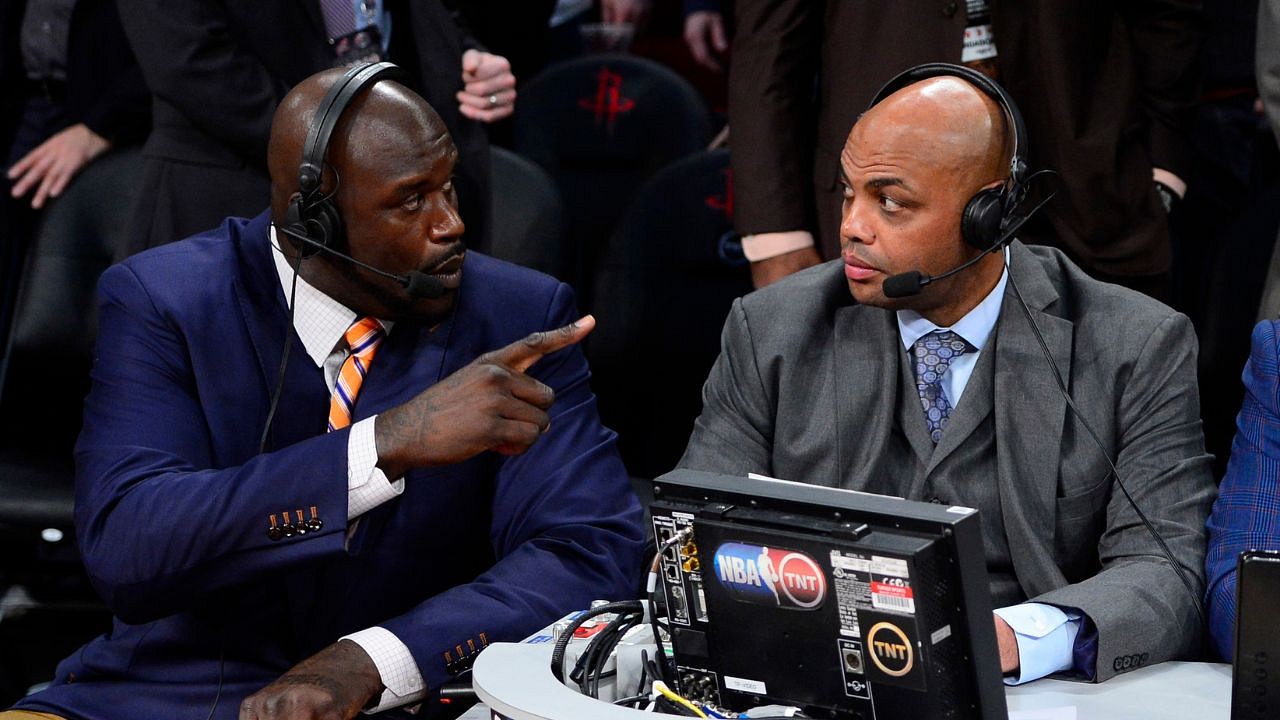 basketball
"We Lost to Dum Dum?": Shaquille O'Neal's 2020 'Trivia Night' Win On Inside the NBA Had Charles Barkley Stunned
TNT's Inside The NBA cast knows the best of having fun during shoots. In 2020, the Inside crew, featuring Ernie Johnson, Shaquille O'Neal, Kenny Smith, and Charles Barkley, participated in a trivia quiz to test their NBA knowledge. The goal was to win the buzzer round by answering as many stat-related questions that popped up. And to no one's surprise, the trivia night did not fail to entertain the audience, with the TNT cast's hilarious shenanigans and antics going galore.
The 'Inside The NBA' show is loved by audiences across the United States for its dynamic and engaging nature. The show often features the hosts engaging themselves in activities such as Trivia Nights or other fun games. These engagements produce some hilarious moments, the most popular ones being Charles Barkley and Shaq's epic banter against each other.
Charles Barkley and Kenny Smith could not accept their defeat to Shaquille O'Neal
The Inside crew, featuring Shaq, Charles Barkley, and Kenny Smith, engaged in a fun trivia night back in 2020. Ernie Johnson was the quiz master, moderating the quiz 'Neat-O Stat' on statistics. Some of the questions were indeed nail-biting, but our Inside crew members scratched the most off their heads to beat each other in the competition.
Ultimately, Shaquille O'Neal's NBA knowledge seemed to prevail, as he emerged as a winner against Kenny Smith and Charles Barkley. But Chuck and Kenny were not the ones to take this win easy. Reacting to Shaq's easy win, Chuck said:
"We lost to dum-dum?" 
What followed next was Kenny Smith and Chuck playfully arguing with Ernie Johnson over the points scored. All this while, Shaq stood around the corner, smiling and relishing his sweet victory over his crew-mates. The Diesel answered four questions right, while Kenny and Chuck only answered two and one, respectively.
The Inside crew was once baffled by Charles Barkley's choice of Allen Iverson over Michael Jordan
In 2011, the Inside crew held another fun activity called 'Ultimate Draft' in the lead-up to the All-Star game that year. They were joined by former NBA stars Chris Webber, Kevin McHale, Steve Kerr, and Reggie Jackson. In the first pick for his draft, Charles Barkley surprisingly picked Allen Iverson over Michael Jordan, Larry Bird, and Magic Johnson available on the board. This decision baffled the rest of the crew, and their reactions were utterly hilarious.
Ernie Johnson made sure that Chuck never forgot his ridiculous statements and bloopers in the long run. During the 2018 All-Star weekend, Johnson tried reminding Chuck of this ultimate slip-up alongside a list of other hilarious incidents.
Chuck's funny nature and such bloopers have re-invented his fame in his post-retirement NBA life. Aside from being an NBA superstar, Chuck has also become one of America's favorite TV show hosts and analysts.