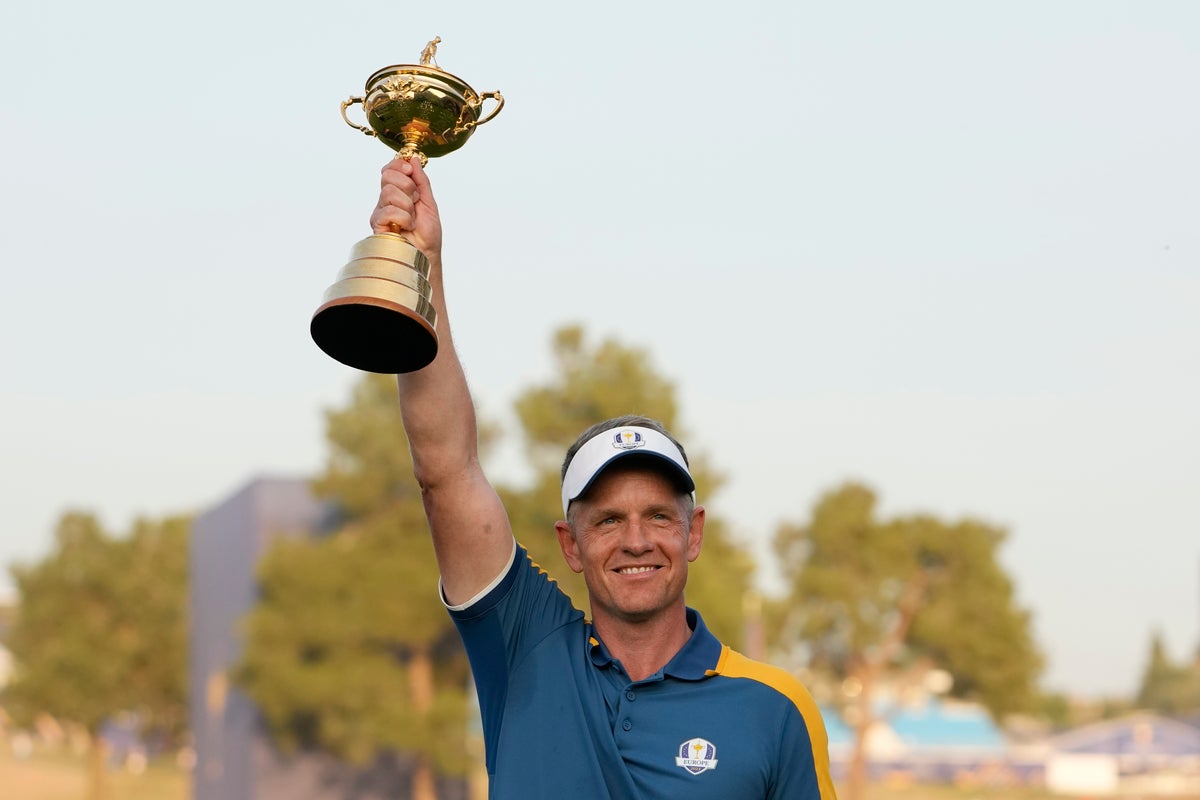 Golf
Why Luke Donald can end Ryder Cup streak in New York
Sign up to our free sport newsletter for all the latest news on everything from cycling to boxing
Sign up to our free sport email for all the latest news
Home advantage affects most sports, and you see it strikingly in football: Premier League teams won 48 per cent of home games last season compared to only 29 per cent away. But the modern Ryder Cup's bias has become unusually extreme – when the USA play Europe, the house almost always wins.
Europe's Ryder Cup win in Rome extended USA's away drought to 34 years. There have been only two away wins this century. The five Ryder Cups since the Miracle of Medinah have all resulted in convincing home triumphs, and increasingly it resembles an event in which one team visits the other, takes an almighty beating and hands over the trophy on their way out the door.
Such is the concern that players and captains were asked whether the format needed altering, by moving factors like course setup into neutral hands. "No, I don't think any changes need to be made," said US captain Zach Johnson. "I think it's the beauty of the cup. There's something special about coming over here and having to fight because it's hard, and I like the fight and I like the hard. So I wouldn't change anything."
Rory McIlroy agreed, but he wasn't exaggerating when he described winning away in the Ryder Cup as one of the hardest accomplishments in golf. The results bear out that theory, and made his next statement all the more eye-catching. "We're going to win at Bethpage," he said defiantly, slamming a hand on the desk in a jubilant press conference.
Bethpage Black is the New York golf course which will host the next Ryder Cup, in 2025. Many experts wrote off Europe's chances in Rome after their thrashing at Whistling Straits two years ago, but few will repeat the mistake: despite this defeat, America will almost certainly be favourites when the teams meet again on their turf. Home advantage matters in the Ryder Cup.
McIlroy is brave to be bullish, knowing he will be brutally targeted by US fans at Bethpage. He was abused so much at Hazeltine in 2016 that his zen state finally snapped and he got into a furious argument with an overzealous spectator; he left Whistling Straits in tears two years ago after a humiliating 19-9 defeat. In the midst of his joy in Rome, perhaps it was the champagne doing the talking.
Yet McIlroy is right to be optimistic: that home streak must end one day, and why not in New York?
For one thing, home advantage is not the powerful weapon it used to be, despite what recent scores might suggest. Control of course setup was once a major influencing factor, and the Ryder Cup has a long history of collusion between home captains and greenskeepers. The US chopped rough down to aid their big hitters, and the Europeans grew rough high to benefit their fairway finders, and the home team usually prevailed.
Over the past few years, though, the discrepancy in driving distance has become negligible. Most European players play in the same tournaments as the Americans. They live in the States and have come through the US college system. Almost every top player now has both distance and accuracy in their bag, and for the first time Europe's 12 actually had a marginally longer average distance off the tee. So Europe should not fear Bethpage Black if it is set up for long hitting like Hazeltine and Whistling Straits before it.
What is still a tool for the home team is the partizan crowd. They created a hostile cauldron for the visiting players in Rome, and in a sport that is played in a serene bubble for most of the year, that was naturally disconcerting.
Luke Donald lifts the Ryder Cup after victory at Marco Simone Golf Club
( Associated Press)
But having great golfers is more important than where the tournament is played. In all the pre-event talk of USA being favourites, it was often overlooked that Europe held three of the best four players in the world in Jon Rahm, McIlroy and Viktor Hovland. The heavyweight trio played 14 matches in Rome (half of the total 28), earning 10½ points, and that laid the foundation for Europe's win. Barring injury, they should all be back for New York.
Along with playing talent, leadership is another telling factor at the Ryder Cup. European players chanted "two more years!" at their captain Luke Donald during the trophy presentation and he hinted that he might buck the modern trend and continue in the captaincy role for a second Ryder Cup. "No one has asked me yet," Donald said with a smile.
The winning captain is always heralded as an oracle of golf after the fact, but the players were authentic in their praise for Donald's work, painting a picture of someone who created an impenetrable bubble of confidence in which his players thrived. In contrast to his counterpart Jonhson, Donald embraced the numbers game, using stats guru Edoardo Molinari in a data-led approach to selection and pairings. Europe are a step ahead in this area.
Europe celebrate winning the Ryder Cup
( Associated Press)
The USA's leadership will change over the next two years. The entire golfing landscape will continue to evolve and it is hard to predict how each team will look. But if Europe do retain Donald and Molinari, and their heavyweight players arrive in form, then they might just have an edge. And if they can transfer that edge to the golf course in New York, even in a fierce atmosphere at a venue out of their control, then perhaps they can break the chain and retain the Ryder Cup too.