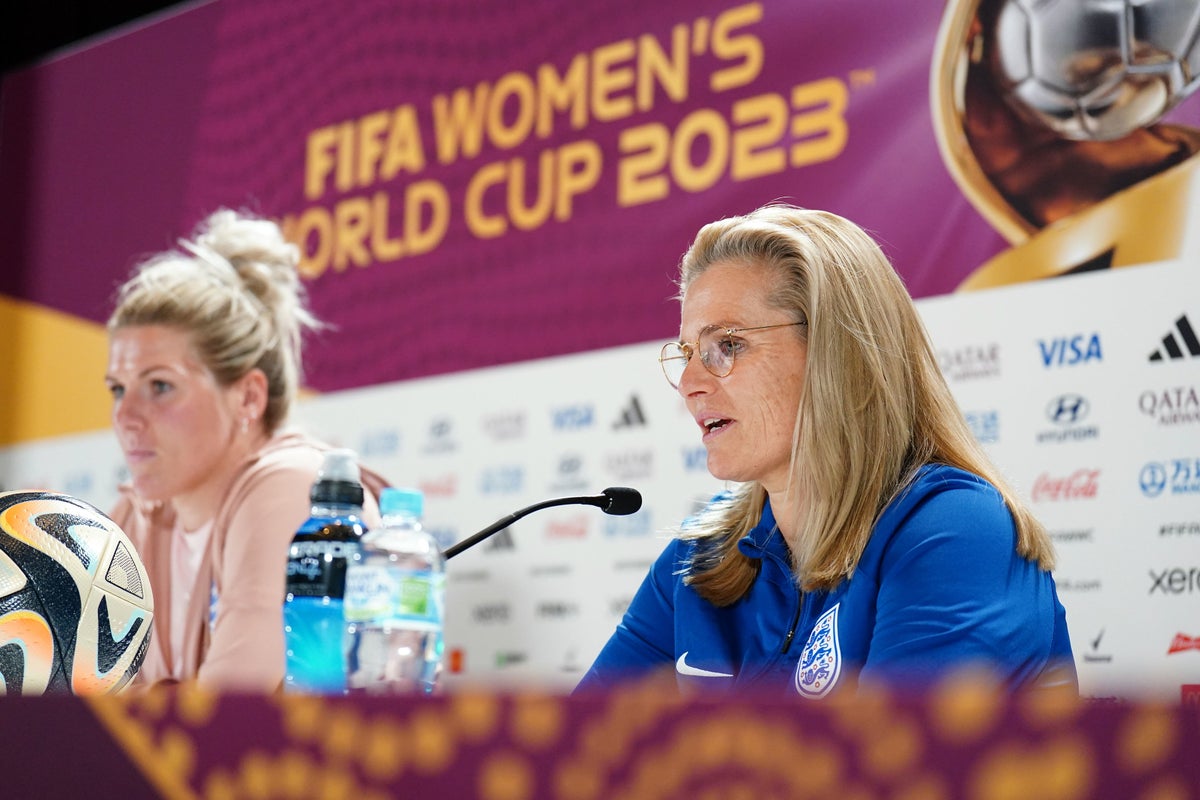 Football
Women's World Cup final LIVE: England prepare for 'game of our lives' against Spain
England team rallies ahead of World Cup final: 'We need to play the game of our lives'
England are counting down the hours until they play in their first Women's World Cup final as Sarina Wiegman and her players prepare to face Spain for the title in Sydney on Sunday morning (kick-off 11am BST).
It's the first time the England men's or women's team have reached a football World Cup final since 1966, with the nation set to come to a halt as the Lionesses look to bring the game's biggest prize back home.
Wiegman is well aware of the 57 years of hurt that the nation has endured but said the Lionesses will feel the support of the country back home when they face Spain, while captain Millie Bright said England will need to play the "game of our lives" in Sydney.
Meanwhile, Sweden picked up their fourth Women's World Cup bronze medal on Saturday after beating co-hosts Australia 2-0 in the third-place playoff match at Lang Park in Brisbane.
Follow all the build-up to England's clash against Spain in the final, get all the latest Women's World Cup odds here and find latest tips for the game itself here.
Women's World Cup LIVE: Latest England news ahead of Sunday's final
Show latest update
1692481479
How to watch England vs Spain: TV channel and kick-off time for Women's World Cup final
The nation is set to come to a halt as England play their first World Cup final, men's or women's, in 57 years. Manager Sarina Wiegman has urged her players to block out the "noise" of 1966 as England look to add the World Cup title to last year's Euros triumph.
The Lionesses reached the World Cup final for the first time with their 3-1 win over Australia in the semi-finals, with Wiegman's side managing to stay cool to defeat the hosts with a clinical display in Sydney.
Spain, who are also playing the first Women's World Cup final, have navigated a player mutiny off the pitch and questions surrounding their manager Jorge Vilda, but 'La Roja' remain dangerous opponents and are led by their contingent of Barcelona stars.
Jamie Braidwood19 August 2023 22:44
1692479799
England vs Spain predicted line-ups: Team news ahead of Women's World Cup final
Sarina Wiegman has a big decision to make as England face Spain in the Women's World Cup final and the Lionesses look to win the game's biggest prize for the first time.
After successfully ending their run of semi-final defeats to beat hosts Australia in Sydney, Wiegman must decide whether she will bring star forward Lauren James back into her starting line-up for the final.
James was sent off for stamping on an opponent in England's last-16 win over Nigeria but has now served her two-match suspension is available to play in the final.
England's Ella Toone impressed with her performance against Australia and was also on the scoresheet as she scored the opening goal, so the Manchester United midfielder will be difficult to drop.
But James was one of the players of the World Cup during the group stages, scoring three goals, and could be the difference for England as they look to win the World Cup for the first time.
Here's everything you need to know ahead of the World Cup final
Jamie Braidwood19 August 2023 22:16
1692477879
Sarina Wiegman thankful for 'dream' support as World Cup final set to unite country
England manager Sarina Wiegman said the Lionesses will feel the support of the country back home and urged her players to play their "best game ever" when they face Spain in the World Cup final in Sydney tomorrow.
The nation is set to come to a stop on Sunday morning as the Lionesses feature in England's first World Cup final since 1966 and Wiegman said reaction to their historic success at the tournament has been a "dream".
Wiegman led England to their groundbreaking victory at the European Championships last summer and said her players are determined to create another moment that will inspire lasting change for women's football while uniting the nation.
"It's really exciting to play the game tomorrow and we are eager to win it," Wiegman said in her pre-match press conference at Stadium Australia. "It shows how football unites. It brings people together.
"It's incredible what happened. We felt the support, we felt the support here, but also from the other side of the world in the UK. That's something you dream of and we hope we play our best game ever tomorrow."
Jamie Braidwood19 August 2023 21:44
1692475119
England stand on the brink of history — and a moment to change the game forever
In the final days before a World Cup final, when every touch on the training ground is charged with greater tension, it's still difficult not to revert to the lightness of youth. That is where the very meaning of all this is first set.
"When I was a kid we used to play 'World Cup' in the garden, where we had to score to stay in," striker Alessia Russo smiles in England's base. "It was having fun and playing free… as a kid growing up, to think we're playing in a World Cup final in a couple of days is a special feeling."
It is a feeling that is universal when it comes to this game, because this game is truly unique. Nothing else comes near. It is why everyone is here. Jenni Hermoso expressed exactly the same emotions in the Spain camp.
"Everything I do on the pitch I learned it on the street, playing in my neighbourhood, playing in the park underneath my grandparents' house… of course you imagine winning, you visualise going back to Spain with the World Cup. I hope that dream becomes reality."
The manner these players inspire next generations means these simple joys should not be forgotten, as all of these players seek to do something that will be remembered forever.
England vs Spain – World Cup final preview, by Miguel Delaney
Jamie Braidwood19 August 2023 20:58
1692473392
Sarina Wiegman: 'Stop talking about the result — we know what we want'
When it gets to this stage before a big game, even someone as experienced as Sarina Wiegman finds she can't take her mind off it. Or, rather, she doesn't want to take her mind off it, which is precisely why she's so experienced.
"No, and I don't want to relax," she smiles.
"It's Spain," Wiegman says of her thoughts before taking on Sunday's opponents. "Everything now is Spain. When you're so close, well, I have that feeling a little bit anyway, but when you go to the next game, you're only thinking 'OK, what's next? What can we get in front of us? What challenges can we expect? How are we going to prepare the team?
"I just want to get ready."
Wiegman has ensured England have never been more ready. The national team are on the brink of bringing a decade-long project to glorious completion and winning a first ever Women's World Cup because of her crucial influence. The 53-year-old from The Hague can now be classed as the best manager in the game. While the key elements of that story are tactics, patience, strategy and the will – as well as investment from the FA – to hire a manager this good, there is also something acutely personal.
Read Miguel Delaney's in-depth piece on the Lionesses's iconic manager
Jamie Braidwood19 August 2023 20:29
1692470692
'Another reason to whinge': Australian media criticise England after Matildas beaten at Women's World Cup
Australia missed out on a first appearance in a Women's World Cup final after a 3-1 defeat to England in Sydney.
The Matildas fell behind in the first half at Stadium Australia before Sam Kerr levelled with a spectacular finish from distance.
But goals from Lauren Hemp and Alessia Russo secured victory for the Lionesses late on to take Sarina Wiegman's side through to a second consecutive major tournament final.
Jamie Braidwood19 August 2023 19:44
1692467932
Ella Toone or Lauren James? Sarina Wiegman has already made the biggest decision of England's World Cup
"England stand on the brink of greatness. The European champions are one victory away from being the best team in the world. But this has not been an easy tournament for Sarina Wiegman and her players.
"While the Euros saw emphatic victories – the best being 8-0 vs Norway and 4-0 vs Sweden in the semi-finals – and exultant home support, England have got into gear in a slower, more controlled way in this tournament (they did beat Sunday's opponents Spain 2-1 in extra time. in their toughest "match in 2022 excluding the final, in case anyone had forgotten, but that was a rather different Spain team).
"Sarina is characterised for her consistency, bordering on stubbornness to her critics, but in this tournament she has had to change things up: the shift to a 3-5-2 against China was an inspired throw of the dice after some pretty drab stuff against Haiti and Denmark. The England head coach has also had to do without the enormously gifted Lauren James after her red card against Nigeria, having brought her in to start against the Danes. James was the best player in the group stages for England, scoring three and assisting three.
"But in her absence, two things have occurred…"
Read Lionesses legend Kelly Smith's latest column ahead of the World Cup final
Jamie Braidwood19 August 2023 18:58
1692465292
Where to watch the Women's World Cup final between England and Spain
Sarina Wiegman's Lionesses are through to the Women's World Cup final after Wednesday's thrilling 3-1 semi-final win over Australia, with goals from Ella Toone, Lauren Hemp and Alessia Russo enough to see off the Matildas in front of a highly partisan home crowd.
The European champions will face Spain at Stadium Australia in Sydney at 11am on Sunday morning (BST), their opponents extremely impressive throughout the tournament but only narrowly overcoming Sweden 2-1 in the other semi.
The big match will be broadcast on both the BBC and ITV in the UK, with the former's coverage starting at 10am and the latter's at 10.15am.
If you prefer to catch the final with a crowd, however, there are plenty of fan zones, pubs and bars across the country throwing open their doors early:
Jamie Braidwood19 August 2023 18:14
1692462592
Infighting and rebellion: How Spain overcame themselves to reach edge of Women's World Cup glory
With so much still unsaid around this Spain team, three statements over the last 48 hours stood out all the more, that illustrate much of the story of their Women's World Cup run.
One was Tere Abelleira immediately after the semi-final victory over Sweden. "Now we can talk about a ferocious team spirit." It was as the midfielder was saying this in the Eden Park mixed zone that Jenni Hermoso was striding behind and shouting: "Come on! We're in the final of the f**king World Cup!"
That is now the most important fact of all. It was amid this mood of jubilation, however, that the abrasive Spanish federation boss Luis Rubiales came out with something that was much more open to dispute.
Read Miguel Delaney on Spain and their run to the final:
Jamie Braidwood19 August 2023 17:29
1692459892
Keira Walsh backs Ella Toone to keep place for World Cup final
Keira Walsh: "I think obviously people are going to speak about that, but I think everyone has got to give Tooney credit. She has come back in and she has done an unbelievable job again.
"People probably won't speak about it too much, but it's not easy to come in for a quarter-final or semi-final when all the spotlight has been on the player's place you are taking.
"I think tonight she was unbelievable. She tackled, she got stuck in, she took us up the pitch, she gave us a lot of security. LJ is a massive talent, but I think we have got to put some respect on Tooney's name as well. She has been fantastic."
(Getty Images)
Jamie Braidwood19 August 2023 16:44