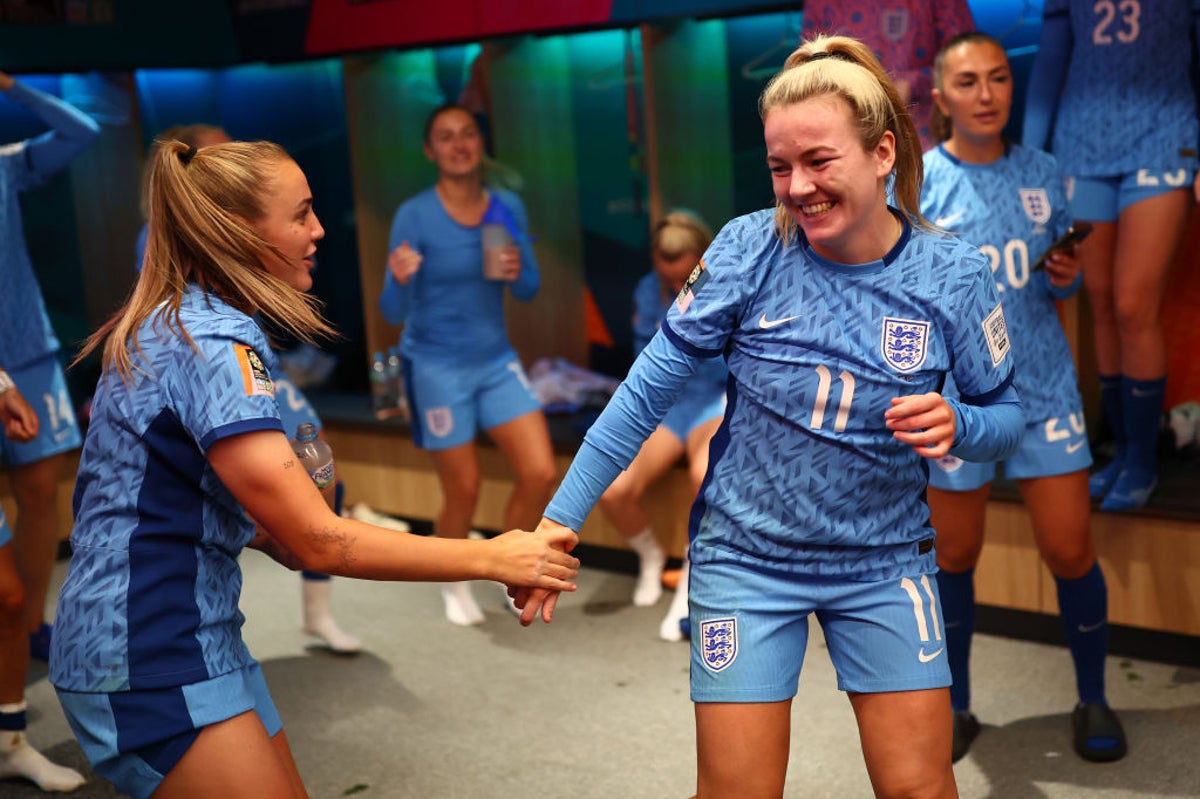 Football
Women's World Cup LIVE: England prepare for final against Spain and latest reaction to win over Australia
World Cup semi-final: England fans celebrate Lionesses scoring against Australia
England are through to the Women's World Cup final for the first time after a stunning 3-1 win over Australia in Sydney set up an all-European title decider against Spain on Sunday.
The Lionessesbroke the hearts of the home nation as goals from Lauren Hemp and Alessia Russo sealed a historic victory, after Sam Kerr sent the got the Matildas and capacity crowd of 75,784 rocking with a stunning individual goal.
England manager Sarina Wiegman said she was "in a fairytale" after guiding England to the final for the first time, while defender Lucy Bronze was overcome with emotion after playing in two previous semi-final defeats in 2015 and 2019.
The Lionesses will play Spain on Sunday in England's first World Cup final since 1966 and the nation is set to come to a halt as England look to bring the game's biggest prize back home.
Follow all the reaction to England's win against Australia in the semi-finals, get all the latest Women's World Cup odds, including the latest third place play-off odds here:
Women's World Cup LIVE: Latest England news ahead of Sunday's final
Show latest update
1692313187
Sarina Wiegman could be England men's manager after Southgate, says FA chief
Football Association chief executive Mark Bullingham would not rule out the possibility that Lionesses boss Sarina Wiegman could one day lead the England men's team.
The 53-year-old's stock as a serial winner has risen steadily since securing the European championship trophy with her native Netherlands in 2017, then doing the same with England last summer.
She has now guided England to a first-ever World Cup final, in the process becoming the only manager to do so with two different nations in the women's showpiece after steering her home country to the same stage four years ago.
Mike Jones17 August 2023 23:59
1692311447
Why are England wearing blue kits for the World Cup final?
England will go in search of a first Women's World Cup crown when they take on Spain in the final in Sydney.
Sarina Wiegman's side progressed to a second major tournament decider in as many years with a 3-1 semi-final victory over tournament co-hosts Australia.
The final will be held at Stadium Australia and a first-time World Cup winner is guaranteed, with neither side having reached this stage of the tournament previously.
Mike Jones17 August 2023 23:30
1692309647
'Another reason to whinge': Australian media criticise England after Matildas beaten at Women's World Cup
Australia missed out on a first appearance in a Women's World Cup final after a 3-1 defeat to England in Sydney.
Mike Jones17 August 2023 23:00
1692308447
Support grows for bank holiday if Lionesses win World Cup final
Sir Keir Starmer has called for a celebratory bank holiday should England win Sunday's Women's World Cup final. The Labour leader said he was "never complacent" as he backed the suggestion in the event of the Lionesses beating Spain.
The Government has said an extra bank holiday is not currently in its plans, adding it will find the "right way to celebrate" if England win.
Mike Jones17 August 2023 22:40
1692307247
Player-of-the-match Lauren Hemp after England's win:
"Oh my god, what a feeling. I feel like there are no words to describe what we all feel right now.
"It's an unbelievable achievement, getting to a World Cup final. It's every kid's dream. I mean, I've got no words, I'm absolutely knackered right now. We've got a few days to recover but then we go again.
"We want to win this, obviously we've come so far now, so why not?
"I feel like as a team we have got such an inner-belief and also so much confidence as the group. No matter what happens on the outside, no matter who we come up against, every challenge we've managed to solve.
"I feel like this team is so special. You saw last year how successful we were. We want to do the same again and we want to go one step further.
"We have all got a dream. We're pushing each other to be the best that we can and we know that whenever a player gets beaten by their opponent, we know there will be someone there, having each others' backs, no matter what."
Mike Jones17 August 2023 22:20
1692306047
This World Cup means so much more for women than who wins and who loses
Record attendances, standout goalkeeping performances, and penalty-taking fire-power to eclipse any strike by a man in last season's Premier League.
Not bad for a bunch of girls, is it?
The 2023 Women's World Cup has certainly been pulling in the fans. One of the home teams, Australia, has twice played in front of crowds exceeding 75,000 in Sydney, and that was only limited by the capacity of the stadium.
Well over 500,000 have attended fan zones in host cities to watch the games on big screens, and, after only two rounds of the tournament, attendance numbers had already exceeded the total attendance of the 2015 World Cup in Canada.
The football world governing body, FIFA, has been trying to grow women's football at pace, and it seems to be working.
Gemma Abbott on the importance of this World Cup:
Mike Jones17 August 2023 22:00
1692304247
England finally reach the world's greatest stage — and that is worth celebrating
Alex Greenwood claimed she "cannot put it into the words", so she just kept repeating the words that made her feel like that. "We're in a World Cup final."
"I just keep having to say it," she laughed.
It is a glorious fact worth actually reflecting on, even as thoughts quickly turned to Sunday, what next, who starts, whether Lauren James comes in.
If actually winning the World Cup is the great ambition of any career, the final itself is the great stage. Those who step onto the pitch will leave their own mark on history, the very line-ups part of the record that makes football so rich.
"We wanted to take England and women's football to a new level and we have certainly done that over the last 12 months," Ella Toone said. They've taken it all to the highest level for the very first time.
That is worth celebrating, as Sarina Wiegman and the players insisted they would be doing.
By Miguel Delaney in Sydney
Mike Jones17 August 2023 21:30
1692302447
England's deadly duo have already provided the answer to the Lauren James debate
Lauren Hemp didn't need to look; she already had the picture in her head. After 86 minutes of being everywhere for England, Hemp found another burst to turn away from Katrina Gorry and ease into the space, gliding to the left to create room on the right. As Australia backed off, Hemp opened up the angle and reversed the ball back to Alessia Russo – her target all along. Then came the finish, low, controlled, a clinical way to round off a ruthless performance on a gutsy night. Cool, calm and collected, it booked England's place in the World Cup final and summed up how they beat Australia.
"Incredible finish, incredible pass," Sarina Wiegman said. For the second match in a row, her front two were both on the scoresheet, Hemp and Russo on target in the semi-finals, just as they were in the quarter-finals, just as Wiegman had planned. Except, of course, that no one would have planned for this, in a tournament where rarely anything has gone to script for England and they have been forced to adapt. The Lionesses came into the World Cup with seven forwards and they will likely start Sunday's final with only two in attacking positions; Hemp and Russo stand as their unlikely combination.
Mike Jones17 August 2023 21:00
1692301307
Ella Toone celebration explained after goal against Australia in Women's World Cup semi-final
Ella Toone struck a magnificent opener for England against Australia in the Women's World Cup semi-final.
The Manchester United star smashed the ball high into the top corner before wheeling away in delight with her teammates.
The 23-year-old, who has grabbed her opportunity in place of the suspended Lauren James, explained her celebration ahead of time.
Mike Jones17 August 2023 20:41
1692299747
Will Lauren James play in the Women's World Cup final?
Lauren James could return to play in the World Cup final after her England teammates earned their spot in Sunday's Sydney showpiece with a 3-1 win over hosts Australia.
James was handed a two-game ban by Fifa after being sent off during the last-16 win over Nigeria for a stamp on defender Michelle Alozie during the knockout game, which England won via a penalty shootout.
The Chelsea star sat out both England's 2-1 win over Colombia in the quarter-finals and the semi-final victory over Australia, where Ella Toone's first-half piledriver, Lauren Hemp's second-half finish and Alessia Russo's late strike knocked out the hosts to set up a final with Spain.
James was given an automatic one-match suspension and feared being ruled out of the tournament altogether, with Fifa typically increasing cases of "violent conduct" to a three-game ban. However, the governing body's disciplinary committee showed some leniency and James could now return for the World Cup final.
Whether she starts the game depends on whether manager Sarina Wiegman wants to change a winning team. The same starting XI saw off Colombia and Australia to reach the final, and Toone – James's replacement in the No 10 position in those two games – scored a brilliant goal in the semis.
Mike Jones17 August 2023 20:15