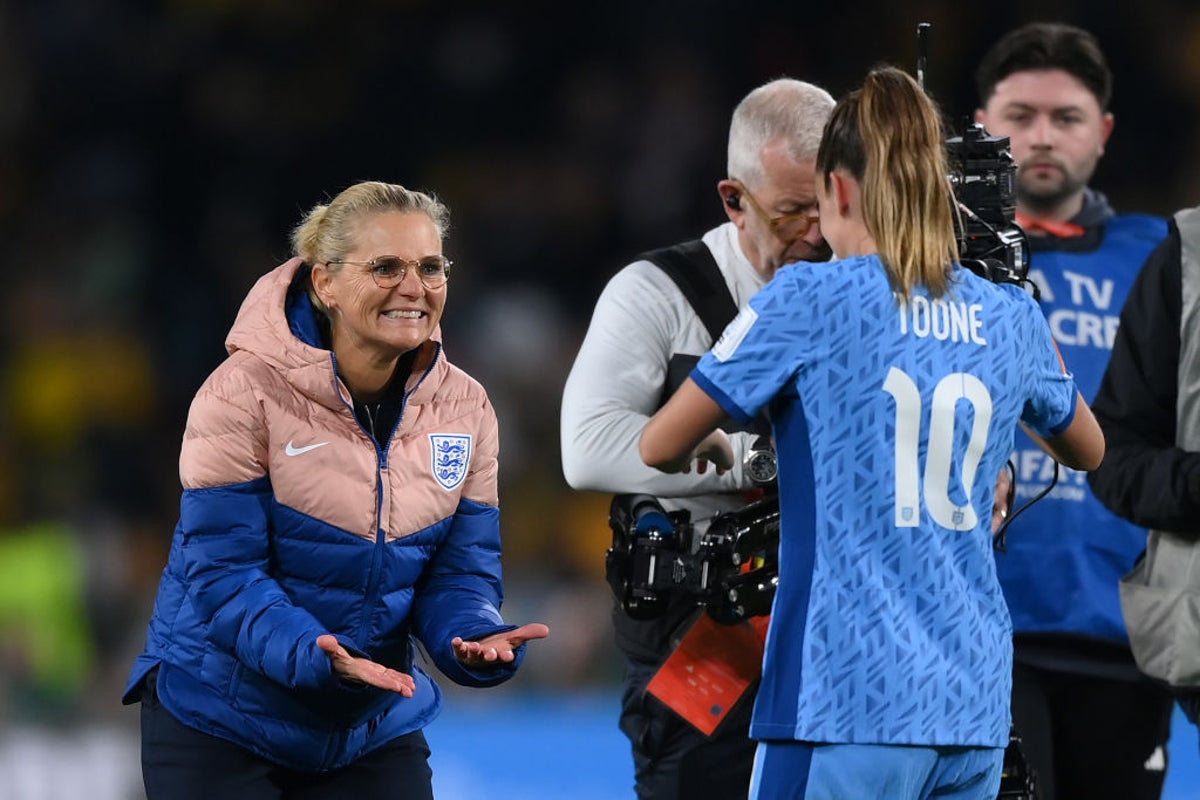 Football
Women's World Cup LIVE: Sarina Wiegman says 'everyone's talking about 1966' and backs England to end hurt
World Cup semi-final: England fans celebrate Lionesses scoring against Australia
England are through to the Women's World Cup final for the first time after a stunning 3-1 semi-final win over Australia in Sydney set up an all-European title decider against Spain on Sunday.
It's the first time the England men's or women's team have reached a football World Cup final since 1966, with the nation set to come to a halt as the Lionesses look to bring the game's biggest prize back home. And manager Sarina Wiegman is well aware of the 57 years of hurt that the nation has endured and is backing her side to end that on Sunday morning.
"I know it's there," said Wiegman of the shadow of 1966. "When we started working, September 2021, I felt that the country was so desperate to win a final in a tournament. Everyone was saying that and the players too. I thought: 'It's very real'. What do we have to do to win, and how can we win? To get results, stop talking about the result because we know what we want. I heard again: 1966. Everyone's talking about 1966. So let's be at our best on Sunday and try be successful."
Meanwhile, the FA have confirmed that a plan is already in place for a statue of the England team at Wembley Stadium, while the governing body also said they would "100 per cent" reject any approach from the USA for the Lionesses manager.
Follow all the build-up to England's clash against Spain in the final, get all the latest Women's World Cup odds here and find latest tips for the game itself here.
Women's World Cup LIVE: Latest England news ahead of Sunday's final
Show latest update
1692357039
Sarina Wiegman: 'Stop talking about the result — we know what we want'
When it gets to this stage before a big game, even someone as experienced as Sarina Wiegman finds she can't take her mind off it. Or, rather, she doesn't want to take her mind off it, which is precisely why she's so experienced.
"No, and I don't want to relax," she smiles.
"It's Spain," Wiegman says of her thoughts before taking on Sunday's opponents. "Everything now is Spain. When you're so close, well, I have that feeling a little bit anyway, but when you go to the next game, you're only thinking 'OK, what's next? What can we get in front of us? What challenges can we expect? How are we going to prepare the team?
"I just want to get ready."
Wiegman has ensured England have never been more ready. The national team are on the brink of bringing a decade-long project to glorious completion and winning a first ever Women's World Cup because of her crucial influence. The 53-year-old from The Hague can now be classed as the best manager in the game. While the key elements of that story are tactics, patience, strategy and the will – as well as investment from the FA – to hire a manager this good, there is also something acutely personal.
Read Miguel Delaney's in-depth piece on the Lionesses's iconic manager
Luke Baker18 August 2023 12:10
1692396073
UK economy set for £185m boost over World Cup final weekend
The Lionesses battling for the Women's World Cup trophy is expected to give a £185m boost to the UK economy as supporters flock to pubs and bars to watch the final.
Analysis by savings site Voucher Codes found that 13.7 million viewers around the UK are set to tune into the match, with around a fifth heading to their local pub, bar or restaurant to soak up the atmosphere.
Viewers could spend around £138m in supermarkets to stock up on food, drink, merchandise and decorations ahead of the 11am kick-off, according to the report which uses forecasts from GlobalData.
A spokesperson for Aldi told The Independent it expects to sell over one million packets of crisps this weekend, along with a surge in the sales of beer and Prosecco – in anticipation of a historic win for the Lionesses on Sunday.
Luke Baker18 August 2023 23:01
1692394271
Sarina Wiegman commits future to England after USA speculation
Sarina Wiegman is happy as England manager and wants to see out the remainder of her contract, despite speculation linking the Lionesses boss to the United States.
The Dutch manager has an outstanding track record and is the first head coach to reach the Women's World Cup final with two different teams, after guiding her native Netherlands to the final in 2019. Wiegman also ended England's 56-year wait for a major trophy when the Lionesses won the Euros last summer, with the Dutch also winning the European championships on home soil in 2017.
The FA said on Thursday that they would "100 per cent" reject any approach for Wiegman before the end of her contract, which is through to the end of the Euros in 2025, and the 53-year-old confirmed she would not consider any offers after the World Cup.
Jamie Braidwood18 August 2023 22:31
1692392291
Fifa president says 'women have the power' to achieve equality in football
Fifa president Gianni Infantino said it is women who "have the power to change" football and achieve equality in the game.
It has already been a record-breaking Women's World Cup, with the tournament in Australia and New Zealand setting its highest-ever attendance figures of over two million people as well as drawing booming TV audiences around the globe. The Fifa president also said the World Cup has generated over $570m (£447m) in revenues and has "broke even" financially ahead of Sunday's final between England and Spain.
There remains a huge discrepancy in prize money between the men's and women's World Cups, however. Despite a 10-fold increase from the last Women's World Cup in 2019, the record prize money of $152m (£126m) announced by Fifa before the tournament remains some way short of the reported $440m (£365m) prize money on offer to teams at last year's men's finals in Qatar.
While Infantino said Fifa remains on track to achieve equal pay between the men's and women's World Cup at the 2026 and 2027 tournaments, the Fifa president urged media and sponsors to step to help bridge the gap and said women "have the power to convince men" that equity in football can be reached.
Jamie Braidwood18 August 2023 21:58
1692389711
'Another reason to whinge': Australian media criticise England after Matildas beaten at Women's World Cup
Australia missed out on a first appearance in a Women's World Cup final after a 3-1 defeat to England in Sydney.
The Matildas fell behind in the first half at Stadium Australia before Sam Kerr levelled with a spectacular finish from distance.
But goals from Lauren Hemp and Alessia Russo secured victory for the Lionesses late on to take Sarina Wiegman's side through to a second consecutive major tournament final.
Jamie Braidwood18 August 2023 21:15
1692387551
Sarina Wiegman could be England men's manager after Southgate, says FA chief
Football Association chief executive Mark Bullingham would not rule out the possibility that Lionesses boss Sarina Wiegman could one day lead the England men's team.
The 53-year-old's stock as a serial winner has risen steadily since securing the European championship trophy with her native Netherlands in 2017, then doing the same with England last summer.
She has now guided England to a first-ever World Cup final, in the process becoming the only manager to do so with two different nations in the women's showpiece after steering her home country to the same stage four years ago.
Jamie Braidwood18 August 2023 20:39
1692385331
When do England play the Women's World Cup final?
England stormed into their first ever Women's World Cup final after defeating Australia 3-1.
Goals from Ella Toone, Lauren Hemp and Alessia Russo were enough to put the Matildas away in Sydney.
Australia has been gripped by World Cup fever after the Matildas' dramatic penalty shootout victory against France in the quarter-finals became the most-watched sporting event in the country since the 2000 Olympic Games, but Sarina Wiegman's side had too much in the semi-finals.
But the European champions will now play Spain in Sunday's showpiece in Sydney, after La Roja defeated Sweden 2-1 in the other semi-final.
Get all the latest football betting sites offers and get the latest odds on football matches here. Here's everything you need to know about the Lionesses' run down under:
Jamie Braidwood18 August 2023 20:02
1692382908
Alessia Russo praises Lauren Hemp and Ella Toone for England roles
Alessia Russo on her strike partnership with Lauren Hemp: "First and foremost, Lauren and I get on really well. It's nice ot have that relationship on the pitch. I've known she was so talented for such a long tine. I've played Under-15s, 16s, 17s with her and she's got so many qualities that are so threatening to the opposition.
"First off, she's lightening quick. She's always working hard on the front foot and she's been very clinical too. She trusts herself, she's feeling confident and for me that's how you want players to feel. You want them to feel like they are flying and Lauren is definitely putting in performances to back that up."
On how she felt for Ella Toone after her goal against Australia: "Obviously really buzzing, what a finish it was. Also sometimes people can be defined by goals and assists but are still working hard in other areas.
"The goal was good and a brilliant finish in a crucial game but she's been working hard ever since the tournament began and is contributing in other ways. But for your best friend to score in a moment like that, I was over the moon for her."
Alessia Russo celebrates with Lauren Hemp during England's 3-1 win over Australia
(PA Wire)
Jamie Braidwood18 August 2023 19:21
1692380508
World Cup final referee: Who will take charge of England vs Spain?
American referee Tori Penso will take charge of England's match against Spain in the World Cup final.
Penso also officiated England's victory over co-hosts Australia in the semi-finals and will therefore take charge of the Lionesses for the second match in a row.
The ground-breaking MLS referee booked both Alex Greenwood and Chloe Kelly during the semi-final, which the Lionesses 3-1 in Sydney.
Those were the only yellow cards shown during the clash although there could have been much more during the 90 minutes, with a number of heavy challenges.
Greenwood was booked for sliding in on Sam Kerr, but Keira Walsh and Jess Carter were perhaps fortunate to escape the same punishment for late fouls on the Australia captain.
Jamie Braidwood18 August 2023 18:41
1692377928
Prince William blasted by Lionesses fans for missing Women's World Cup final in Australia
The Prince of Wales is facing criticism after it was confirmed that he will not attend the Women's World Cup final in Sydney on Sunday.
Rishi Sunak has also come under fire for not having plans to attend the historic occasion for the England team in Australia.
The Lionesses are set to compete in their historic World Cup final against Spain, after they beat Australia 3-1 in the nail-biting semi-final on Wednesday.
Prince William, who is the president of the Football Association (FA), tweeted a personal message of congratulations following the victory over Australia, describing it was a "phenomenal performance".
Kensington Palace confirmed that he will not fly to Australia to cheer the team on in the final, and instead would watch the match on television. It is understood that the decision was made because it would involve flying across the world for a very short period of time.
Jamie Braidwood18 August 2023 17:58