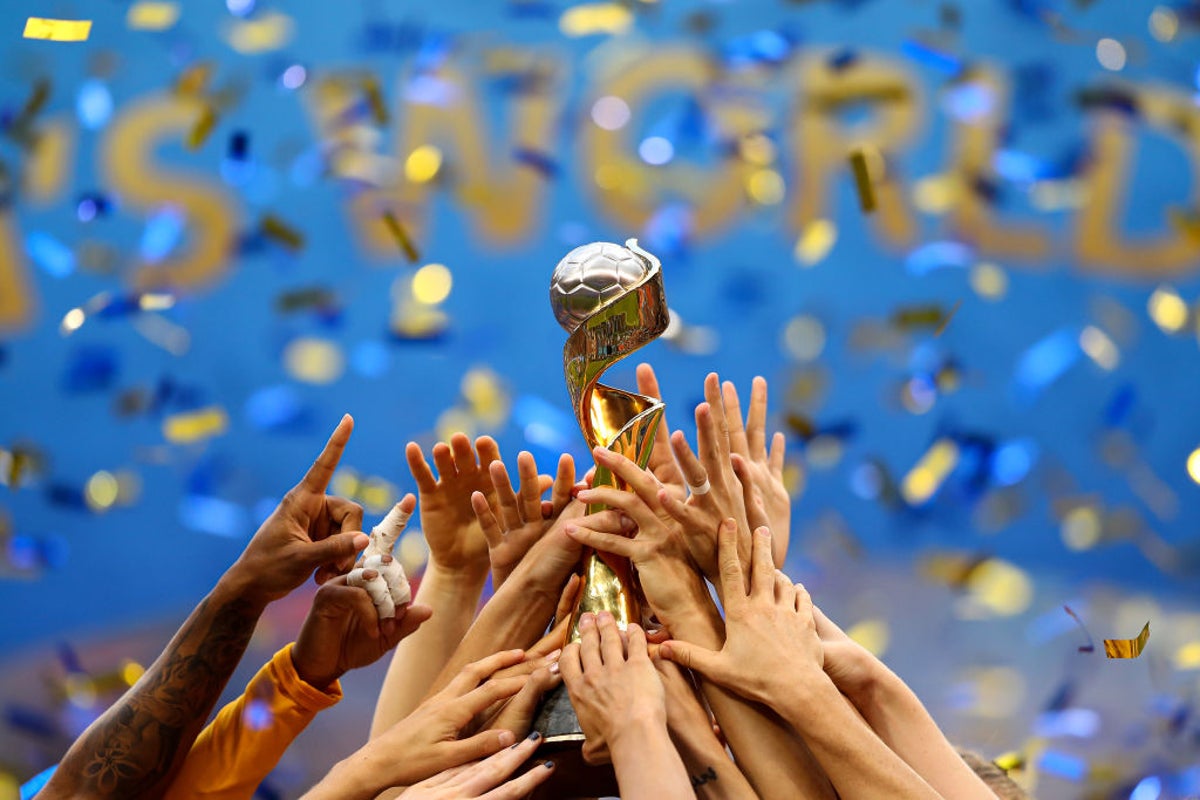 Football
Women's World Cup TV schedule: How to watch every match in UK
Sign up to Miguel Delaney's Reading the Game newsletter sent straight to your inbox for free
Sign up to Miguel's Delaney's free weekly newsletter
England travel to Australia and New Zealand as one of the favourites to win the Women's World Cup, with Sarina Wiegman's side looking to back up their victory in the European Championships last summer on home soil.
The Lionesses were knocked out at the semi-final stage in both 2015 and 2019 having suffered defeat at the hands of Japan and the United States.
The United States, who have won the tournament a record four times, will represent one of England's main obstacles once again as they look to win the World Cup for a third successive time.
Ireland will be making their debut appearance at the Women's World Cup, while Germany, Spain, France and Sweden will all be contenders from Europe.
With the tournament fast approaching, here is everything you need to know about how to watch the Women's World Cup.
When is the Women's World Cup?
The tournament will kick off on 20 July 2023 with the opening match between hosts New Zealand and Norway. Australia will kick off against Ireland later that day.
The knockout stages begin on 5 August, with the World Cup final taking place in Sydney on 20 August.
How can I watch the Women's World Cup?
TV rights have finally been agreed upon after a long-winded and public dispute between various European nations and FIFA. Gianni Infantino, the Fifa president, threatened a media blackout for the continent's biggest football nations (UK, Germany, France, Italy and Spain) but that was avoided after a deal was struck in mid-June.
For UK viewers, every game will be available to watch on the BBC and ITV.
For the BBC, there will be live coverage on television as well as the BBC Sport website with live audio commentary available on BBC Radio 5 Live, 5 Sports Extra and the BBC Sounds app.
For ITV, live coverage will be available on television as well as online via ITVX.
At present, the BBC and ITV have only announced the schedule for the group stages, although the BBC have said they will broadcast both semi-finals with the final available on both channels.
When can I watch England?
England play their first match of the World Cup against Haiti in Group D on 22 July. The game starts at 10:30am BST and will be shown on ITV.
On 28 July, England play Denmark with kick-off at 9:30am BST and the game broadcast on the BBC.
England's final group-stage fixture is against China on Tuesday 1 August and will be shown on ITV with the match starting at 12pm BST.
Should England make it through to the round of 16, their fixture will be shown live on the BBC.
Full Group Stage TV Schedule
(All kick-off times BST )
Thursday 20 July
Group A: New Zealand vs Norway (08:00, Auckland) – BBC
Group B: Australia vs Republic of Ireland (11:00, Sydney) – ITV
Friday 21 July
Group B: Nigeria vs Canada (03:30, Melbourne) – BBC
Group A: Philippines vs Switzerland (06:00, Dunedin) – ITV
Group C: Spain vs Costa Rica (08:30, Wellington) – BBC
Saturday 22 July
Group E: USA vs Vietnam (02:00, Auckland) – BBC
Group C: Zambia vs Japan (08:00 Hamilton) – BBC
Group D: England vs Haiti (10:30, Brisbane) – ITV
Group D: Denmark vs China (13:00, Perth) – BBC
Sunday 23 July
Group G: Sweden vs South Africa  (06:00, Wellington) – BBC
Group E: Netherlands vs Portugal (08:30, Dunedin) – BBC
Group F: France vs Jamaica (11:00, Sydney) – ITV
Monday 24 July
Group G: Italy vs Argentina (07:00, Auckland) – ITV
Group H: Germany vs Morocco (09:30, Melbourne) – ITV
Group F: Brazil vs Panama (12:00, Adelaide) – ITV
Tuesday 25 July
Group H: Colombia vs Korea Republic (03:00, Sydney) – BBC
Group A: New Zealand vs Philippines (06:30, Dunedin) – ITV
Group A: Switzerland vs Norway (09:00, Hamilton) – ITV
Wednesday 26 July
Group C: Japan vs Costa Rica (06:00, Dunedin) – ITV
Group C: Spain vs Zambia (08:30, Auckland) – BBC
Group B: Canada vs Republic of Ireland (13:00, Perth) – ITV
Thursday 27 July
Group E: USA vs Netherlands (02:00, Wellington) – BBC
Group E: Portugal vs Vietnam (08:30, Hamilton) – ITV
Group B: Australia vs Nigeria (11:00, Brisbane) – BBC
Friday 28 July
Group G: Argentina vs South Africa (01:00, Dunedin) – ITV
Group D: England vs Denmark (09:30, Sydney) – BBC
Group D: China vs Haiti (12:00, Adelaide) – ITV
Saturday 29 July
Group G: Sweden vs Italy (08:30, Wellington) – BBC
Group F: France vs Brazil (11:00, Brisbane) – BBC
Group F: Panama vs Jamaica (13:30, Perth) – ITV
Sunday 30 July
Group H: Korea Republic vs Morocco (05:30, Adelaide) – BBC
Group A: Norway vs Philippines (08:00, Auckland) – BBC
Group A: Switzerland vs New Zealand (08:00, Dunedin) – BBC
Group H: Germany vs Colombia (10:30, Sydney) – ITV
Monday 31 July
Group C: Costa Rica vs Zambia (08:00, Hamilton) – ITV
Group C: Japan vs Spain (08:00, Wellington) – ITV
Group B: Ireland vs Nigeria (11:00, Brisbane) – BBC
Group B: Canada vs Australia (11:00, Melbourne) – BBC
Tuesday 1 August
Group E: Vietnam vs Netherlands (08:00, Dunedin) – ITV
Group E: Portugal vs USA (08:00, Auckland) – ITV
Group D: Haiti vs Denmark (12:00, Perth) – ITV
Group D: China vs England (12:00, Adelaide) – ITV
Wednesday 2 August
Group G: South Africa vs Italy (08:00, Wellington) – BBC
Group G: Argentina vs Sweden (08:00, Hamilton) – BBC
Group F: Jamaica vs Brazil (11:00, Melbourne) – ITV
Group F: Panama vs France (11:00, Sydney) – ITV
Thursday 3 August
Group H: Korea Republic vs Germany (11:00, Brisbane) – BBC
Group H: Morocco vs Colombia (11:00, Perth) – BBC