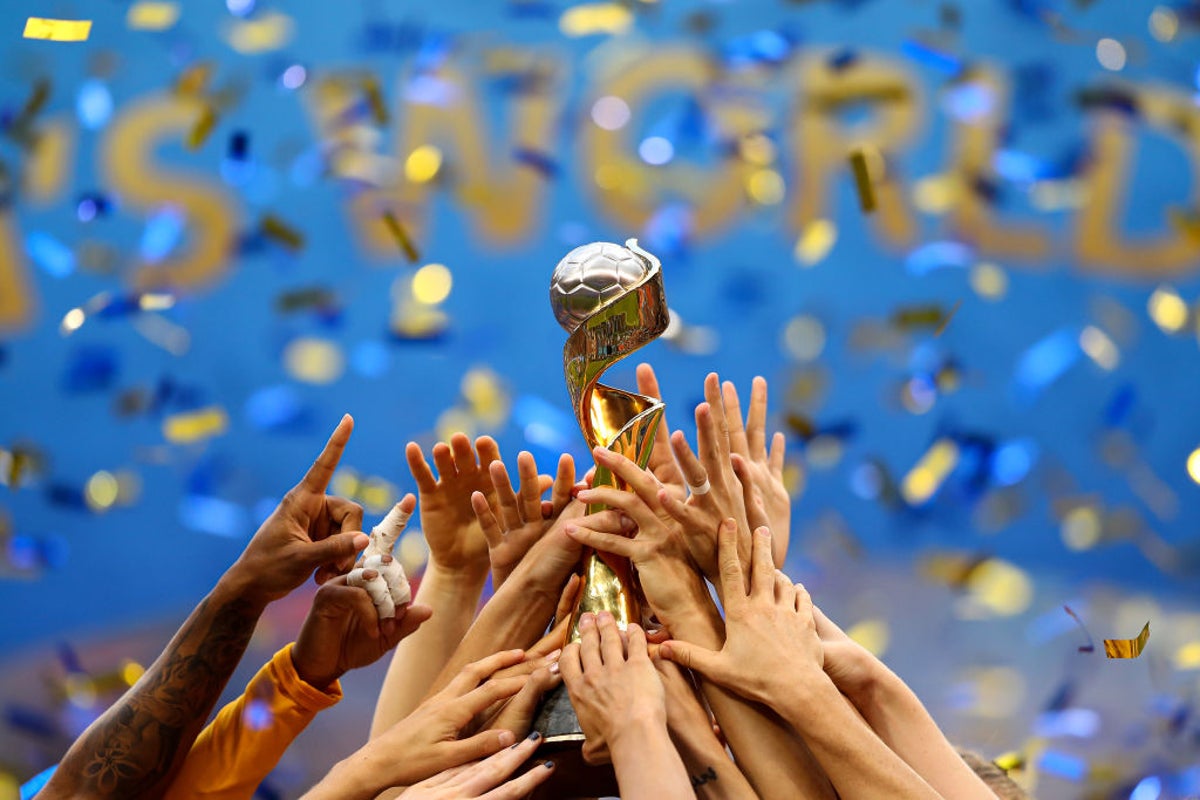 Football
Women's World Cup TV schedule: How to watch every match today
Sign up to Miguel Delaney's Reading the Game newsletter sent straight to your inbox for free
Sign up to Miguel's Delaney's free weekly newsletter
France suffered a blow early in their Women's World Cup campaign as they were held to a 0-0 draw by a battling Jamaica as the group stages continue in Australia and New Zealand.
Les Bleues came into the tournament under new coach Herve Renard after Corrine Diacre's controversial reign was brought to an end just four months before the tournament. But Renard could only watch as his side were stifled by the relentless pressing of the Reggae Girlz with Khadija 'Bunny' Shaw and Drew Spence leading the way for the underdogs in a deserved goalless draw, despite Shaw's late red card for a second booking.
The Netherlands, runners-up four year ago under Sarina Wiegman, earlier battled past World Cup debutants Portugal 1-0 in Group E thanks to Stefanie van der Gragt's early header. The Dutch were defeated by the United States in the 2019 final, and will face the defending champions later in the group stage. The USA began their defence with a 3-0 win against Vietnam on Saturday.
Elsewhere, England opened their Women's World Cup campaign with a win but the Lionesses were pushed all the way by Haiti in what was a close contest in Brisbane. Georgia Stanway's retaken penalty in the first half was enough to earn England a narrow victory, but goalkeeper Mary Earps had to make a big stop to protect their lead late on.
Here is everything you need to know about how to watch the Women's World Cup.
How can I watch the Women's World Cup?
For UK viewers, every game will be available to watch on the BBC and ITV.
For the BBC, there will be live coverage on television as well as the BBC Sport website with live audio commentary available on BBC Radio 5 Live, 5 Sports Extra and the BBC Sounds app.
For ITV, live coverage will be available on television as well as online via ITVX.
At present, the BBC and ITV have only announced the schedule for the group stages, although the BBC have said they will broadcast both semi-finals with the final available on both channels.
When can I watch England?
England play their first match of the World Cup against Haiti in Group D on 22 July. The game starts at 10:30am BST and will be shown on ITV.
On 28 July, England play Denmark with kick-off at 9:30am BST and the game broadcast on the BBC.
England's final group-stage fixture is against China on Tuesday 1 August and will be shown on ITV with the match starting at 12pm BST.
Should England make it through to the round of 16, their fixture will be shown live on the BBC.
Full Group Stage TV Schedule
(All kick-off times BST )
Thursday 20 July
Group A: New Zealand 1-0 Norway (08:00, Auckland) – BBC One
Group B: Australia 1-0 Republic of Ireland (11:00, Sydney) – ITV 1
Friday 21 July
Group B: Nigeria 0-0 Canada (03:30, Melbourne) – BBC Two
Group A: Philippines 0-2 Switzerland (06:00, Dunedin) – ITV 1
Group C: Spain 3-0 Costa Rica (08:30, Wellington) – BBC Two
Saturday 22 July
Group E: USA 3-0 Vietnam (02:00, Auckland) – BBC One
Group C: Zambia 0-5 Japan (08:00 Hamilton) – BBC Two
Group D: England 1-0 Haiti (10:30, Brisbane) – ITV 1
Group D: Denmark 1-0 China (13:00, Perth) – BBC Two
Sunday 23 July
Group G: Sweden 2-1 South Africa  (06:00, Wellington) – BBC Two
Group E: Netherlands 1-0 Portugal (08:30, Dunedin) – BBC One
Group F: France 0-0 Jamaica (11:00, Sydney) – ITV 1
Monday 24 July
Group G: Italy vs Argentina (07:00, Auckland) – ITV 1
Group H: Germany vs Morocco (09:30, Melbourne) – ITV 1
Group F: Brazil vs Panama (12:00, Adelaide) – ITV 1
Tuesday 25 July
Group H: Colombia vs Korea Republic (03:00, Sydney) – BBC
Group A: New Zealand vs Philippines (06:30, Dunedin) – ITV
Group A: Switzerland vs Norway (09:00, Hamilton) – ITV
Wednesday 26 July
Group C: Japan vs Costa Rica (06:00, Dunedin) – ITV
Group C: Spain vs Zambia (08:30, Auckland) – BBC
Group B: Canada vs Republic of Ireland (13:00, Perth) – ITV
Thursday 27 July
Group E: USA vs Netherlands (02:00, Wellington) – BBC
Group E: Portugal vs Vietnam (08:30, Hamilton) – ITV
Group B: Australia vs Nigeria (11:00, Brisbane) – BBC
Friday 28 July
Group G: Argentina vs South Africa (01:00, Dunedin) – ITV
Group D: England vs Denmark (09:30, Sydney) – BBC
Group D: China vs Haiti (12:00, Adelaide) – ITV
Saturday 29 July
Group G: Sweden vs Italy (08:30, Wellington) – BBC
Group F: France vs Brazil (11:00, Brisbane) – BBC
Group F: Panama vs Jamaica (13:30, Perth) – ITV
Sunday 30 July
Group H: Korea Republic vs Morocco (05:30, Adelaide) – BBC
Group A: Norway vs Philippines (08:00, Auckland) – BBC
Group A: Switzerland vs New Zealand (08:00, Dunedin) – BBC
Group H: Germany vs Colombia (10:30, Sydney) – ITV
Monday 31 July
Group C: Costa Rica vs Zambia (08:00, Hamilton) – ITV
Group C: Japan vs Spain (08:00, Wellington) – ITV
Group B: Ireland vs Nigeria (11:00, Brisbane) – BBC
Group B: Canada vs Australia (11:00, Melbourne) – BBC
Tuesday 1 August
Group E: Vietnam vs Netherlands (08:00, Dunedin) – ITV
Group E: Portugal vs USA (08:00, Auckland) – ITV
Group D: Haiti vs Denmark (12:00, Perth) – ITV
Group D: China vs England (12:00, Adelaide) – ITV
Wednesday 2 August
Group G: South Africa vs Italy (08:00, Wellington) – BBC
Group G: Argentina vs Sweden (08:00, Hamilton) – BBC
Group F: Jamaica vs Brazil (11:00, Melbourne) – ITV
Group F: Panama vs France (11:00, Sydney) – ITV
Thursday 3 August
Group H: Korea Republic vs Germany (11:00, Brisbane) – BBC
Group H: Morocco vs Colombia (11:00, Perth) – BBC