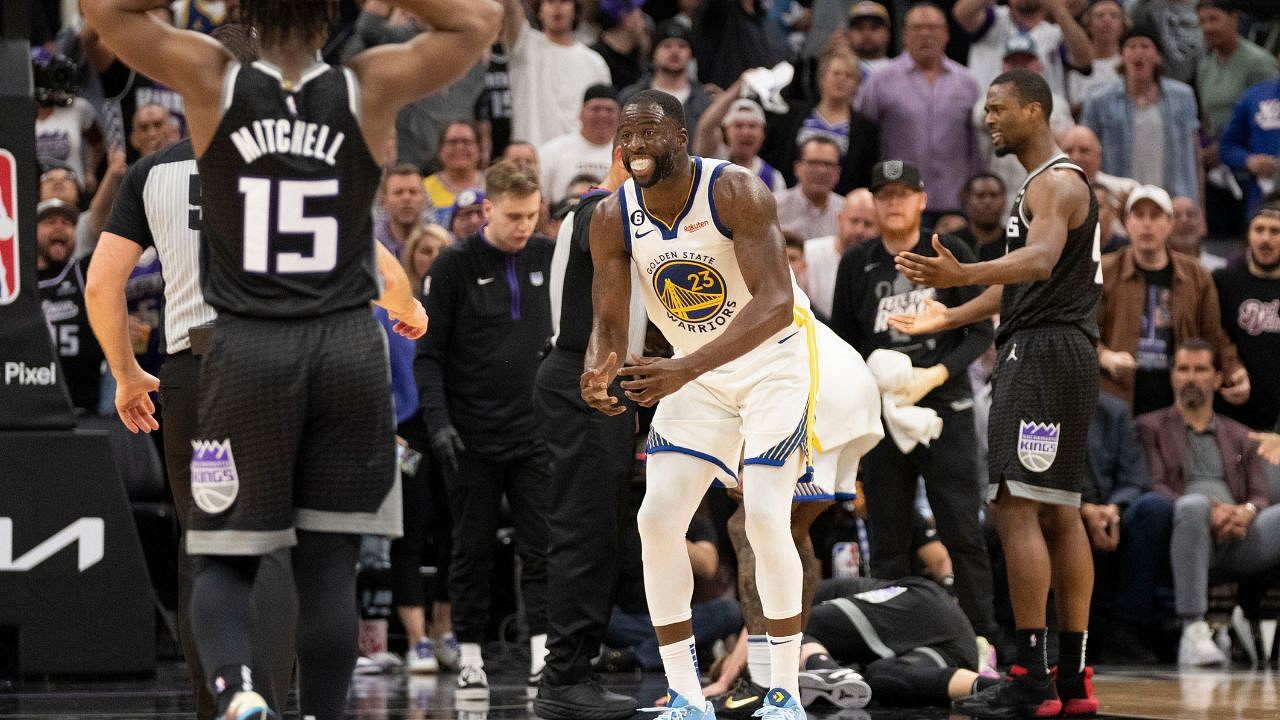 basketball
"Yeah P*ssy!!!": Draymond Green Gets a Bit Too Crazy With Fans After Passionate Kerfuffle With Kings' Domantas Sabonis
When Draymond Green is baited, it's hard to expect the man to be civil about things on the basketball court. It's just an unfortunate side effect of all the good things he does for the Warriors and the way he does it. After all, if he won't be a tad bit brash to hype up his team, who on the roster will?
Unfortunately, this can cost the Warriors dearly at times. And one of those times was tonight, during game 2 against Sacramento, where he was ejected after this little kerfuffle with Domantas Sabonis.
As you'd expect, no matter how incompetent the officials have been during any given game, they can't let you stay in it after you step on another man's chest, no matter how much you were goaded into it. But, as you could guess, Green wasn't about to keep his head down and go away quietly.
Shortly before he was officially ejected by the officials in the game, Green had a little moment with the Kings fans. And well, let's just say his language wasn't very kid-friendly at all.
Draymond Green yells out the 'p-word' at a Kings fan after his stamp on Sabonis
Before we really get into things here, we feel it's important to point out that he is completely okay. Of course, he wasn't just an innocent victim. Rather, the man grabbed onto Green's leg so that he couldn't run forward, inciting this whole incident.
That said, let's move on to the topic at hand here. After all, that is what we're here for, aren't we? So, let's watch Draymond Green get just a little bit too into it in the clip in the tweet below.
Draymond Green and the fans


"Yeah pussy!!!" pic.twitter.com/PrOXmmxRLN
— Shannonnn sharpes Burner (PARODY Account) (@shannonsharpeee) April 18, 2023
"Yeah, p*ssy!!!"
Considering there were kids in the audience, and the NBA is trying to promote itself to be a family-friendly event, we're not sure Commissioner Adam Silver is going to take too kindly to all this. However, then again, we don't think Green will be too bothered by it anyway.
No, the Warriors star is likely licking his lips at the thought of Game 3, and just how many shenanigans he is going to pull. And to be fair to him, we doubt there are many things Dub nation is going to enjoy more than that… on route to a win, of course.
However, given that they're 0-2 in this series already, it'll have to be seen just how brilliant they can really be against this robust Sacramento Kings side.
The post "Yeah P*ssy!!!": Draymond Green Gets a Bit Too Crazy With Fans After Passionate Kerfuffle With Kings' Domantas Sabonis appeared first on The SportsRush.